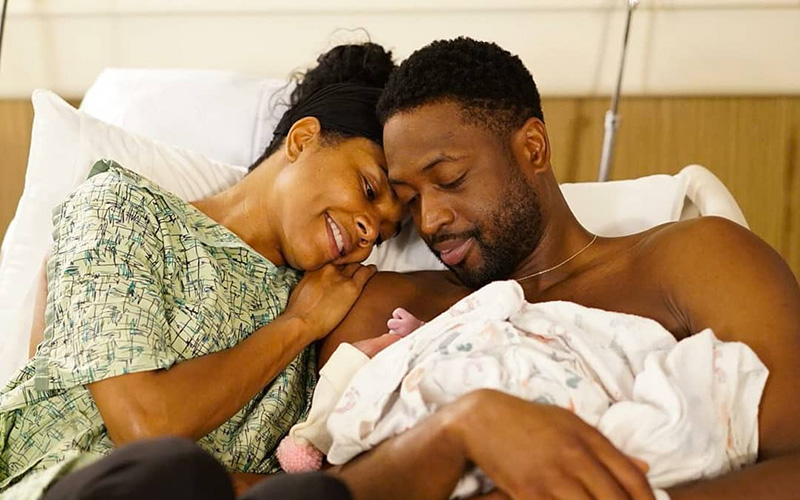 A huge congrats are in order for Gabrielle Union and Dwyane Wade as the couple shared earlier today that they are now the proud parents of a baby girl. Surprise, right?
I know you're probably wondering, "How in the hell did Gabrielle Union hide a whole pregnancy from the world for nine months?" Well, it's easy. She and Dwyane hired a surrogate to carry their baby and kept the news under wraps until now.
The couple each took to their respective Instagram accounts Thursday (Nov. 8) to share photos of them holding their newborn daughter.
"We are sleepless and delirious but so excited to share that, our miracle baby, arrived last night (11/7) via surrogate," they both shared along with lyrics to the song 'Lovely Day.' "Welcome to the party sweet girl!"
Union has been very open about her struggles with infertility as the couple has been trying to have a child of their own for years. She revealed in her 2017 memoir We're Going to Need More Wine that she had "eight or nine miscarriages" while trying to conceive on her own.
"For three years, my body has been a prisoner of trying to get pregnant — I've either been about to go into an IVF cycle, in the middle of an IVF cycle or coming out of an IVF cycle," she wrote.
The baby girl, whose name has not yet been revealed, is the first child for 46-year-old Gabby, while 36-year-old Dwyane is already dad to sons Xavier Zechariah (who turns 5 years old on Saturday), 11-year-old Zion Malachi Airamis and 16-year-old Zaire Blessing Dwyane. Wade also raises his 17-year-old nephew Dahveon Morris.
Gabrielle Union and Dwyane Wade recently celebrated their 4-year wedding anniversary in August.
Congrats again to Gabby and D-Wade on the birth of their baby!
Be the first to receive breaking news alerts and more stories like this by subscribing to our mailing list.