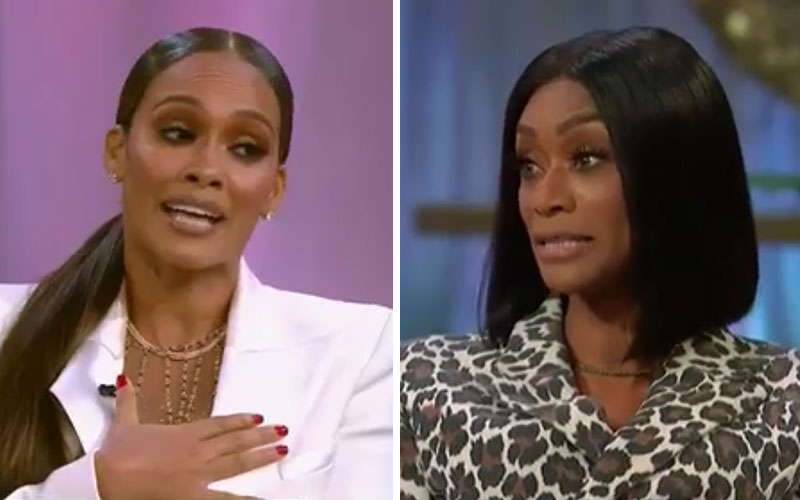 Did Tami Roman quit Basketball Wives? That's the question fans of the show are asking following reports of her walking off the set while taping the Season 7 reunion last month.
According to The Jasmine Brand, Roman—who spent the last few episodes of Season 7 at odds with Jennifer Williams and Evelyn Lozada over a rumor about Lozada sleeping with Shaunie O'Neal's ex—"abruptly left" while cameras were rolling.
TJB's source revealed that before Tami chucked the deuces, she apologized to Evelyn for claiming she lied about her domestic violence incident with Chad "Ochocinco" Johnson in their ensuing argument over the drama about Shaunie's ex.
"She told Evelyn that she was sorry, thanked everyone for a great season, then walked off the stage," the source said.
The show's producers were reportedly stunned at Roman's abrupt exit. "They were upset and totally blind-sided, but that's the nature of these shows," the insider added.
Lest we forget, Tami wasn't really thrilled about returning to BBW for Season 7. In fact, the only reason she came back to the show was because she was reportedly promised a spin-off with her longtime boyfriend Reggie Youngblood.
If you've been watching the latest season of Basketball Wives, you know that it has been full of drama and Tami has been at the center of most of it.
Regarding the rumor of Evelyn allegedly sleeping with Shaunie's ex (which Evelyn adamantly denies BTW), Tami said that Jennifer Williams made up the year-old rumor in an attempt to hurt Evelyn while they were on the outs.
(FYI: A lot of people believe the "ex" in question is Shaunie's ex-husband Shaquille O'Neal, but it's not. They were referring to Shaunie's ex-boyfriend Marlon Yates Jr.)
Jennifer, however, said that Tami was the one who came to her about the rumor. But Tami then came with receipts (i.e. text messages) to prove to Shaunie that Jennifer was indeed solely responsible or spreading the rumor.
Speaking of Jennifer Williams, it has widely been reported that she did not attend the BBW Season 7 Reunion taping because everyone on the show has problems with her. On the Season Finale, Malaysia threatened to "beat her a**" and threw a table at her for denying that she talked trash about Evelyn's daughter Shaunice—something Malaysia says Jennifer did while Jenn and Ev weren't friends.
Tami's future with the show is uncertain, and on top of that, she may have jeopardized her future spin-off by walking out of the reunion taping without warning, the Jasmine Brand reports. Called The Beverly Trill Billies, a play on the 1960's sitcom The Beverly Hillbillys, the Mona Scott Young produced series was supposed to start shooting this summer. The show would follow Tami and Reggie entertaining his family that lives down south.
Roman told Life & Style recently that she was excited to be filming a spin-off because she didn't like the way she was portrayed on Basketball Wives.
"I think it was time. I've been a part of the Basketball Wives franchise since 2010 — and it hasn't been for lack of trying to have my own situation, because we tried several times," she said. "But I do also think it's just a matter of timing. They say, 'If you want to make God laugh, tell him your plans,' and I think you have to do things when it's ordered by Him — not to get too spiritual. But I feel like it's the right time for this moment to happen, because people have seen me one way on Basketball Wives for so long and eventually that takes its toll on public perception of you."
She added, "I'm thankful that the spin-off is coming now because I get to show the many different facets and dimensions that aren't actually seen on Basketball Wives. You know I have this great guy, I have great children, I have a great career, I do a lot of philanthropy work, I'm involved socially in my community and outreach programs and I have an amazing blended family, and so it felt like the right time to do something like this."
Tami fueled rumors that she quit Basketball Wives altogether by posting this on Instagram:
https://instagram.com/p/BmdvrNFFdd3/?utm_source=ig_embed&utm_campaign=embed_loading_state_control
When asked by Human Nature Magazine about what was in store for the BBW Season 7 reunion, Tami threw shade on the show, asking the interviewer, "Ok, you've been watching? 'Cause I haven't" before busting out in a laugh.
She didn't care to talk about the reunion, but she did say that people could look forward to seeing her look stylish. "The only thing I want to interject about the reunion is styled by Udi in a Sergio Hudson suit. And it was amazing!" she said. "You've got to watch for the rest!"
The Basketball Wives Season 7 reunion airs on VH1 on Sunday, September 16th at 10/9c.
Check out a short preview below:
https://www.instagram.com/p/Bni2GiKBDK_/?hl=en&taken-by=omfgrealitytv
Be the first to receive breaking news alerts and more stories like this by subscribing to our mailing list.