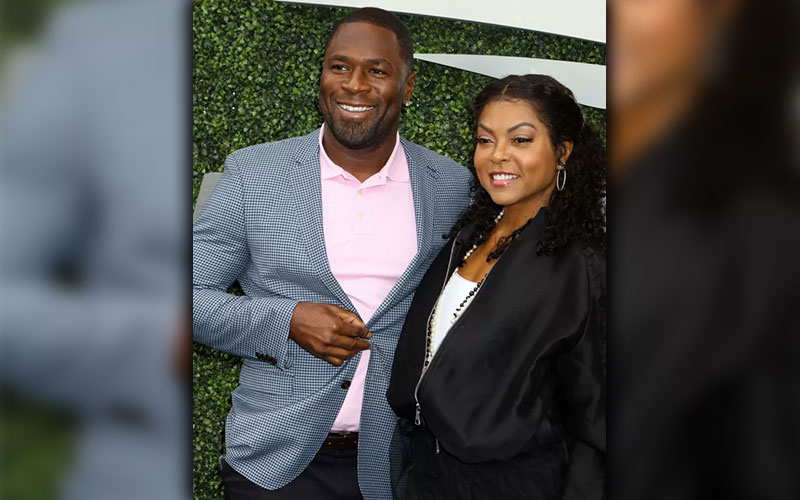 The word on the curb is that Taraji P. Henson is pregnant at the age of 47!
According to internet reports, the "Empire" actress attended the U.S. Open this weekend with her former NFL star fiancé Kelvin Hayden, and people close to them were saying that Taraji was "acting pregnant."
And how on earth do you "act pregnant," you ask? Well, apparently, all you have to do is stop drinking, and BOOM, folks will say, "Yep, she's deflee preggo!"
Now, full disclosure, this news comes from Media Take Out, so it's to be taken with a huge grain of salt, but they claim to have "credible" insiders who say that Henson is 100% with child.
One insider told the outlet, "Taraji did not drink, and [Kelvin] was walking her around arm-in-arm. They were acting like she was pregnant."
Another insider who saw Taraji inside a luxury suite at the event told MTO, "She had a clear belly bump, and ate everything within arms reach. But no alcohol. Yeah, she's pregnant."
Taraji and the former Indianapolis Colts cornerback were excited to attend the tennis event, and she even took to Instagram to mark the special occasion. "Just us just living our lives putting [a check] on our bucket list," she wrote in the caption.
https://instagram.com/p/BnizE_EBbQw/?utm_source=ig_embed
In the photo, Taraji was rocking a black bomber jacket and matching black pants, which fueled the pregnancy rumors, since black is a slimming color and a bomber jacket will definitely hide a growing baby bump.
Whether or not the pregnancy rumors are true remains to be seen, but, as most of her fans know, Taraji is already the mother of an adult son, 23-year-old Marcel Johnson.
Taraji and Kelvin confirmed they were dating back in December of last year, and they announced their engagement in May of this year, around Mother's Day.
Taraji has spoken about having more kids in the past. She once told Essence that she was "open" to the idea if she were to ever come across the right man.
Taraji was ecstatic over the proposal and she took to social media at the time to post: "I said yes ya'll!!! He started with the Cartier love bracelet BUT that was my #MothersDay gift and then he dropped to his knee and I almost passed out!!! #sheisofficiallyoffthemarket and she is sooooooooooooo HAPPY!!!!!! #GODIS"
Asked whether whether we would be hearing wedding bells in the future, Taraji told Entertainment Tonight back in May: "People are hitting me up. It's starting to get overwhelming, and we're thinking, we're talking a year from now, and I know how fast that's going to go, so it's a lot. I'm trying to just enjoy being blissfully engaged for a minute."
Be the first to receive breaking news alerts and more stories like this by subscribing to our mailing list.