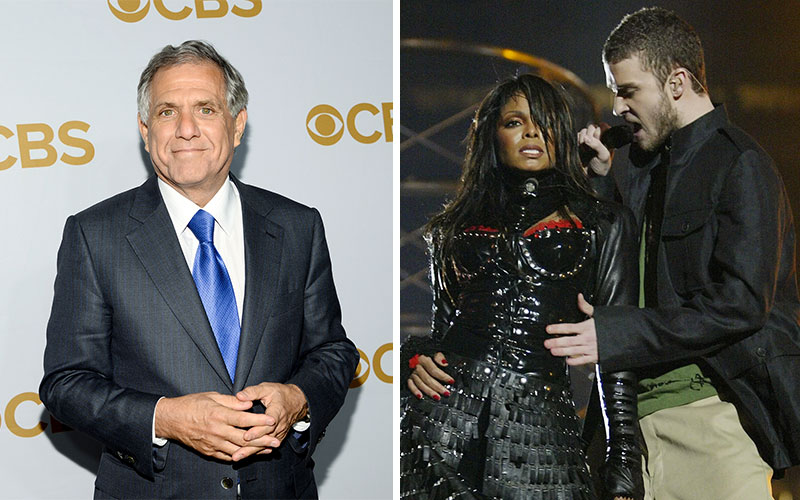 It's no secret that Janet Jackson's career took a downward spiraled in the immediate fallout from the Super Bowl 2014 "Nipplegate" scandal when Justin Timberlake exposed her naked breast on live TV in what they called a "wardrobe malfunction."
But, according to a new report from the Huffington Post, Leslie "Les" Moonves, the now former chief executive of CBS Corporation, played a particularly vengeful role in the aftermath.
Citing "multiple sources," freelance journalist Yasher Ali, a prominent voice of the #MeeToo movement, said that Moonves—who resigned Sunday after a new wave of sexual assault allegations were brought against him via a New Yorker article—allegedly became obsessed with ruining Janet Jackson's career after the incident.
"From actors to entertainment lawyers, people who ended up on the wrong side of Moonves would often become his target for years after they upset him," Ali wrote. "One target of Moonves' ire and vengefulness was Janet Jackson."
Ali said that Jackson "became a years-long fixation for Moonves after the so-called 'wardrobe malfunction' of 2004, where her breast was exposed for nine-sixteenths of a second after Justin Timberlake tore a piece of fabric off her bustier during their Super Bowl halftime performance."
CBS and MTV—which, at the time, was owned by Viacom, the then parent company of CBS—faced huge criticism and a hefty $500,000 fine from the Federal Communications Commission (FCC).
Both singers insisted the incident was accidental, with Timberlake saying he only meant to rip away a small portion of fabric to expose red lace, but instead ripped away everything, exposing Janet's breast to more than 100 million Super Bowl fans.
"Moonves, however, was convinced it wasn't a malfunction, but rather an intentional bid to stir up controversy," Ali wrote, adding that the incident caused Moonves "embarrassment," and he did not think Jackson was "sufficiently repentant."
According to Ali, as a result of the incident, both Janet and Justin were banned from the 2004 Grammys, which aired on CBS just a few days after the Super Bowl, but Moonves allowed Justin to perform "after he tearfully apologized for the incident." Jackson, however, irked Moonves when she didn't issue a similar apology, according to Ali.
Ali's report claims that Moonves "ordered Viacom properties VH1 and MTV, and all Viacom-owned radio stations, to stop playing Jackson's songs and music videos," which, unsurprisingly, had a negative impact on sales of her 8th studio album Damita Jo, which was released in March 2004, just a month after the Super Bowl.
Ali wrote: "A major point of controversy, particularly among Jackson's black fans, was that the reaction to the wardrobe malfunction fell solely on Jackson's shoulders, even though Timberlake was the one who actually pulled off the fabric to reveal her breast. While Jackson's career was significantly damaged, Timberlake's flourished. CBS insiders who spoke to me felt strongly that Moonves played a large part in how Jackson was perceived by the public."
Even after seven years had passed, Moonves still hated Janet Jackson, Ali's report claims. He reportedly became enraged found out that Jackson had signed a book deal with Simon & Schuster, which is owned by the CBS Corporation. "How the f*** did she slip through?" Moonves is said to have asked. Ali also wrote that Moonves told another source that "heads were going to roll as a result of the deal."
Ali continued: "It's not clear whether Moonves ever actually took action against anyone who gave Jackson the book deal, but his tone when he spoke about Jackson was so aggressive, one source said they couldn't speak to me on the record because 'I'm not interested in having that man following me to the grave and trying to screw me over the whole time.'"
Les Moonves was the subject of an expose by Pulitzer Prize-winning reporter Ronan Farrow back in July in which six women accused the CBS boss of sexual harassment. Additionally, more than two dozen CBS Corporation employees, past and present, described episodes involving harassment, gender discrimination or retaliation at the network between the 1980s and the 2000s.
Some of the women claimed that Moonves forced them to perform oral sex on him, that he exposed himself to them without their consent, and that he used physical violence and intimidation against them.
Farrow's report included accusations from actress Illeana Douglas, who said Moonves lured her to a hotel to talk business, and while there, he made sexual advances towards her and forcibly kissed her.
Dinah Kirgo, a screenwriter, shared a story similar to Douglas's. She said Moonves pretended to be interested in a business meeting with her, only to pursue a dinner with her alone. Kirgo said she believed that rebuffing Moonves's sexual advances damaged her career.
Les Moonves announced his resignation as CEO of CBS Corporation on Sunday (Sep. 9) shortly after a more recent New Yorker article about his sexual misconduct allegations was published.
Moonves acknowledged that he had relations with three of the women accusing him of sexual assault, but he said those interactions were consensual and the allegations against him are "untrue." He also said that he has never used his position to hurt the careers of women.
Without addressing the allegations directly, CBS Corporation said that Moonves will donate at least $20 million to one or more organizations that support the #MeToo movement and equality for women in the workplace.
"The donation, which will be made immediately, has been deducted from any severance benefits that may be due to Moonves," the statement said.
Be the first to receive breaking news alerts and more stories like this by subscribing to our mailing list.