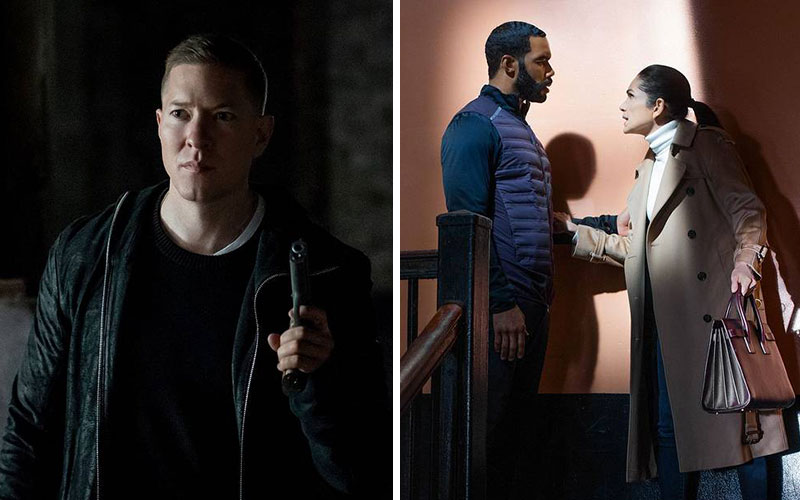 SPOILER ALERT: This post contains major spoilers about the "Power" Season 5 finale. Do not read if you have not watched "Power" Season 5 Episode 10: "When This Is Over."
***
Well, that was a hell of an episode, wasn't it?! After watching Power on Sunday (Sep. 9), I vowed to never watch that show again until Season 6 premieres next summer.
Power is known for its cliffhangers. In the first season, Holly took a bullet meant for Ghost, leaving viewers to wonder whether or not she would survive to see a second season on the show.
In Season 2, Kanan Incredible Hulked his way out of a botched killing at the hands of Ghost. The Season 3 finale had us all kinds of f***ed up when we saw Tariq passed out on that lean, and Kanan was supposedly holding him for ransom. Plus, Angela arrested Ghost for the murder of Greg Knox. Season 4's finale made Season 3's look like an episode of Sesame Street, because Raina got shot and killed over her brother's bullsh**.
And now that we've made it to Season 5, things are really heating up. At the end of last night's Season 5 finale episode, once again, a bullet meant for Ghost ended up hitting someone else, and this time it was AUSA Angela Valdes—who got hit right in the chest. And guess who pulled the trigger? Ya boy Tommy Egan. Like, WTF Tommy?!
After getting caught by the feds at the end of last week's episode, Angela put herself on a 24-hour clock to make a decision as to whether she would snitch on Ghost and Tommy (and Tasha too) or fight the law to prove her (not) innocence.
In this 24-hour timespan, Angela rallied Ghost, Tasha and Tommy to make sure everyone was on the same page and to close up any gaps the AUSA office could use to take them down.
Meanwhile, Mak & Co. spent that same 24 hours trying to get Tasha, Tommy, LaKeisha, Proctor, Angela, Dre, etc. to flip on all or some of Ghost's organization to save themselves.
When it looked like the case wouldn't move forward, Saxe, frustrated as hell, went to Tommy and told him that Ghost tricked him into killing his own father, Tony Teresi. Saxe gave Tommy a copy of the tape in which Teresi implicated Ghost in Mike Sandoval's murder, but made sure to say Tommy played no part in the crime, saying that Tommy keeps him at "arm's length" when it comes to all of his dealings.
Tommy, filled with rage about Ghost supposedly double-crossing him, Tommy tracked Ghost down and found out he was meeting with Angela at their old high school (where they had met earlier as a group, including him and Tasha). During their secret meeting, Angela asked Ghost point-blank if he had killed Terry Silver, who had returned to try to get Tasha to snitch on everybody, but had disappeared near the end of the episode after we saw Ghost watching him and Tasha have sex from a distance.
After an awkward pause, Ghost swore he had nothing to do with Silver's "disappearance" as we watched a flashback of him choking the lawyer to death. As he and Angela kissed, he told her he loved her, and when Angela looked up, she saw Tommy pointing a gun at her from above. Angela pushes Ghost out of the way, and then BAM! She gets shot. When Ghost looked up and saw Tommy, wearing a look of satisfaction, Ghost did his famous Harambe scream. As the screen fades black, all you can hear is "Angie! Angie! Angie!" as the AUSA struggles to breathe.
Wayment. Is Angela really dead?! Because if so, her and Ghost are officially done. In order for them to work out, she has to at least be alive.
We'll have to wait for the Season 6 premiere, which will be around summer 2019, to find out what happens, but if you're wondering whether or not Angela has already gone up to that great big courtroom in the sky, showrunner Courtney Kemp has the answer for you. And it's no: Angela isn't really dead… YET?
"I can say [Lela Loren, who plays Angela] is in Season 6, but I can't say what she's doing," Kemp told TV Line. So it sounds like Angela is still with us… for now, at least.
TV Line also asked Courtney whether or not we are reaching the end of Power's story. She has has said in the past that Power isn't a 10-season show, and we're already halfway there, with Season 6 set to go into production in the fall.
"I'm not allowed to answer that, per Starz," Kemp said in response to a question about Season 6 possibly marking the end of Power. "But what I can say is that the story is coming to an end."
Curtis "50 Cent" Jackson, who executive produces the show along with Kemp, has said that he doesn't think Power will go past Season 7. "I was telling [executives] in the very beginning, when they talked about how long do you think the series is going to last, I said seven," he told ABC news. "It's going to go seven."
50 Cent's character Kanan died in last week's episode, but Courtney says Fiddy still be a major part of the show behind the scenes.
"[Jackson] will he have other things to do [on the series]. For sure, that's the whole point," she told Deadline. "He's expanding into producing much more and really giving notes and reading scripts."
Fifty added that no one is safe on Power, much like The Sopranos.
"We've created a template for the show that is non-Hollywood," the actor told Deadline," he said. "Anyone can go. There's no one in the show that can't die."
Be the first to receive breaking news alerts and more stories like this by subscribing to our mailing list.