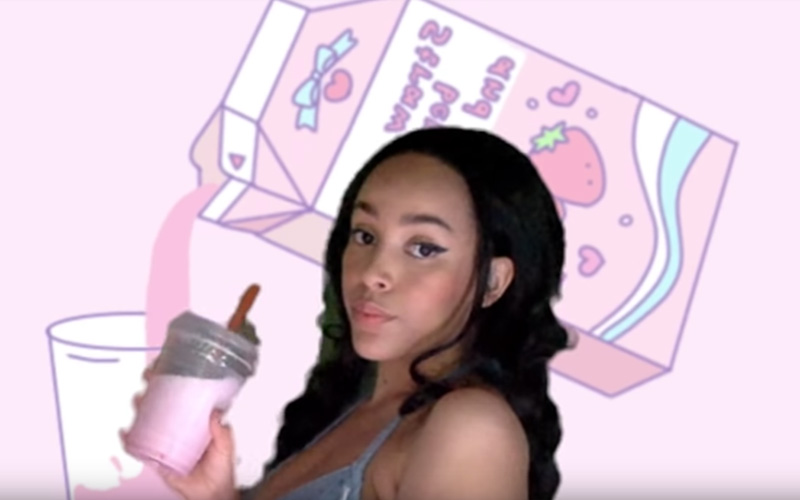 If you've spent any time on the internet this month, you have probably heard about Doja Cat and her infectiously viral song/video "Mooo!"
The song sees Doja rapping hilarious lines like "Bitch, I'm a cow" and the visual sees Doja rocking a variety of cow-inspired looks. It's weird, it's catchy, it's probably the best thing on the internet right now. She even got a cosign from Chance the Rapper!
So now im a big doja cat fan ?

— Chance The Rapper (@chancetherapper) August 13, 2018
However, Doja has now come under fire for some tweets using homophobic language that someone pulled from the depths of Twitter and brought to the surface.
Back in 2015, Doja used the word "f****t" in some now-deleted tweets, and fans tweeted their disappointment about it. One person said "wtf 🙁 is this" with a screenshot of Doja calling Odd Future rappers Tyler, the Creator and Earl Sweatshirt "f****ts" in an old tweet, to which Doja responded by writing "lmfaoooooo."
After folks got pissed off at that response, she replied with a backhanded apology, using the f word again.
"I called a couple of people f****ts when I was in high school in 2015 does this mean I don't deserve support?" she tweeted. "I've said f****t roughly 15 thousand times in my life. Does saying f****t mean you hate gay people? Do I hate gay people? I don't think I hate gay people. Gay is ok."
doja cat you either do or don't hate gay people there is no "i think" pic.twitter.com/bNbg0EUCyl

— zee (@pasteInight) August 29, 2018
That initial response resulted in a major online backlash over the way she approached the situation. Apologizing for the use of a slur while repeatedly using said slur is pretty counterproductive, tbh.
Doja Cat really apologised for saying f****t by saying it 18338 more times within the apology tweet pic.twitter.com/vZRepMgyju

— n (@taesmoonchiId) August 29, 2018
https://twitter.com/HisNamesTawanda/status/1034619741044961282
Doja Cat was putting up a homophobic double double every day in high school goddamn

— Matt (@dbbm52) August 29, 2018
"homophobia? why should i be afraid of a faggot?" – doja cat

— ?desde el río hasta el mar? (@kumbiakommunist) August 29, 2018
This is what Doja Cat's apologies sound like right now pic.twitter.com/3gpTCSWS1C

— ?RIHANNA'S WHITE TOES? (@A90SVIDEOVIXEN) August 29, 2018
Bitch I'm a bigot
Bitch I'm a bigot
I use SLUUUUUURS……
-DojaCat

— ???NaniClauseJ??? (@NaniCoolJ) August 29, 2018
https://twitter.com/wuthatigirl/status/1034615107005739010
I can't believe Doja Cat doesn't understand how saying the word f*ggot is offensive to the gay community. Cows are supposed to be very intelligent animals.

— NUFF (@nuffsaidny) August 29, 2018
Even actress Debra Messing shared her thoughts on the drama:
SERIOUSLY, @DojaCat?! How can you be so ignorant? Do know how many people you are hurting? Use your fame and platform for Good. It's a privilege. pic.twitter.com/5ZiqI3ZVJw

— Debra Messing (@DebraMessing) August 29, 2018
After finding herself on the receiving end of even more backlash from her "apology," Doja issued another apology, apologizing for the first apology.
"I have used horrible derogatory and hateful words toward people out of ignorance. I just want you guys to know that you're incredibly special and I hold you dearly to my heart. I'm sorry for anyone I've offended or hurt deeply. You are all worth love and support. No one deserves to be discriminated against for their race, religion, or sexual orientation in any angle or sense. I don't want you to look at me as a role model. I just want you to hear my music and the joy that you take from that is the most important part. I love making music with you. Thank you for everything to this day."
Then, for some reason, she deleted the apology for her first apology, and posted a third, more concise one:
"I apologize for the derogatory terms I've used in the past and no one should be discriminated against for their race, religion, or sexual orientation. I love you and I hope to make more great music with and for you in the future. Thank you."
Doja Cat, the artist responsible for 2018's latest viral video and song "Mooo!"(Bitch I'm a Cow) is under fire after 'homophobic' tweets resurfaced.

The backlash increased after she posted, then deleted two different apologies, before sticking to a third and final one.? pic.twitter.com/W5RWkhgMfK

— Pop Crave (@PopCrave) August 29, 2018
Hopefully Doja Cat has learned her lesson and will make better choices from now on. We'd hate to see her loooose her newfound fame.
Be the first to receive breaking news alerts and more stories like this by subscribing to our mailing list.