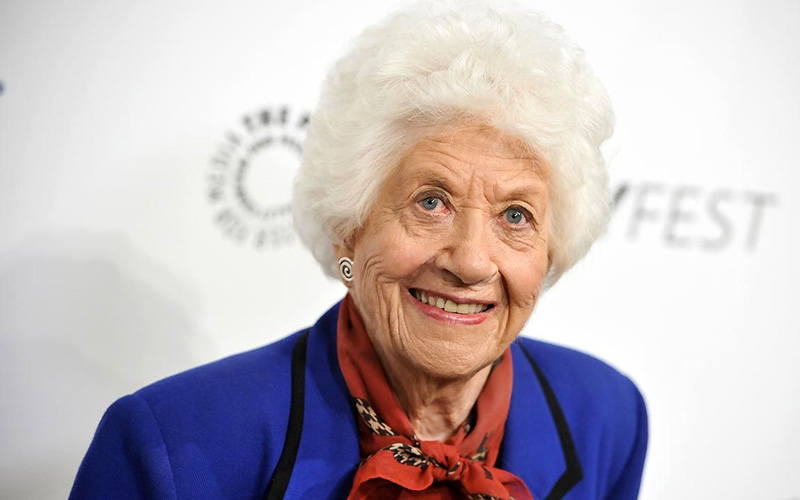 Charlotte Rae, the Tony and Emmy-nominated actress best known for her role as Mrs. Garrett on "The Facts of Life" and "Diff'rent Strokes" died on Sunday (Aug. 5) at 82 years old.
According to Rae's publicist, she was surrounded by friends and family when she passed away in her Los Angeles home. An official cause of death was not revealed, however, in April 2017, Rae announced that she had been diagnosed with bone cancer—her second bout with cancer after having being diagnosed with pancreatic cancer in 2009.
Rae told People Magazine of her bone cancer diagnosis: "I found out I have bone cancer…About seven years ago, I was diagnosed with pancreatic cancer — which is a miracle that they found it because usually, it's too late. My mother, sister and my uncle died of pancreatic cancer. After six months of chemotherapy, I was cancer-free. I lost my hair, but I had beautiful wigs. Nobody even knew."
She continued: "So now, at the age of 91, I have to make up my mind. I'm not in any pain right now. I'm feeling so terrific and so glad to be above ground. Now I have to figure out whether I want to go have treatment again to opt for life. I love life. I've had a wonderful one already. I have this decision to make."
Rae's mother, as well as her older sister and uncle all, died of pancreatic cancer, which is why Rae made sure she was screened for it frequently. "I had no symptoms. I had absolutely no symptoms. None whatsoever…They said that it was cancer, and it was contained, but it was growing fast. I just knew that I had to take action as quickly as I could," she told UCLA Health.
Rae said it was a "miracle" that doctors found the pancreatic cancer "because usually, it's too late." She announced that she was cancer free after six months of chemotherapy.
Following her bone cancer diagnosis, Rae told People that when she first found out about it, she didn't know whether or not she wanted to go through another round of treatment, and canceled her first appointment. Then she changed her mind.
"I wanted to think about it first," she said. "I think I'm going to go for it. The side effects were not too bad when I did it originally. I've had a great life, but I have so many wonderful things happening. I'd like to choose life. I'm grateful for the life I've already had."
Last spring, Rae told Fox News that she still stayed in touch with her "The Facts of Life" family and when Kim Fields, who played Tootie on the show, was on ABC's "Dancing with the Stars" in 2016, she cheered her on. Rae added that she wasn't surprised that the show was still adored by fans.
"The show touched on issues that could bring parents and children together," she explained. "And people enjoyed it. When I did a book signing at Barnes and Noble, I noticed there were a lot of people who stood in line and they told me that I meant so much to them… They were very attached to Mrs. Garrett. And they all wanted a hug from me! And I gave it to them. All of them."
Be the first to receive breaking news alerts and more stories like this by subscribing to our mailing list.