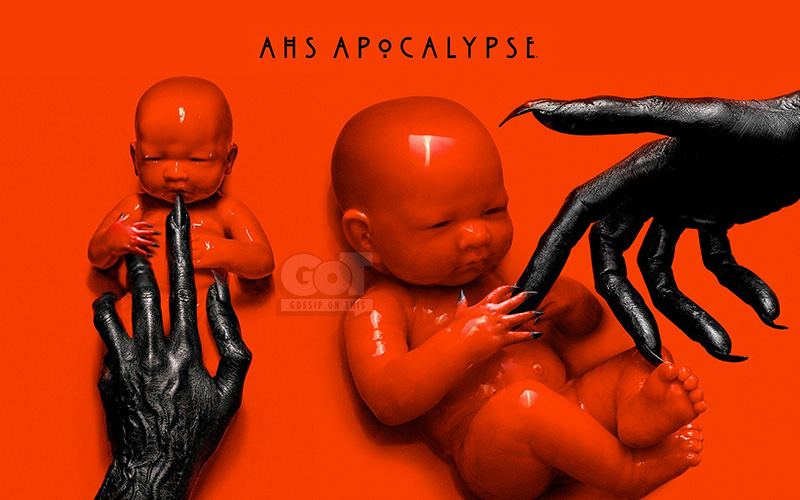 The title of American Horror Story's 8th season has been announced!
Friday (Jul. 20) at midnight PST during Comic-Con 2018 in San Diego California, AHS revealed the title of their eighth season: "Apocalypse." The big announcement was accompanied by an image of a baby covered in blood being touched by a creepy-looking black hand.
— AmericanHorrorStory (@AHSFX) July 20, 2018
In the past, showrunner Ryan Murphy has kept details of upcoming American Horror Story seasons under wraps, but this time, he chose to reveal a bit of info. about the next AHS season early on. Last month, Murphy tweeted that AHS Season 8 would be a "Coven/Murder House crossover."
The Coven/Murder House AHS crossover season won't be happening next year…because it's happening THIS YEAR. AHS #8 WITCHES RULE THIS SEPTEMBER

— Ryan Murphy (@MrRPMurphy) June 14, 2018
AHS' first season, and arguably its best, "Murder House," centered on a family who moved into a restored mansion, unaware that the house was haunted by the ghosts of its former residents and their victims. The third season of AHS, "Coven," followed a coven of Salem witches fighting for survival in the present-day while dealing with issues from the past.
AHS Season 8 will reportedly be set in the near future (18 months in the future, according to Murphy) and will feature a long list of returning stars: Evan Peters, Sarah Paulson (who will be playing multiple characters), Kathy Bates, Cheyenne Jackson, Billy Eichner, Adina Porter, Leslie Grossman, Billie Lourd and Emma Roberts. Franchise newcomer Joan Collins will play the grandmother of Evan Peters' character, who is said to be a "comedic hairdresser."
"It's a season unlike anything we've done because there's a big hook to it," Murphy said about AHS: Apocalypse. "There's a huge thing that happens in Episode 5."
Because Season 8 will be a crossover season, it's highly likely that actors/characters from "Murder House" and "Coven" will appear. Murphy has said that he is optimistic that many of the original AHS stars will return for the crossover season, including Dylan McDermott, Connie Britton and fan favorite Jessica Lange.
"I want all of them," Murphy said. "I want Dylan, and Connie and Jessica [Lange]. They've all said — Kathy Bates, too — everybody who is involved in the show has always said, 'Yeah, that sounds like fun, let's get the band back together again.' So that is one of the reasons why the writing process of that season is taking longer because it's literally 25 people's schedules. But I'm hopeful they will all be back."
As one Facebook user put it, "We lived in the Murder House. We escaped the Asylum. We protected the Coven. We attended the Freak Show. We checked into the Hotel. We experienced the Roanoke nightmare. We joined the Cult. And now we will survive the Apocalypse."
American Horror Story: Apocalypse premieres Wednesday, September 12th on FX.
Be the first to receive breaking news alerts and more stories like this by subscribing to our mailing list.