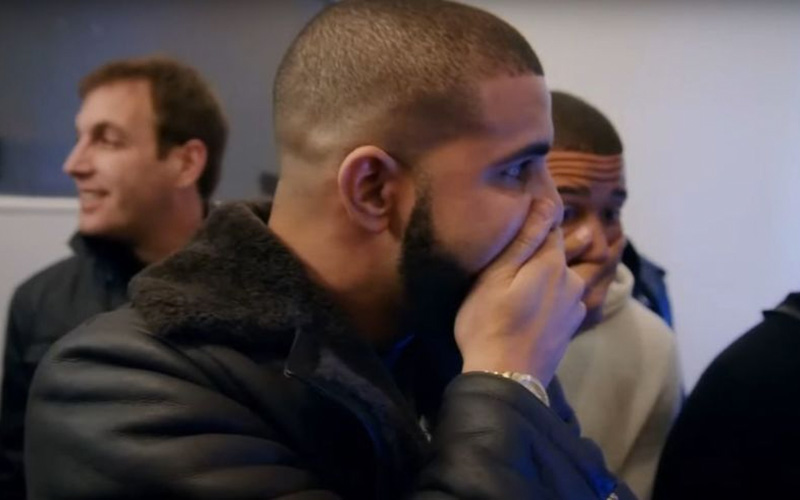 Newly released photos show Drake's infant son Adonis.
Thanks to the release of Drake's latest album Scorpion, the mystery behind whether Drake was hiding a child has officially been solved. In not just one, not two, but THREE songs from the project, Drake confirms that yes, he IS the father of Baby Adonis, and even though he doesn't outright mention neither Adonis nor his former porn star baby mama Sophie Brussaux's name, we know exactly who he's talking about.
In "Emotionless"—a song featured on the "A Side" of Scorpion, Drake raps, "I wasn't hidin' my kid from the world/I was hidin' the world from my kid/From empty souls who just wake up and looked to debate/Until you starin' at your seed, you can never relate."
He adds, "Breakin' news in my life, I don't run to the blogs/The only ones I wanna tell are the ones I can call/They always ask, 'Why let the story run if it's false?' You know a wise man once said nothin' at all."
Drake is basically saying that by not revealing that he has a son, he was protecting Adonis from the scrutiny from the world that comes along with being the lovechild of the biggest rapper alive. He also explains why he never confirmed set the record straight on the reports that he denied the child and was a deadbeat father, which were perpetuated by Pusha T's "Story of Adidon" diss track.
Drizzy also addresses his relationship with his now 8-month-old son Adonis' mother by referencing Michael Jackson's hit "Billie Jean" in the song "March 14″—which is the last track on the album and is featured on the "B Side."
"She's not my lover like Billie Jean but the kid is mine / Sandi used to tell me all it takes is one time, and all it took was one time / Sh**, we only met two times, two times," he raps. Here, he's saying that his mother, Sandi Graham, warned him that it only took one instance of unprotected sex to make a baby, and in his case, it was two.
He continues, "Now it's rough times, I'm out here on front lines / Just tryin' to make sure that I see him sometimes / It's breakin' my spirit / Single father, I hate when I hear it / I used to challenge my parents on every album / Now I'm embarrassed to tell them I ended up as a co-parent / Always promised the family unit / I wanted it to be different because I've been through it."
Drake's saying that he always wanted to have a family, but because he grew up in a single-parent household, he's never wanted that for his children. Instead, he wanted to do things the so-called "right way" by fathering children with his wife. He also talks about how his busy schedule doesn't allow him to see his son as much as he would like.
On "March 14," Drake confirms that Adonis was born on October 11th, just two weeks before his own birthday on October 24th, and he says he celebrated in Miami when the DNA test confirmed that he was the boy's father on March 14th, hence the track's title.
Drake also reveals that he while he rushed out and bought a crib for his son, he's only met him once at Christmas time, confirming reports that he flew Adonis and Sophia out via private jet for the Holidays last year. "I only met you one time, introduced you to Saint Nick / I think he musta brought you like 20 gifts / Your mother say you growin' so fast that they don't even really fit / But man, you know / I still had to get it for my boy though."
The rapper goes on to say that he's looking forward to another visit and he hopes that his relationship with Sophie improves: "They said that in two weeks you're supposed to come in town / Hopefully by the time you hear this / Me and your mother will have come around/Instead of always cuttin' each other down."
Drake addresses the topic for a third time on the track "8 Out of 10," which is also what fans believe is a direct response to the Pusha T diss track: "The only deadbeats is whatever beats I been rappin' to,"he raps, followed by "Never a matter of 'could I?' or 'should I?' / Kiss my son on the forehead then kiss your ass goodbye."
The song concludes with audio from a viral Plies video in which the rapper talks about refusing to argue with people: "I can't argue wit you. You mad … I don't get paid to argue with you… who is you? You ain't nobody. You mad!"
Who knows whether Drake would have even mentioned Adonis if Pusha T hadn't forced his hand, but the good thing is that Drake is definitely stepping up and at least trying to be a father to the kid.
That being said, there's still a lot we don't know about the child. Hell, we don't even know if his name is really Adonis, but thanks to some new photos shared online, we do have a first glimpse at what Drake's firstborn looks like.
Though Sophie has declined to show off her child to the rest of the world, the internet will always internet and pull out those receipts. The photos posted here don't reveal a whole lot, but it's the only real first look we have of Adonis and shows more of his face than the original photos Sophie posted on her Instagram.
It looks like these photos were taken shortly after Sophie gave birth, as she can be seen wearing a hospital bracelet in one of the pics. Adonis is now 8 months old and probably looks very different.
Check out the pics below: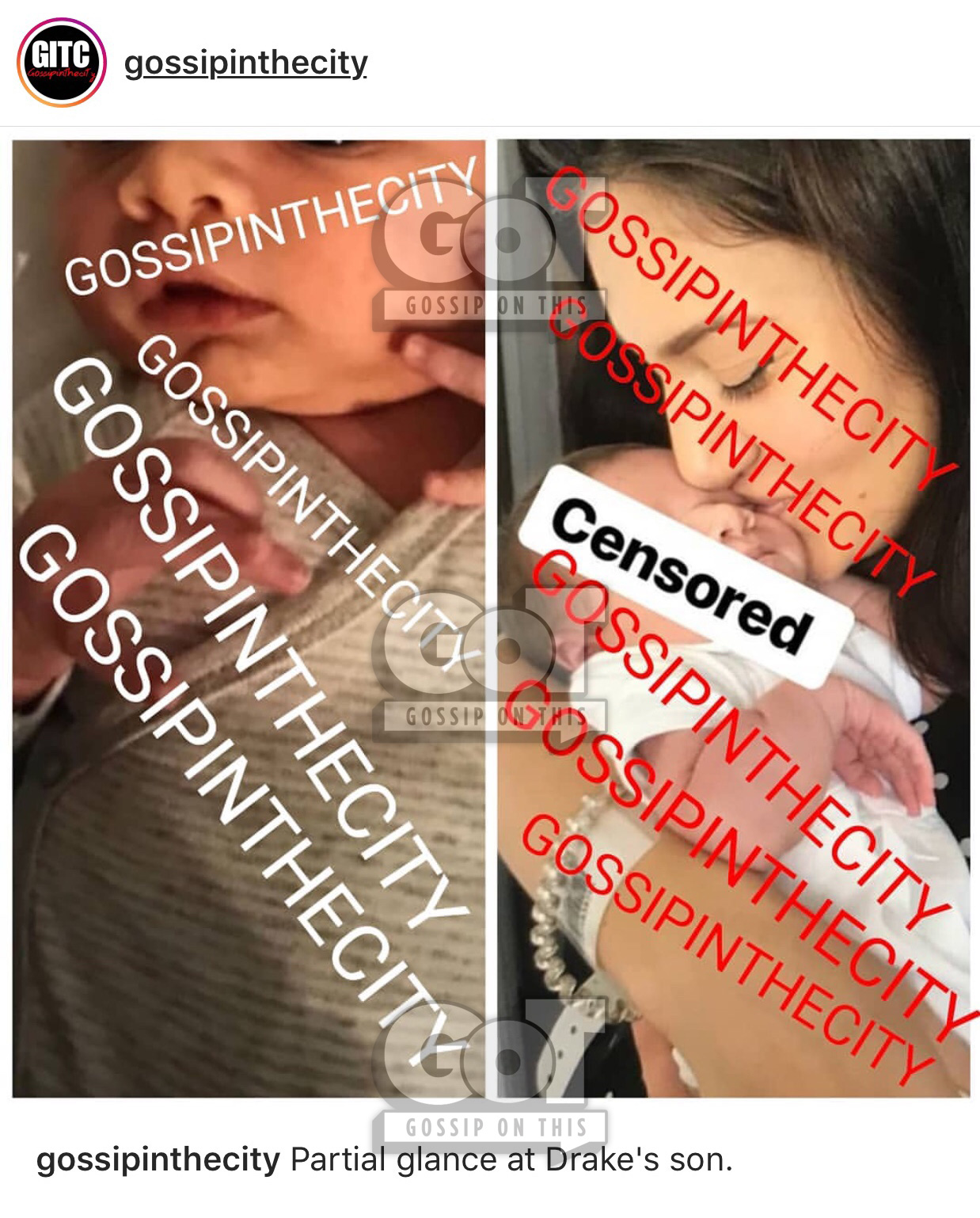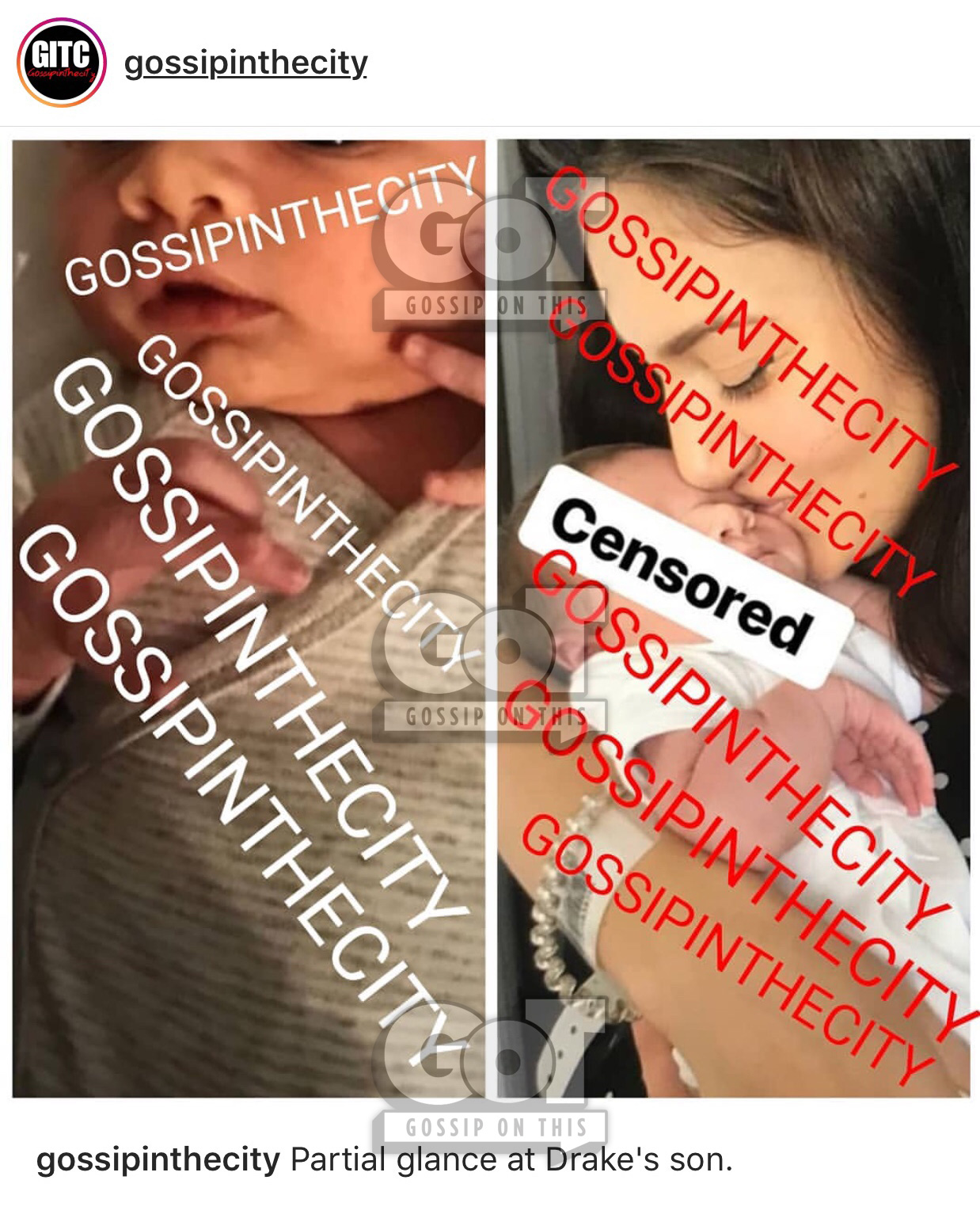 Be the first to receive breaking news alerts and more stories like this by subscribing to our mailing list.