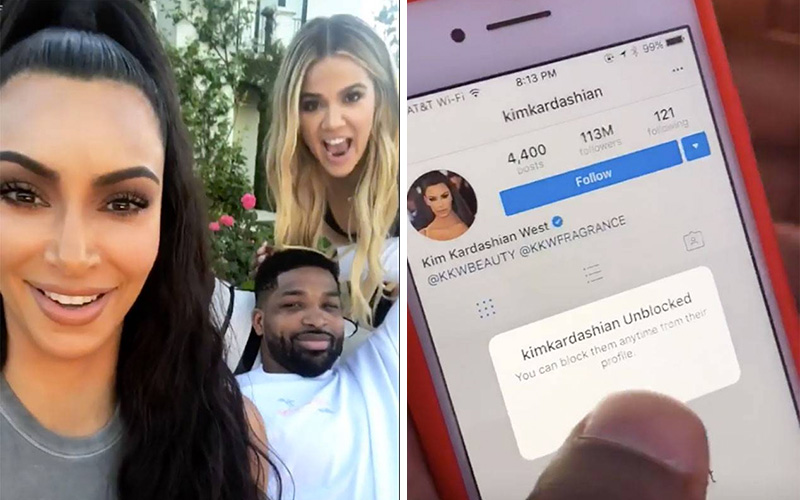 Tristan Thompson and Kim Kardashian are friends again in real life and on social media.
Nearly three months after the Cleveland Cavaliers player blocked the reality star on the Instagram amid his cheating scandal drama, Kim and Tristan have called a digital truce.
Kim and Tristan were celebrating Khloe Kardashian's 34th birthday Wednesday in Los Angeles, and Kim used that moment as an opportunity to ask Tristan to unblock her on Instagram.
"Alright, guys, so what do you think? It's Khloe's birthday—do you think I should ask this guy to unblock me?" Kim asked her followers in an Instagram Stories video pointing at Tristan in the background. "For Khloe's birthday, I think it's only right," the 27-year-old NBA player responded as they both laughed. "So, uh, was that a yes?" Kim asked.
Thompson gave the camera two thumbs up and proceeded to go through the motions of unblocking Kim while she filmed it. "There's no going back," she told him. "Now, the question is: Should I follow you again?"
Uhm… can you say awkward?!
Making matters even more awkward was when Kim noticed Tristan had also blocked Khloe's friends Khadijah and Malika Haqq and she shouted to them, "You guys! Did you know that he blocked you also?!"
Tristan blocked Kim on IG several months back after Kim addressed Tristan's cheating allegations on an April episode of The Ellen Degeneres show. Just a few days after the TV appearance, the two unfollowed each other, with Kim hinting at their social media drama no too long after when she was asked about the cheating scandal on Live With Kelly and Ryan.
"Last time I went on TV and answered some questions about her, I got blocked on social media so…" she told the co-hosts. "Not from Khloe," she clarified.
Now, months later, it looks like Tristan Thompson is back in the Kardashian family's good graces.
Be the first to receive breaking news alerts and more stories like this by subscribing to our mailing list.