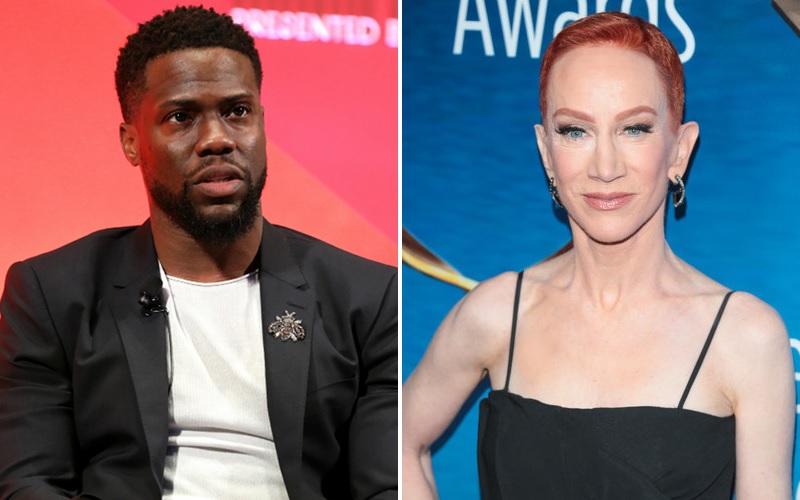 Kathy Griffin is done apologizing for her 2017 political stunt that basically caused her to be exiled from Hollywood and shunned by many fans. Now, she's criticizing other comedians for refusing to go after Donald Trump, going as far as to call Kevin Hart a "pussy."
Griffin is going all in on Trump in her upcoming "Laugh Your Head Off" tour, which will find the humor in her tumultuous year after holding a bloodied decapitated Trump head in a controversial photo shoot. However, she's particularly disappointed that a black man like Hart won't blast Trump in his own stand-up. She tells USA Today:
"I do feel like this is such an anxiety-ridden time for everyone that there is a thirst for all kinds of comedy. And look, if you want to not hear about Trump at all, go see Kevin Hart. He doesn't even mention Trump. I personally think that's a pussy move because he's a black man. But I guess he's selling more tickets than I ever will."
Hart has not responded to Griffin's slam. Just to note, political humor has rarely been part of Hart's routine, as his style consists more of observational comedy, satire, and self-deprecation. One of his most recent tweets was about his height.
Breaking news people….I think I grew a little bit. I just had to add a line on my height wall…This is HUGE! I am a full 5 foot 5 now. From now on when I play Basketball I'm going to need to be fed in the post damn it….I'm drop stepping all day!

— Kevin Hart (@KevinHart4real) June 14, 2018
As for Griffin, she feels the backlash she received last year was not warranted given how the first year of the Trump administration has panned out. "Every day that passes, more people realize not only was my photo literally harmless, but completely legal," she said.
She lost several jobs and endorsements, was condemned by friends, was placed on the no-fly list, and was the subject of a federal investigation for conspiracy to assassinate the president.
Griffin is "humbled and grateful" for the career pitfall and her journey back on the road. Her 23-city tour kicks off today in San Francisco.
Be the first to receive breaking news alerts and more stories like this by subscribing to our mailing list.