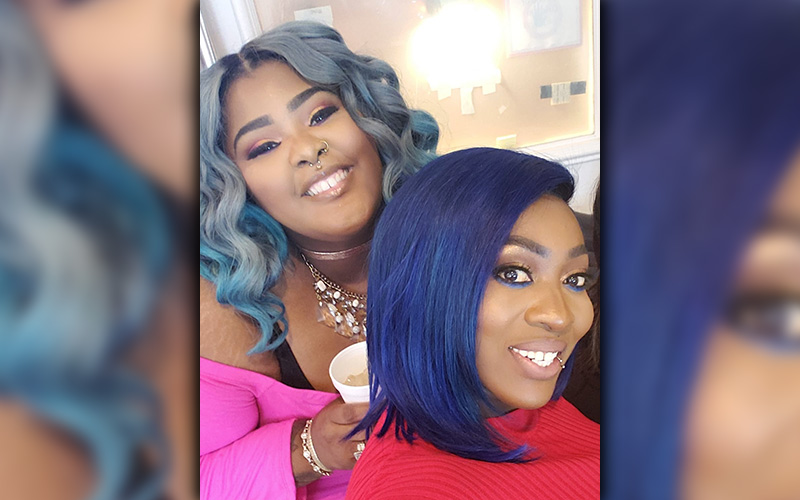 On last week's episode of Love & Hip Hop Atlanta, Tokyo Vanity almost beat the fawk out of Spice during what what was supposed to be a peaceful brunch after the latter had the nerve … the AUDACITY … to try and come for her weight.
The beef between Tokyo and Spice started when Spice went out on a date with Tokyo's ex boyfriend Tabius, and when the two came face-to-face at brunch (thanks to Mimi and Sierra), all hell broke loose when Spice started throwing multiple jabs at Tokyo's weight.
Mimi was all "Tokyo this is Spice, our friend, Spice this is Tokyo, our friend… We're ALL FRIENDS HERE" and when Sierra mentioned how they were going to eat, that's when the fat-shaming from Spice started. "I don't think she wants nothing else to eat, trust me," she said with a smirk.
When Tokyo attempted to settle their dispute by telling Spice her issue wasn't with her, it was with Tabius (who posted her on his "InstaSnap" i.e. Instagram Stories the night before, btw) but Spice continued to get loud with Tokyo, and she wasn't there for that. So, as Tokyo proceeded to get up, she pulled a Sierra and threw her handbag at Spice.
She missed because Spice was quick to duck, but the fact that it took a whole team of security to stop Tokyo from jumping on Spice lets us all know who would have won that fight. Tokyo was escorted out of the restaurant and was clearly pissed. She said she's trying to be a better person and doesn't want to be out here "fighting these hoes."
After the episode aired, Twitter dragged Spice for filth because, in case you didn't already know, Tokyo is a fan favorite of the show. So they didn't appreciate Ms. Jamaica coming for their girl like that. And when I say they went in, THEY WENT ALL THE WAY IN. See some of the responses below:
#LHHATL Everytime I see Spice pic.twitter.com/ccXfbhAu3O

— caiphia hepburn (@chepburn5859) June 5, 2018
Ok I'm done ??#LHHATL ????? pic.twitter.com/Td0KjJ5rKd

— . (@KingBardi_) June 5, 2018
But tokyo look better then spice…so what is spice talking about #LHHATL pic.twitter.com/h0jUD95Kc7

— . (@KingBardi_) June 5, 2018
If security wasn't there Tokyo would've dragged Spice #LHHATL pic.twitter.com/1Rta6ifgdS

— ?Quan The Gemini ? (@Fiercegemini) June 5, 2018
Somebody said Spice looks like Bowser and um…. ? #LHHATL pic.twitter.com/pOLIVq0IU6

— Tommy ?? (@Tomister555) June 5, 2018
"I could've stayed in New Orleans if I wanted to fight with my aunties" #LHHATL pic.twitter.com/cZBOgk0djy

— Kai??? (@2flyy_ky) June 5, 2018
Spice you bout to bust out that outfit though #LHHATL pic.twitter.com/vDLONnN2wC

— Nia Anais 🙂 (@Anais_MB_Sweety) June 5, 2018
https://twitter.com/KissMY_FLAWNESS/status/1003794040020783104
I find it disgusting that the first thing Spice came at was her weight. Body shaming is so disgusting and mean. Do better. #LHHATL pic.twitter.com/YjPhYe3bFM

— ruthie ?? (@fatherruthie) June 5, 2018
Spice really think she look good.? ?#LHHATL pic.twitter.com/fJrPqyfpXZ

— jerikaa ?? (@XO_Jerikaa_XO) June 5, 2018
"You fat too and ugly on the eyes"-Tokyo #LHHATL pic.twitter.com/Q309d3eElz

— Nicole Perez (@nicole_perez1) June 5, 2018
Just FYI – just bcuz a person is fat does NOT mean they are ugly. Weight does not determine beauty. Tokyo's face is gorgeous. Spice is ugly as hell ????? #LHHATL

— besos? (@BeyStare) June 5, 2018
You see what I mean? BRUTAL.
So after spending most of the day getting dragged all over Twitter, Spice wrote a long apology on Instagram along with a recent photo of the two to show that all is well between them. She called their prior altercation "officially the most horrific situation I've watched on TV."
She added: "I'm so disappointed in myself for doing the exact same thing I promised myself that I wouldn't do. Watching back Myself fighting on Tv has left me with deep despondency. Even tho I heard that disrespectful remarks was passed about me behind my back. Leaving me to think she was throwing shade i said I'm gonna throw the whole tree when I met her. With that being said It still doesn't justify the fact that I was so wrong to comment on her weight."
Peep the full apology below:
You would think with an apology like that, Spice would be forgiven by the Twitter draggers… but nope. That's not how it works. Once Twitter gets to dragging, they usually keep the dragging going, especially when you come for their faves.
See below for proof:
Spice tried to apologize for calling Tokyo fat… you can't keep that whack ass apologize with that whack ass music #LHHATL

— soul food? (@vivalajayy21) June 6, 2018
I liked Spice until I saw that she was jealous of Tokyo. Tokyo is one of the prettiest girls on the show, her weight is irrelevant. Spice sound like a hater. #LHHATL

— Black Bitch ? (@KimiTheGoddess) June 6, 2018
Spice really posted a paragraph apology for making fun of Tokyo's weight? Damn my family members owe me a whole textbook then.

— G. (@g_amillia) June 6, 2018
Why is Spice even on the show ??????????????? She's a non dressing, bad wig, body shaming ass person with no true story or substance for the show. Tokyo didn't even want to take it that far! But you took it there!

— primadonna?? (@_chiinnaa) June 5, 2018
Spice was out of pocket coming at Tokyo the way she did because Tokyo wasn't even on that plus she not that slim herself but she real shady. ? #LHHATL

— Swaggy V (@AllEyesOnV) June 5, 2018
Raise your hand if you wanna see Spice get rocked by Tokyo #LHHATL
SN: Let Tokyo know this can be her last fight we won't judge, we'll love you all the same if not more. pic.twitter.com/ackenNNeTx

— ShaneGoneRogue (@ShaneAppling) June 5, 2018
Watching last nights episode on #LHHATL spice is T-R-A-S-H period!!! #Tokyo held her composure all while ol paprika ass throwing snidely comments at her weight

— ?Usagi-Berry?? (@UnderDaSeaGyal) June 5, 2018
Be the first to receive breaking news alerts and more stories like this by subscribing to our mailing list.