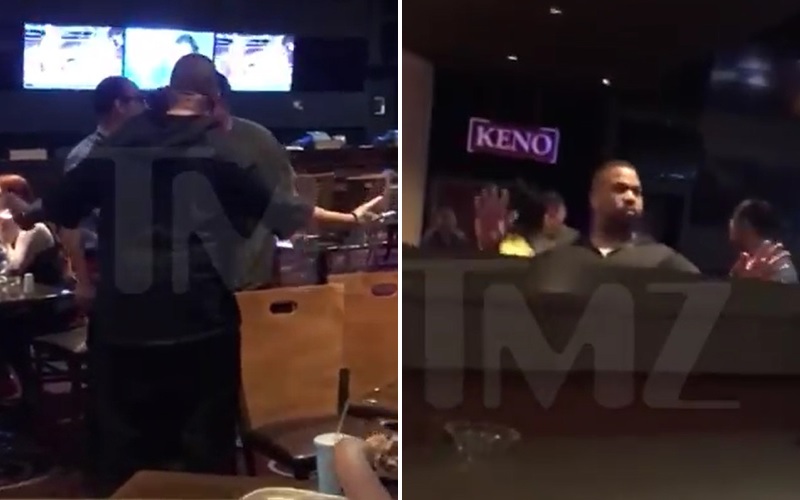 Apparently waiting too long for pizza unleashes the raging homophobia hidden deep with Omar Gooding.
The actor dropped several f-bombs, including the homophobic slur, during a heated argument with an alleged off-duty cop in Las Vegas. And it was all caught on camera.
The incident took place at around 3 am Saturday morning (June 9) at a food court/bar area in Vegas. A very hungry and impatient Gooding became frustrated that his pizza order was taking so long and witnesses say he began "degrading" an employee. A man who claimed to be a cop/federal agent then intervened in an attempt to calm Cuba Gooding Jr.'s younger brother.
Unfortunately, the man also found himself on receiving end of Gooding's wrath. The Smart Guy alum verbally attacked the man, called him the homophobic f-word twice and a "retard." He also repeatedly challenged the "cop" to actually arrest him. The two eventually parted ways as security arrived to defuse the situation.
"By no means am I a hater or homophobic," Gooding later told TMZ. He apologized for his offensive words but added, "who wouldn't be a little impatient?" after waiting for food so late at night.
"My apologies for the offensive language, but that does not define who I am … we calmly communicated, worked it out and all was forgiven."
He said that all parties involved in the screaming match apologized and walked away. Though security got involved, there was no arrests or complaints filed.
Be the first to receive breaking news alerts and more stories like this by subscribing to our mailing list.