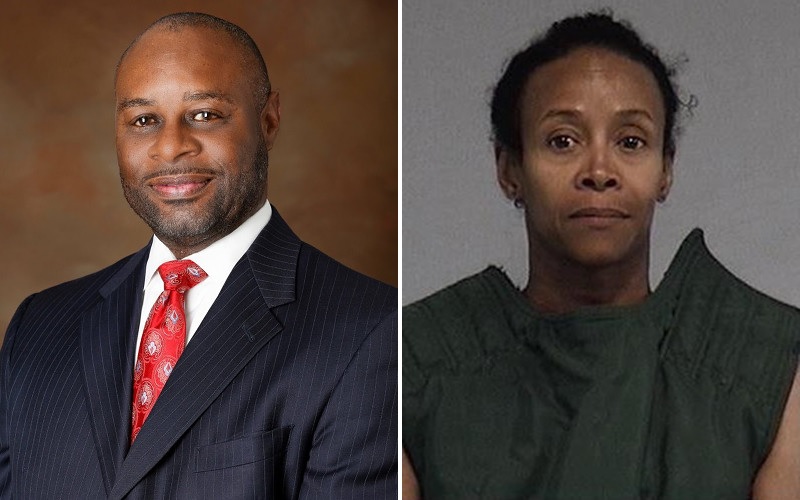 A dispute over a Google search has left former Florida official Tony Brown in critical condition after being shot in the back of the head by his wife.
Former Riviera Beach Community Redevelopment Agency executive director Tony Brown, 58, was airlifted to UF Health Hospital on Tuesday (May 29). He is scheduled to have brain surgery on Thursday to remove bullet fragments.
Lawanda Brown, Tony's wife, was arrested on Wednesday and charged with attempted murder. A judge set bond at $500,002. As of this writing, she remains held in Nassau County Jail.
JUST IN: @NCSO_FL says it arrested Lawanda Brown, 57, for attempted murder of her husband, Tony Brown, 58. Deputies say Lawanda Brown shot him in the back of the head. He has critical injuries. @ActionNewsJax pic.twitter.com/WIa2CpJLPp

— Russell Colburn (@RussellANjax) May 30, 2018
"It was all a blur," Lawanda described the shooting to investigators.
According to the 57-year-old, the confrontation began after Tony asked his wife to do a Google search for a template to use for a project the couple was working on. Lawanda says she didn't like Tony's tone and could tell that he was not happy with how she was conducting the search.
Authorities arrived at the couple's Fernandina Beach home around 1:30 p.m. to find Tony lying in a pool of blood with a gunshot wound in the back of his head. Tony was walking away from Lawanda prior to being shot.
Police found a .38 caliber handgun in the couple's bedroom.
Tony became Riviera Beach's CRA director in 2010 but was fired in 2016, along with the CRA chairman, due to concerns with their leadership.
In 2001, President George W. Bush nominated Tony for a position in the U.S. Treasury Department. Prior to the nomination, Tony was a Senior Vice President for Bank of America in Jacksonville, Fla.
He's now CEO of T. Brown Consulting Group, a consulting business he runs with his wife and alleged shooter, Lawanda. The two were working on a project together in their home office at the time of the incident.
A friend of the family says Tony is lucid and speaking, his condition was recently upgraded from critical to serious and stable. But brain surgery to remove bullet fragments is still needed.
Be the first to receive breaking news alerts and more stories like this by subscribing to our mailing list.