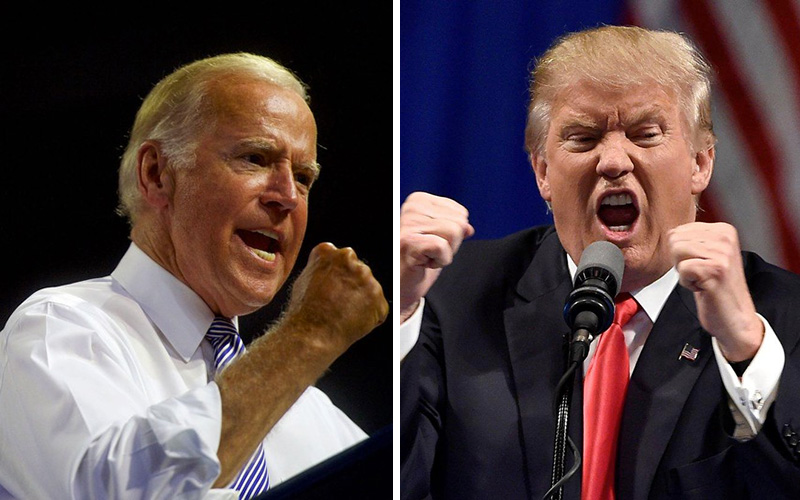 Former Vice President Joe Biden has Donald Trump's panties all in a bunch.
During his speech on Tuesday (Mar. 20) at the University of Miami's "It's On Us" rally, an event aimed at combatting sexual assault on college campuses, Biden spoke on the 2005 audio recording that leaked of President Trump bragging about grabbing women by the pussy.
Biden told students that he would have beat the hell out of Trump if they had attended high school together and he talked like that in the locker room.
"A guy who ended up becoming our national leader said, 'I can grab a woman anywhere and she likes it,'" Biden said. "They asked me if I'd like to debate this gentleman, and I said 'no.' I said, 'If we were in high school, I'd take him behind the gym and beat the hell out of him.'"
He continued, "I've been in a lot of locker rooms my whole life. I'm a pretty damn good athlete. Any guy that talked that way was usually the fattest, ugliest S.O.B. in the room."
Biden's remarks obviously offended Trump once he caught wind of them because he fired back on Twitter threatening to take Biden down "fast and hard."
Crazy Joe Biden is trying to act like a tough guy. Actually, he is weak, both mentally and physically, and yet he threatens me, for the second time, with physical assault. He doesn't know me, but he would go down fast and hard, crying all the way. Don't threaten people Joe!

— Donald J. Trump (@realDonaldTrump) March 22, 2018
Sounds like someone is big mad!!
Be the first to receive breaking news alerts and more stories like this by subscribing to our mailing list.