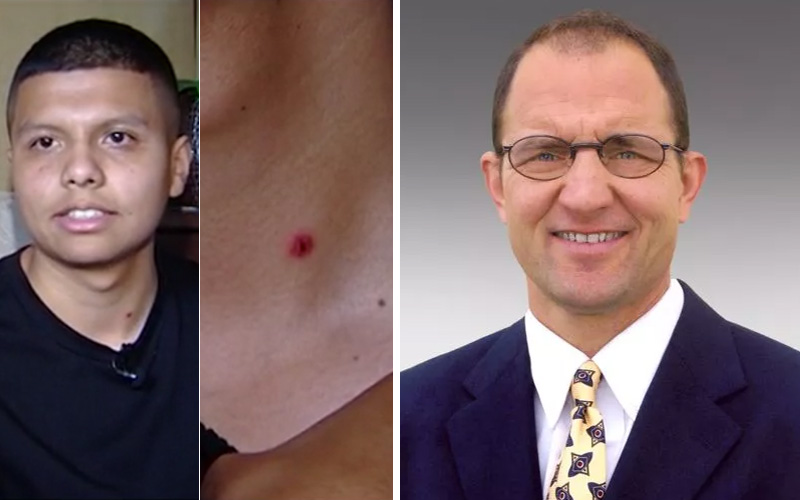 And President Trump believes teachers should be armed with guns…
As many as three students at a California High school was injured after a teacher accidentally fired a gun inside a classroom. According to a press release from Seaside Police Department, the teacher has been identified as Dennis Alexander.
Alexander worked as a math teacher at Seaside High School in Monterey County and is a reserve police officer with the Sand City Police Department. He is also a city councilman. He was teaching a class on gun safety when he pointed a semiautomatic weapon at the ceiling and it accidentally fired a shot.
Seaside Police confirmed 17-year-old student Fermin Gonzales was struck in the neck by debris or a fragment from the ceiling after the weapon was discharged, and an updated report from the Associated Press notes that two other students were injured as well.
One of the parents of the injured 17-year-old student told KSBW that the teacher told the class he had to make sure his gun wasn't loaded when it fired off into the ceiling.
"It's the craziest thing. It could have been very bad," Fermin Gonzales Sr. said to the news outlet.
Gonzales also said he immediately rushed his son to the hospital when he returned home with blood on his shirt and bullet fragments in his neck. His son is OK, but was shaken up by the whole thing. Gonzales is upset that the school never reported the incident.
In picture: "bullet fragments removed from student's neck" – after teacher discharged a loaded weapon into the ceiling in California. The boy suffered moderate injuries, his father Fermin Gonzales told KSBW. https://t.co/lJY9oXkmd3 pic.twitter.com/hQz0g6aEln

— DavKat (@DavKat43) March 14, 2018
"He's shaken up, but he's going to be OK," Gonzales told KSBW. "I'm just pretty upset that no one told us anything and we had to call the police ourselves to report it."
Gonzales also no longer supports President Donald Trump's proposal to have teachers armed with guns in schools.
"I was kinda leaning toward having armed people in school in case something happened," Gonzales said. "After today, I get why people say there should be no guns in schools."
Since the incident, Alexander has been placed on administrative leave from his position at the school and the Sand City Police Department. He is also currently under investigation and could face charges.
"We're looking into any violation of city ordinance or the penal code and we'll determine whether or not there are any applicable charges," Seaside Police Chief Abdul D. Pridgen said.
In 2015, guns were banned from schools and colleges in California.
"I have concerns about why he was displaying a loaded firearm in a classroom. We will be looking into that," City Police Chief Brian Ferrante told KSBW.
The Superintendent's office sent out a letter to parents saying:
"We want to make you aware of an accident that occurred in the Administration of Justice class today at Seaside High School. As some of you may know, the teacher is a reserve police officer. Today, during class, the teacher accidentally discharged his firearm during a lesson while it was pointed at the ceiling. Debris from the ceiling then fell. Upon learning of the incident, our Human Resources department, school site administration and the Seaside Police Department immediately began investigating the incident, including interviewing students in the class. We will also have counseling services available for students. Due to the nature of this personnel incident, we are unable to share any other details. The teacher has been placed on administrative leave for the duration of the on-going investigation. The safety of your student is always our top priority, and we will continue to remain vigilant in our efforts to keep them safe while they are under our care."
And here is the official media release from the Seaside Police Department: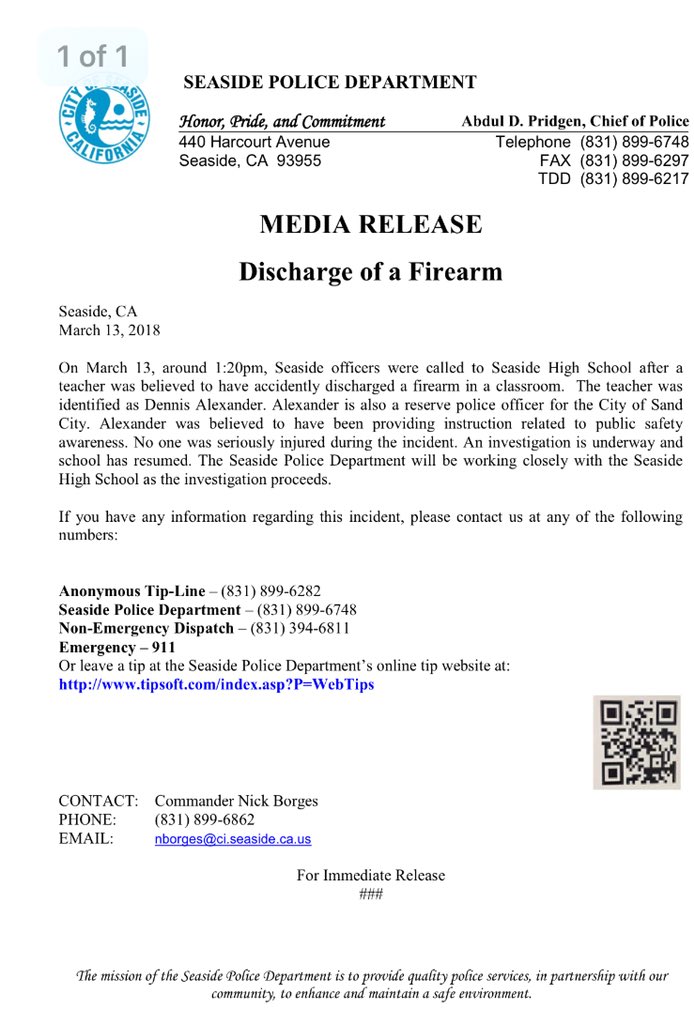 Be the first to receive breaking news alerts and more stories like this by subscribing to our mailing list.