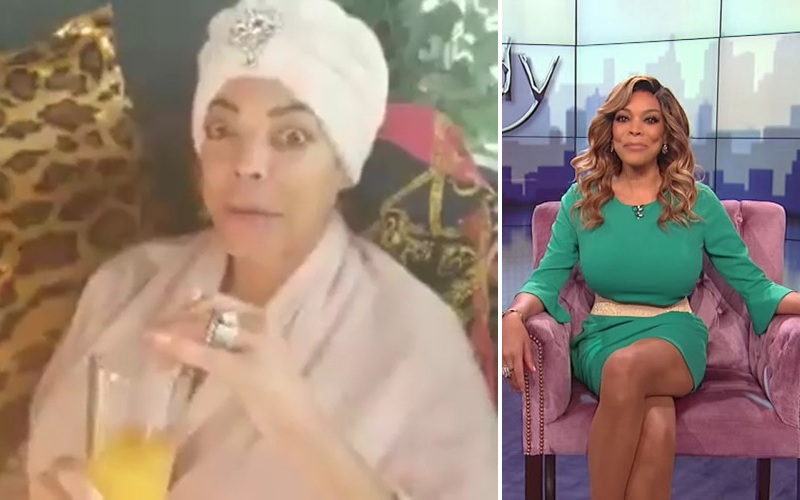 Wendy Williams must be cursed by themed episodes. The talk show host was forced to cancel her Valentine's Day show as well as tapings for the rest of the week due to her exhibiting "flu-like symptoms."
Today's Valentine's Day episode, which featured Taye Diggs as the guest, was abruptly canceled Tuesday (Feb. 14) because Williams was ill. A spokesperson then announced all remaining shows for this week were canceled.
"Wendy is still experiencing flu-like symptoms, and so she can rest up and get better, we have decided to cancel tapings the rest of the week."
Williams gave a health update to her fans earlier today via an Instagram video. Though she hadn't been officially diagnosed with the flu, she said she was feeling "flu-ish."
"It's not the flu yet, but I feel flu-ish. It's not a five on a scale of one to five, it's not even a four… I feel awful, I had to be talked [out of going] into work today, and taking off a few days to get myself together."
This is the first time in the show's 9-season run that Williams has missed a taping. Referring herself to a "thoroughbred," she says she has always been hesitant to take days off work, even in her radio days.
"I took the proper vacation time, but take off sick? What? No, never," she said.
Williams last had a health scare during her Halloween show in 2017. Dressed as the Statue of Liberty, the host fainted live on-air, explaining later that she simply overheated in her costume (though the incident looked more serious).
The CDC expects the 2017-18 flu season to be one of the worst and could break records. "This is a difficult season," said Anne Schuchat, acting director of the CDC. "Everything we are looking at is bad news."
The flu is currently widespread in 49 states with 7.7 percent of all hospital visits being related to flu-like symptoms, a rate that is on track to meet or exceed the "swine flu" pandemic in 2009-10.
63 children have already died due to the virus and it's being estimated that this year's strain is killing up to 4,000 Americans a week.
Be the first to receive breaking news alerts and more stories like this by subscribing to our mailing list.