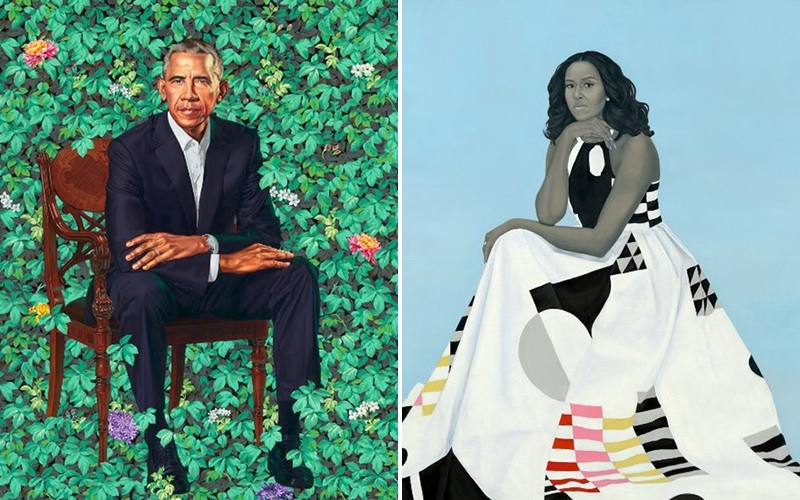 Yesterday (Mon, Feb. 12) marked another historic moment in Barack Obama and Michelle Obama's legacy. The former President and First Lady of the United States helped unveil their official portraits at the Smithsonian's National Portrait Gallery.
The Obamas each handpicked the artist they wanted to paint their portraits. The former president chose Kehinde Wiley and Mrs. Obama picked Amy Sherald. Both artists are known for painting portraits of African-Americans.
Watch the unveiling of the Obama portraits at the National Portrait Gallery on Monday pic.twitter.com/EI8K18QxR0

— POLITICO (@politico) February 12, 2018
Wiley also now becomes the first black artist to paint a presidential portrait for the National Portrait Gallery, which displays the portrait of each president.
"I look pretty sharp," Barack said after seeing himself in art form. Wiley depicted the former president sitting in a chair with a wall of greenery behind him. Wiley is known for painting portraits of prominent black figures in heroic and royal poses. The Grio likened Obama's post to a king.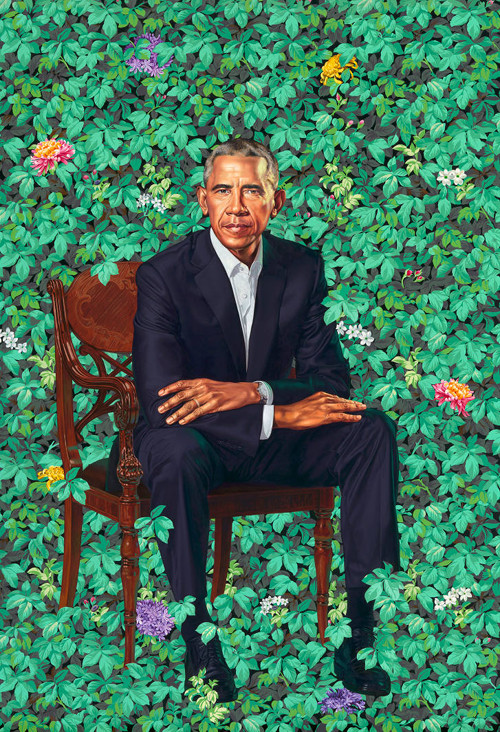 Holland Cotter of the New York Times explained Wiley's use of flowers in the portrait:
"From the greenery sprout flowers that have symbolic meaning for the sitter. African blue lilies represent Kenya, his father's birthplace; jasmine stands for Hawaii, where Mr. Obama himself was born; chrysanthemums, the official flower of Chicago, reference the city where his political career began, and where he met his wife."
Sherald's portrait shows Michelle Obama posing in a gown designed by Michelle Smith featuring geometric shapes reminiscent of African textiles.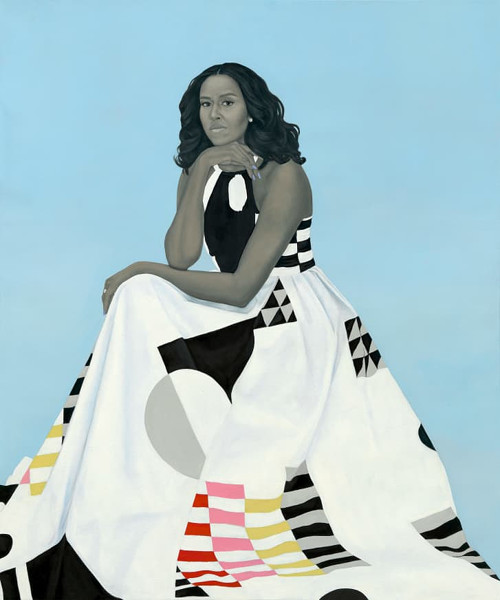 Gerren Keith Gaynor of The Grio analyzed Sherald's use of grey tones in the portrait:
"Sherald's interpretation of Ms. Obama used a stylized gray hue to portray Black skin tones. The use of gray is a political statement of sorts for Sherald, in which she discards the assigned "color" of African-American subjects. Sherald's approach is more about artistic expression and composition than about realism."
"Amy, I want to thank you for so spectacularly capturing the grace and beauty and intelligence and charm and hotness of the woman that I love," Barack said, praising Sherald.
Michelle also noted in her speech what it means for little black girls to see her portrait hanging in the gallery.
"I'm also thinking about all the…girls and girls of color, who in years ahead will come to this place…will see an image of someone who looks like them hanging on the wall of this great American institution."
Twitter had mixed reactions to the portraits. Many were excited for the Obamas return to the spotlight and praised the two black artists. The two images also sparked a few memes.
I LOVE that Barack and Michelle Obama chose Black artists to paint their portraits. The Obamas were America's first Black first family, so it's fitting they bestowed this "first" on two Black artists as well. pic.twitter.com/nQfofwJVTy

— Britni Danielle (@BritniDWrites) February 12, 2018
I can't get over how perfect these portraits are. The future seems brighter every time we get to see the Obamas. #NPG

— Akilah Hughes (@AkilahObviously) February 12, 2018
Monday morning joy as portraits of President and First Lady Obama are revealed by artists Amy Sherald and Kehinde Wiley. Reminds me to hope. #ObamaPortraits pic.twitter.com/6r4NtH0rxx

— Ava DuVernay (@ava) February 12, 2018
I really like both of the portraits and I love that the Obamas chose to showcase the immense talents of two black artists. It's was a new chapter in our country's history and I love a new style of art to commemorate it.

— Jenna (@jennaep7) February 12, 2018
I'M REALLY MISSING THE OBAMAS. THEY'RE UP HERE CELEBRATING DIVERSITY AND ART AND BEING ROLE MODELS AND PLEASE COME BACK BARACK AND MICHELLE. pic.twitter.com/KMAXR33cOa

— Catherine McParland (@Cat_McParland) February 12, 2018
Consider it done pic.twitter.com/YJqiPJ0zQG

— In-Doo-Bee-See (@N_du_Time) February 12, 2018
— ChampagnePetty (@__Dutch) February 12, 2018
I am consuming the Obamas speaking on TV right now like someone drinking water after months in the desert.

— Jennifer Bakos (@jenbakos) February 12, 2018
Me watching the Obamas at the National Gallery this morning #MSNBC #Resist pic.twitter.com/PoBT30tMsw

— Kirsten (@RegardsKiKi) February 12, 2018
sorry pic.twitter.com/ApQYOf5XF7

— Shoshana Weissmann, Regulatory Reform Muse (@senatorshoshana) February 12, 2018
https://twitter.com/A_A_GHOST/status/963134749219975169
I couldn't resist posting this. #ObamaPortrait pic.twitter.com/2X6To16bJ7

— Arizona Political ? (@AZVotes) February 12, 2018
? One of these things is not like the other.
One of these things just doesn't belong. ? #ObamaPortrait pic.twitter.com/NswqUPYG6B

— Rick Canton™ (@TheRickCanton) February 13, 2018
Be the first to receive breaking news alerts and more stories like this by subscribing to our mailing list.