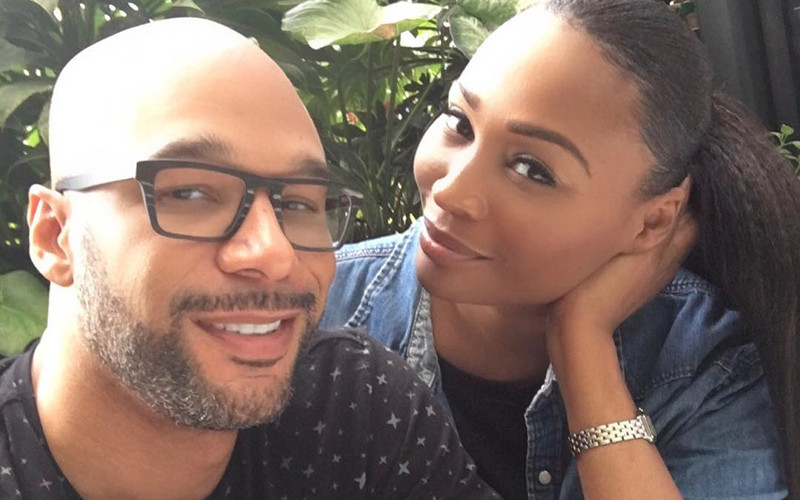 Since her RHOA debut, the now-married Kenya Moore has been accused of personally paying men to portray her boyfriend. Now, another Real Housewives of Atlanta star is facing rumors she has concocted a "phony" relationship for the sake of a storyline.
Radar Online is reporting Cynthia Bailey's new relationship with Will Jones is only for the show. "No one signed an appearance release faster than Will," a source exclusively told the entertainment news site. "His motive was so clear."
Will, a businessman and motivational speaker, has popped up on other TV shows, including an appearance on The Steve Harvey Show for a special dating segment. "Will dates a lot of women," the source added. "That's the problem throughout the season."
Due to his prior TV gigs, even Kandi Burruss had her suspicions of Cynthia's new bae. In a recent episode, she flat out asked him if he was an opportunist, which he (obviously) denied.
The newly-divorced model has been dating Will for most the current season, but Radar's source is adamant the relationship was faked for the show. "There is no chemistry at all between Cynthia and Will," said the insider. "Anyone can see that. It is plain as day."
Cynthia and Will went "Instagram official" back in August and the two have posted several photos with each other since, including a Halloween pic, which Radar's source says was specifically for the show.
https://www.instagram.com/p/BaxIoQ0goLE/
Filming for season 10 of RHOA has reportedly wrapped and the source says the couple has already parted ways. "They are totally not together anymore," the insider revealed. "Not even a little bit."
The source compared Cynthia and Will to Kenya's alleged arrangement with RHOA boyfriend Walter Jackson and was unsure if Will would even be invited to the reunion taping.
"Kenya Moore paid Walter a few seasons ago to be her boyfriend. She paid him herself. But Bravo isn't paying Will. If he tapes the reunion show, then he'll get compensated for a new haircut and a suit. Cynthia could pay him herself if she wanted to."
While Cynthia has not commented on rumors that her new relationship is fake, she did share her thoughts on accusations that Will is an opportunist to BravoTV.com.
"There's this whole thing about Will being an opportunist. He went on all these dating shows—he went on ONE dating show and was considering doing another, I don't really care who's before me. He can go on like 100 dating shows.

"I don't know why they think he's an opportunist. Opportunist, what does that even mean? I am not that open to the whole opportunist thing because I feel like okay, whatever. I'm trying to be the opportunist. I'm trying to get somebody to help me."
Though I'm still trying to feel him out, I actually like Cynthia and Will together. I'm also not getting any sneaky Kenya/Walter/Matt Jordan vibes like Radar's source suggests.
The Real Housewives of Atlanta airs Sundays on Bravo.
Be the first to receive breaking news alerts and more stories like this by subscribing to our mailing list.