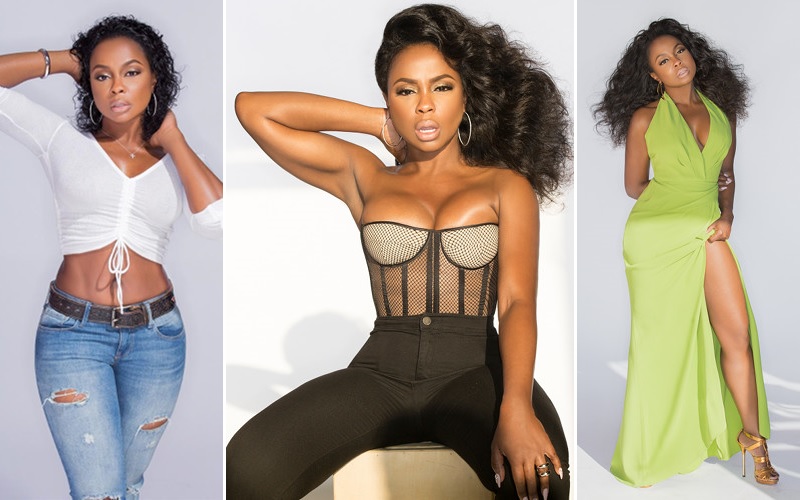 The woman with "several jobs" shamefully lost one earlier this year, but it seems Phaedra Parks has quickly snatched another and it's a bit of an odd career path. Phaedra is ready to walk in Naomi Campbell's shoes and become a supermodel.
The former Real Housewives of Atlanta star announced today (Nov. 21) that she has signed with Wilhelmina Models. The 44-year-old, standing at 5'1, said she has partnered with the agency to inspire women of all ages to follow their dreams.
"I think I'm the face of 'yes you can.' I'm a small-town girl who has followed her dreams," she tells Us magazine. "Yes, you can be a mom, yes you can be a lawyer and yes you can be a model."
Phaedra says she jumped at the chance to try her hand at modeling.
"When the opportunity presented itself, some people asked me 'Why?' and I said 'Why not?' A supermodel started this company and she wanted to give power back to the women and I think I stand for the same things. I have the opportunity to show people that beauty can come in every size, shade, color and age. It's exciting and an adventure!"
Phaedra says that supermodel Naomi Campbell is one of her inspirations. "She is everything, so fierce." She also name-dropped Nicki Minaj, who is also signed to Wilhelmina and is a "big supporter" of Phaedra's, so she claims.
However, don't expect Phaedra to be walking the runways in Paris or Milan anytime soon. She hopes to promote skin care products, not apparel. "I would love to be the face of a skincare brand. I have great skin," she says. "I love makeup, but I love to be able to take off the makeup and have beautiful skin."
I'm not one to knock someone's dreams, so good luck with that, Phaedra!
The lawyer/former reality star/model hopeful also gave Us an update on her mortuary side hustle. She's very excited for the "peak season" which ironically follows Halloween.
"Being a mortician is a passion of mine and everything I'm passionate about I just dive right in. This is our peak season actually, the peak season from deaths is from Halloween to around Valentine's Day, so we're very busy — people are going to glory pretty regularly. I'm directing a few funerals this weekend. I know it's morbid, but I love being the final party planner."
Click here to read Phaedra Parks' full Q&A interview with Us magazine's "Stylish."
Be the first to receive breaking news alerts and more stories like this by subscribing to our mailing list.