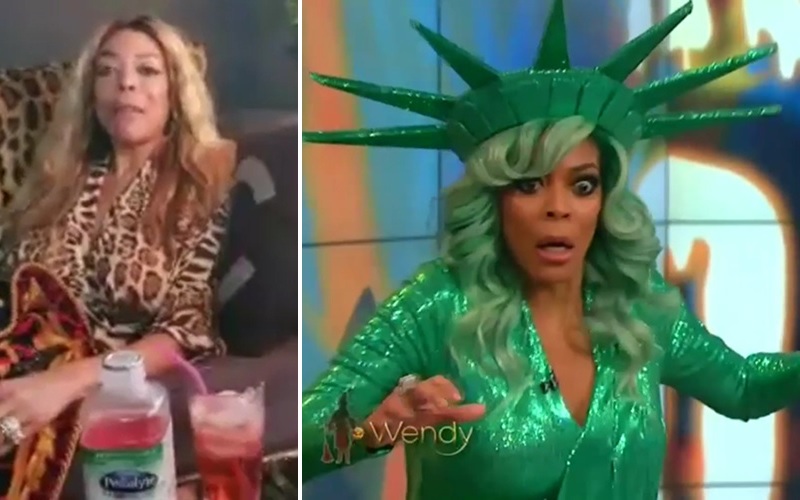 Is Wendy Williams really okay? Staffers are reportedly worried about the talk show host's health after she collapsed on live television.
Wendy suffered a frightening health scare during her live Halloween show on Tuesday (Oct. 31). While dressed as the Statue of Liberty, she became overheated in her costume and began to slur her words, shake, stagger, and eventually fainted in front of her studio audience and viewers watching on TV.
https://twitter.com/xosalxox/status/925399811402104832
Though she was able to carry on with the rest of the show, Page Six reports some Wendy Williams Show staffers are seriously concerned about her health.
"Wendy has become very thin recently, and the show staff wonders if she is under a lot of personal stress," a source told the publication.
They also wonder if the scary incident is linked to a September report that Wendy's husband and business partner, Kevin Hunter, has allegedly been cheating on her for the past 10 years.
A year-long investigation by the Daily Mail claims Hunter leads a "double life" and is in a relationship with 32-year-old massage therapist Sharina Hudson. He allegedly even purchased a $765,000 home for her just miles away from the home he shares with Wendy.
However, Wendy and Hunter have both denied the allegations. A spokesperson for Wendy simply described Hudson as a family friend and defended his client's marriage. "One plus one does not equal three," he said. "This woman is a friend but there is no 'there' there."
It has also been reported that Wendy fired several Wendy Williams Show employees for leaking the story to the Daily Mail.
But despite her staffer's concerns, Wendy says she is fine after passing out on air. In an Instagram video, she gave an update to fans and intends to be back in her purple chair on Wednesday (Nov. 1).
"I'm home and hydrated," Wendy said. "And I will definitely be there tomorrow with rest of the story."
She also assured fans she was OK in a statement posted on Twitter. "Everybody relax. I'm doing fine, just need water and electrolytes," she wrote.
— Wendy Williams (@WendyWilliams) October 31, 2017
Be the first to receive breaking news alerts and more stories like this by subscribing to our mailing list.