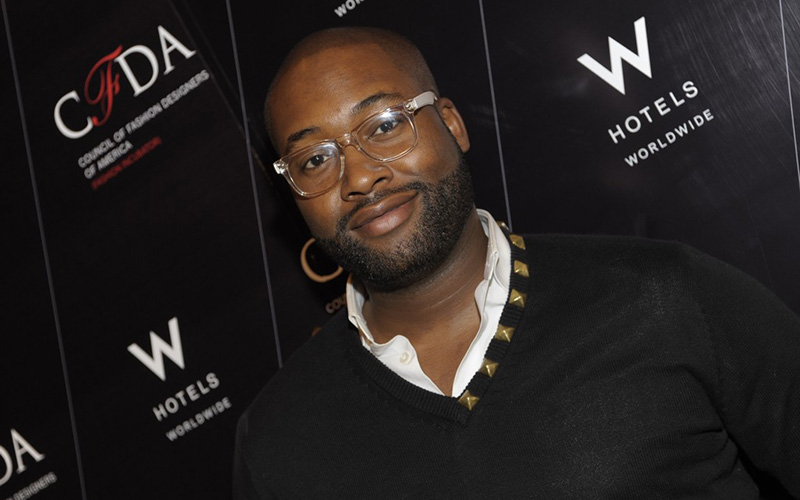 According to various sources, fashion designer Mychael Knight has died at the age of 39. Obvious Mag, who first broke the news, reports that Knight passed away a little before 7:30 a.m. outside of Atlanta, Georgia on Tuesday (October 17) "surrounded by his loving family and friends."
Mychael Knight's official cause of death hasn't been released, but TMZ reported that Knight had recently checked into a hospital and was getting treatment for intestinal issues, and it was assumed that his cause of death was related to that.
"We are still processing the untimely death of our son, brother, friend, and uncle," Knight's family said in an official statement. "Mychael meant everything to us and we loved him dearly. He was generous and so full of life. This is how we choose to remember his legacy."
The sad news comes on the heels of Knight's friends recently calling for prayers on social media. The renown designer spoke out about his illness back in July and revealed that he had been suffering from IBS (Irritable Bowel Syndrome) since 2012, and this year, in particular, had the been the worst for him.
"I've decided to share something personal b/c in the past few months, I've disappeared from the socials and my actual life," Knight wrote to his friends on Facebook. "After several of my close friends sending random texts and calls, concerned w/ my well being, I just decided this would be the best way to share with the rest of my friends and family."
He added, "For the past 5 years, I've been suffering from IBS (Irritable Bowel Syndrome). This year has really taken a toll on my health…badly. In short, IBS is a gastor-intestinal [sic] disorder in which the food I eat, my body doesn't absorbed [sic] (malabsorption) the nutrients from what I eat."
Knight continued, "In addition, b/c I have a 'leaky gut,' opening in my intestines, toxins from that food leak into my bloodstream, which can cause Autoimmune diseases (Diabetes, Lupus, Celiac Disease, Rheumatoid Arthritis)."
He went on to describe other various ways IBS had affected his quality of life (including developing respiratory issues) and said that he would need to change his diet and lifestyle to help combat the illness.
"I suffer from chronic abdominal pain/diarrhea/nausea, EXTREME fatigue and exhaustion, food sensitivities/allergies, foggy brain, headaches etc," he shared. "As of recent, I've develop [sic] some acute Autoimmune responses like Psoriasis, inflamed joints, and small respiratory issues."
Read the rest of his post below:
"After months/years of cutting out process food and some meat, ex'ing out gluten and other toxins (all helped some), being bed ridden for weeks and seeing doctors/specialist, I realized that 'traditional medicine' only remedies the symptoms, and not rectify the illness. So with the help of a nutritionist and herbalist, it's a MUST I go with a complete plant/herb diet and lifestyle.

"This issue is SERIOUS. It has completely taken over my life. It's more than an upset stomach and shit spills. 80% of your immune system is created in the gut. I've been living in torment…for a long time.

"Again, I just want to share b/c I LITERALLY disappeared. A few close friends know, my immediate family knows of coarse. I wanna say THANK YALL. I know there's been ALOT of unreturned texts/calls. But honestly, some days I don't have the energy to do either. Thank you to all my clients who've been patient and understanding as well!

"I also wanted to share b/c I have noticeably, lost an EXTREME amount of weight, so it's become obvious something is going on. SIDEBAR: I'd appreciate everyone holding the 'you so skinny' or 'you need to eat' comments. YES I lost weight, NO I'm not trying to, YES I eat, NO I don't have Cancer and anything else terminal. LOVE Y'ALL."
Mychael Knight, a native of Atlanta, is best known for his stint on Season 3 (2006) of "Project Runway," in which he finished in fourth place and went home with the Fan Favorite award. After the show, in 2007, he went on to become a powerhouse in the fashion industry, introducing his self-titled label on BET's Rip the runway and designing a line of custom tees for the Starbucks Corporation.
The following year, in 2008, Knight launched a lingerie label for men and women called Kitty & Dick, as well as his unisex fragrance MajK. Knight also participated in the Project Runway: All-Star Challenge in 2009.
In 2010, Knight unveiled his Fall/Winter 2010 during Charleston Fashion Week in Charleston, South Carolina, and in 2013 he became a contestant on Season 3 of Project Runway: All Stars.
Read more from Mychael Knight's bio (via Obvious Mag) below:
Michael Anthony Knight, Jr. was born on April 11, 1978, in Nuremberg, Germany to Pamela and Michael Anthony Knight, Sr.

Although Knight spent his childhood in Montgomery, Alabama, in 1996, he received his high school diploma from Washingtonville Senior High School in Washingtonville, New York. Later that same year, Knight began his freshman year of college at Georgia Southern University in Statesboro, Georgia. In 2001, this university awarded Knight a Bachelor of Science degree in Apparel Design and Merchandising.

After completing his undergraduate studies, Knight broke into the fashion industry in Atlanta, Georgia by working as an intern at Wilbourn Exclusives in 2001 and then by becoming a Fashion Stylist in the music industry in 2002.

In 2005, Knight auditioned for the second season of the Bravo network reality television series, Project Runway, but he was not accepted as a Season Two Contestant. In 2006, Knight reauditioned for Project Runway, and this time he was accepted as a contestant for season three. Knight went on to win season three's Fan Favorite award and to place fourth in the overall competition.

In 2007, Knight introduced his label, Mychael Knight, on BET's Rip the Runway and he designed a line of custom tees for the Starbucks Corporation.

In 2008, Knight launched Kitty & Dick, his female and male lingerie label, and his unisex fragrance, MajK.

On August 20, 2009, the Project Runway: All-Star Challenge aired on Lifetime Television. Knight joined Daniel Vosovic and Santino Rice of season two, Jeffrey Sebelia and Uli Herzner of season three, Chris March and Sweet P of season four, and Korto Momolu of season five in a special, "one-shot" competition where the winner, Daniel Vosovic, received $100,000.

On March 17, 2010, Mychael Knight debuted his Fall/Winter 2010 line at Charleston Fashion Week in Charleston, South Carolina. In 2013, Knight became a contestant on Project Runway: All Stars (season 3).
Be the first to receive breaking news alerts and more stories like this by subscribing to our mailing list.