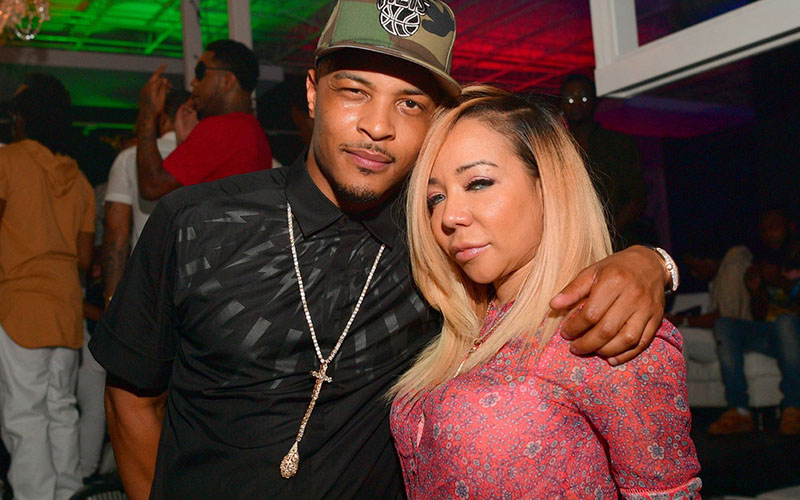 The ghetto version of the Cosby family shocked half of the black internet when they announced they were splitting and calling it quits on their major and their successful VH1 reality show, "T.I. & Tiny: The Family Hustle."
The other half of the black internet was NOT shocked to hear T.I. and Tiny were breaking apart given that whispers and rumors about Tip's infidelity had been making their way in many backchannels for a long, long time.
Whoever's left to be shocked by the stunts that T.I. and Tiny Harris pull, hold on to your seats. There's one more curve ball coming your way. Apparently, T.I. and Tiny are poised to reconcile and call off their divorce, if the latest rumors from the blogosphere are to be believed.
The Jasmine Brand, which has successfully confirmed and broken news about black celebrities in the past, is bold and declarative in its claim that T.I. and Tiny are calling off their divorce and getting back together. The blog attributes the following statements to an anonymous "insider" in the Harris clan:
"They've been together for years and they truly love each other. Both of them realize what they have isn't worth throwing away.

"Everyone was in their business when they announced their split, so they're trying to keep their marriage more private.

"The family is all living in one house now. She still has the other house, but it's being occupied by someone else."
While The Jasmine Brand is stoking the reconciliation fire, Tiny's interview on Friday with Wendy Williams and her Xscape bandmates also helped to heap some coals into the pile. As Wendy went through and asked each of the ladies if they were married, she paused at Tiny and asked, "Are you STILL married?"
"I am still married," Tiny affirmed.
"But?" Wendy prodded.
"No buts. We're just figuring it out as we go," said Tiny.
Watch the interview from Wendy Williams below:
OK. So it sounds like the glue has been broken out and the Harris family portrait is being put back together, no? Not so fast! Tiny, in yet another twist, offered a statement to Us Weekly that specifically said her divorce isn't necessarily off.
"This doesn't imply that my divorce is off, it states that we are trying to figure it out one day at a time," Harris tells Us. "I do not want false press stories to overshadow the intent of our interview with Wendy announcing tickets went on sale today for my group, XSCAPE's national arena tour which begins November 22nd. It is also my husband's birthday on Monday and these stories should not interfere with how my family intends to spend our day celebrating him."
Tiny, girl, who is you foolin'? You know damn well the divorce ain't happenin' but I guess you need to save face since some of your Instagram followers might have believed in that backbone you were flexin' on Tip talkin' bout you're leavin' him for good this time.
It's OK, Tiny, we never believed it was truly over in the first place, so gon' ahead and carry yourself back home with that tail between your legs because you know what? Family comes first and if you've been livin' with Tip's infidelity for all these years, what's one more ho?
Speaking of hoes, Bernice Burgos, one of T.I.'s alleged sidechicks, is busy posting a flurry of angry, passive-aggressive Snapchat messages broadcasting her disappointment in someone who clearly let her down. The Shade Room connected the dots and asked if it had to do with Tip perhaps telling Berniece to hit the road.
That's the way it goes sometimes, Bernice. Married men can't never make you a promise that's worth keeping.
Be the first to receive breaking news alerts and more stories like this by subscribing to our mailing list.