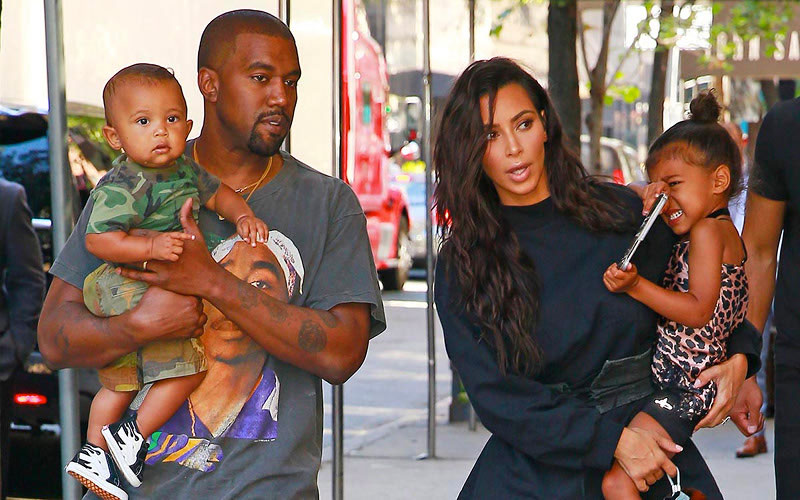 Though it has not been officially confirmed, baby No. 3 for Kim Kardashian and Kanye West is really happening, and much sooner than you probably thought.
TMZ broke the news that the power couple would be bringing home their third child by the end of January via surrogacy. It wasn't long after that outlets began reporting (due to multiple sources) the new baby is a girl.
It was reported—but not confirmed—in June that Kim and Kanye had paid a surrogate $45,000 to carry their third child. The couple had expressed wanting another child, however, due to a medical issue, doctors advised Kim it could be life-threatening for her to carry a baby to term.
Kim and Kanye hired the surrogate through an agency and she had to follow strict rules while hosting the Kardashian-West heir, such has not using hair dye or changing cat litter, and only consuming one caffeinated beverage per day.
The new baby reports come just a week after Kim revealed North West, 4, has not really bonded with her 21-month-old baby brother Saint.
"I don't know if it's because [North] is the older sister, I don't know what it is. I thought it was a phase. She does not like her brother and it's so hard for me," Kim said on-air while co-hosting Live with Kelly and Ryan.
A child psychologist tells TMZ this may not be the case with a baby girl. Via TMZ:
We spoke with a notable child psychologist, who tells us North West and baby #3 will probably form a closer bond than Saint might with his new sis. And the reason's simple: sisters gravitate to their sisters. You don't gotta tell us … or the Kardashians, either.
Kim and Kanye have yet to confirm they are expecting a baby.
Be the first to receive breaking news alerts and more stories like this by subscribing to our mailing list.