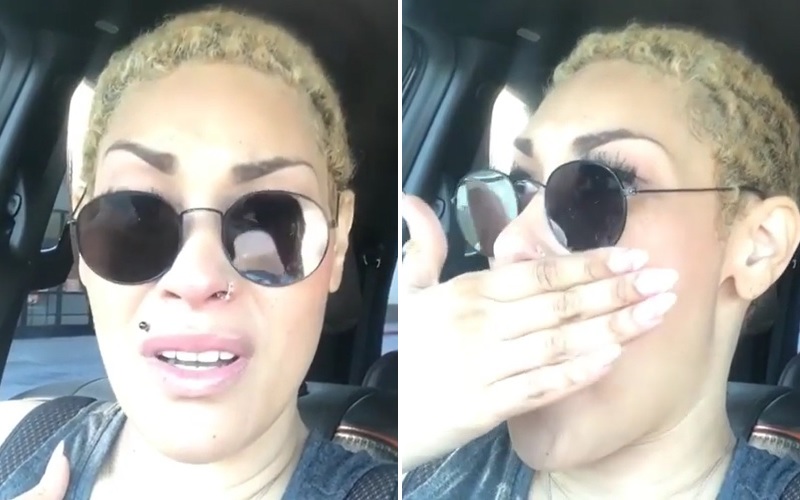 Keke Wyatt is currently pregnant with her ninth child and should be gleaming with joy. Unfortunately, the singer is anything but joyous. In addition to having a child battling cancer, Wyatt's marriage may also be falling apart.
The former R&B Divas: Atlanta star recorded a heart-wrenching video on Instagram Tuesday morning (Sept. 5) and revealed to her followers that her husband, Michael Ford, has asked for a divorce.
"You want to know something, America? When you 8 months pregnant and you got a child sick, in and out of the hospital, and your husband got the nerve to tell you that he wants a divorce. Because… he says that you're an emotional wreck."
According to Wyatt, Ford claims his pregnant wife is an "emotional wreck" and says she's never trusted him. He has even gone as far as to cheat on her and tell other women he's getting a divorce. She continued:
"He says that from the very beginning you never trusted me and all that kind of stuff. Telling other people, other women that we getting a divorce and if she calls…like, what?! I'm so done with Michael Jamar. Y'all can have him and roast his ass. I don't care."
Wyatt and Ford have been married since 2010 and they have 8 kids together, including a child from a previous relationship of Ford's. Wyatt is currently eight months pregnant with their ninth and she revealed in June that her young son is battling cancer. Geez, what more can this woman take?
Wyatt gained much support from Twitter as her emotional video went viral. And, yes, they called out Michael Ford for being "ain't sh*t."
Keke Wyatt husband asked for a divorce. She's 8 months pregnant and has a child with cancer. Boyyyy some men ain't worth a shit! ?

— Finance Felicia ?? (@____PiNK__) September 5, 2017
https://twitter.com/LifeWKhelaire/status/905092317748613120
Damn, Keke Wyatt really has been w. him forever & 8 kids going on 9 right now. I can't even imagine the hurt she's feeling rn ??

— britheleo ? (@brialexandria_) September 5, 2017
KeKe Wyatt done had fifty-leven kids for Michael Jamar and that nigga woke up this morning and told her he want a divorce…JESUS BE A FENCE

— KEEP JT! (@ImFocusedMan28) September 5, 2017
After watching Keke Wyatt's video about what Michael Jamar is doing… she deserves better pic.twitter.com/ZdAl74VYWx

— ? Jaf (@jaf_stream) September 5, 2017
8 kids, I'm pregnant again, our baby have cancer, you want a divorce….you'll leave this relationship in a body bag bitch..Keke Wyatt girl

— adre (@adreanna_j) September 5, 2017
Keke Wyatt… girl. pic.twitter.com/aRzA1y8vqA

— Lady Rainicorn (@ComplexCarbs) September 5, 2017
and today's episode of "Men Ain't Shit" is brought to you by: Keke Wyatt

— Mia (@miailarsen) September 5, 2017
Like ok you want a divorce? Cool! But you could've waited another month or two. Smh. I couldn't imagine what Keke Wyatt is even feeling rn.

— ? b?y-z (@bazeyyy) September 5, 2017
Keke Wyatt's husband ain't shit ?? pic.twitter.com/uCMn8Grg9G

— Kenita Stewart (@DopeAsKen) September 5, 2017
Be the first to receive breaking news alerts and more stories like this by subscribing to our mailing list.