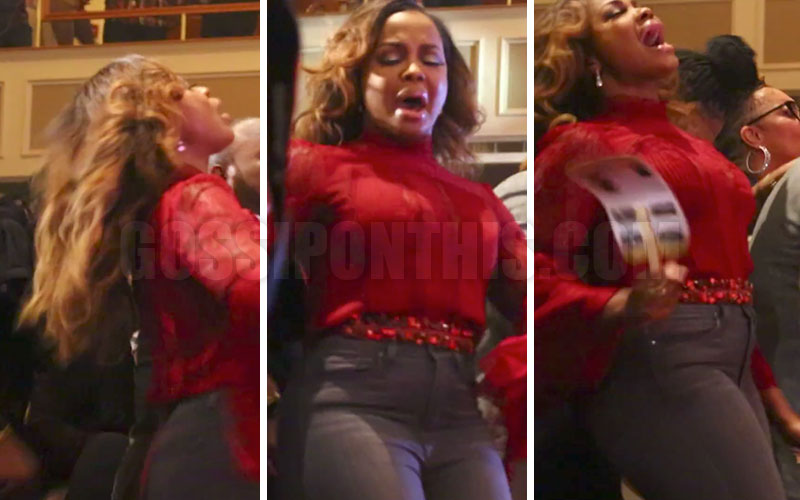 One of the easiest and plainest of God's 10 Commandments in the Bible is "Thou Shalt Not Lie."
Phaedra Parks, who is the daughter of a preacher, missed that memo as we all learned on last season of Real Housewives of Atlanta when Phaedra made up a lie that Kandi wanted to drug Porsha and rape her in her sex dungeon and spread this rumor to Porsha under the false pretense that this information came from Kandi directly to Phaedra as a confession.
Word on the street is that Phaedra will NOT be returning to RHOA for season 10. Or at the very least, she will not be returning as a full-time housewife and might appear on the show as a guest or friend of the show like Porsha did for that one season she was demoted.
Perhaps in a search for absolution and forgiveness, Fakedra Phaedra has been spending some time trying to get her spirit right with the Lord, as she made an appearance at the Atlanta Dream Center for a Friday night service that doubled as an album release party for Tasha Cobbs.
TMZ grabbed some footage of Phaedra getting into the spirit, and whoo! Lyin' ass Phaedra sure knows how to act like the holy spirit is moving through her. Given what we know of her character, it's more likely day-old Taco Bell that's runnin' through her twisted guts, but still, the congregants of the church ain't gon' know the difference.
Even though I don't believe Phaedra has gotten all the way right with the Lord, I do wish her well on her journey. And hey, frankly, she should be pleased that she didn't burst into flames immediately upon entering the church given her sinful track record, so she's on the right path, at least.
Be the first to receive breaking news alerts and more stories like this by subscribing to our mailing list.