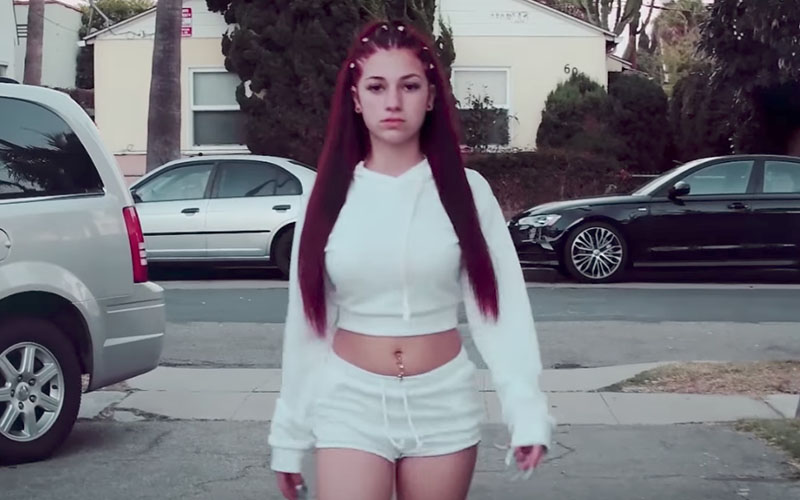 You might know her as Danielle Bregoli, aka the "Cash Me Outside" girl, but you might want to call her the vanilla Cardi B, or rather, the replacement for Iggy Azalea.
Bregoli, whose stage name is "Bhad Bhabie," exploded into one of those internet celebrities last year on the strength of her audacious, testy appearance on Dr. Phil's talk show, in which she called the audience a bunch of hoes and dared them to "catch [her] outside" (or, in her words, "cash me ousside, how bout dat?") to fight her. Oh, and did I mention she was 13 years old at the time?
Well, that appearance on Dr. Phil in September of last year wasn't the last we heard from Bregoli, and she is determined to ride her 15 minutes of fame and turn them into something long-term. At first, the typical club appearances that trash reality stars from Love & Hip Hop live off of were a priority for Bregoli. But soon, she realized establishing herself as a rapper might be the path forward toward a legitimate career.
After all, if Cardi B could do it, so can she, right?
Well, I will tell you this, I'm not sure that Bhad Bhabie has a "Bodak Yellow" in her quite yet, but judging by her first single and video, "These Heaux," she might could give Iggy Azalea a run for her money.
Seriously, that song was not as bad as I expected it to be or as it should've been. The production was decent and while Bregoli's voice kind of grates on the ears, her flow and conviction in her voice are there. The only problem is that she comes across as very flat or constipated in the face throughout the video. She's gonna need some serious training before they put her onstage to do any live performances.
Buttttt….don't be surprised if you see a few people bumpin' "These Heaux" in the whip this fall. As we speak, the video has already amassed over 3 million views and counting within the first day of its release.
Iggy, girl, you better put out some fire before the Cash Me Outside girl steals yo' spot.
Be the first to receive breaking news alerts and more stories like this by subscribing to our mailing list.