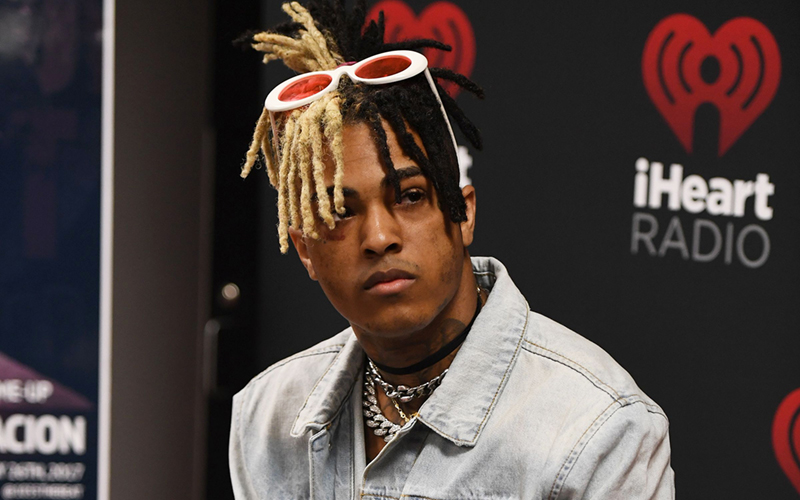 XXXTentacion just posted a very disturbing video on Instagram.
The controversial rapper has raised a number of questions from fans after sharing a creepy video on Instagram apparently showing him hanging himself.
XXXTentacion (real name: Jahseh Dwayne Onfroy) first started to make a name for himself in 2014 after uploading a number of songs to the music sharing platform Soundcloud. He was then sent to a youth detention center for a year, and in July 2016 he was arrested and charged with robbery and assault with a deadly weapon.
After posting $10,000 bail in early October 2016, while awaiting trial, Onfroy was arrested again later that month on charges of false imprisonment, witness tampering and aggravated battery of a pregnant victim.
After being released from jail on bail in March 2017, the 19-year-old rapper (who was pretty famous at this point thanks to his legal issues and millions of plays on Soundcloud) dropped three songs via Soundcloud in April 2017. He also announced that his debut studio album 17 would be released sometime this summer.
A few days ago, XXXTentacion released the cover for his debut album 17. The artwork has been described as "dark" and, according to Hot New Hip Hop, shows him "fully embracing the more depressed side of his persona." The Florida-based rapper has stated in the past the album would be directed towards some of his fans who have struggled (or continue to struggle with) depression.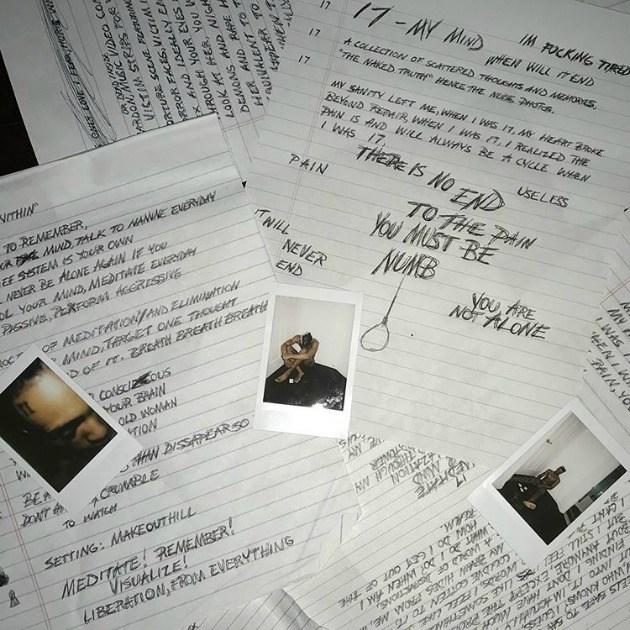 The cover (above) shows several of XXXTentacion's handwritten lyrics, along with some Polaroid flicks (one appears to show him completely nude) and a grim sketch of a noose, which brings us to the disturbing video footage the teen rapper posted on Instagram late Wednesday night (Aug. 23), just two days before the album's August 25th release.
In the clip, XXX seems to hang himself from a tree. Many IG users are commenting that the video is fake, while others are questioning what's going on.
Watch the video (at your own discretion) below:
https://www.instagram.com/p/BYKBcBGAwN4/?taken-by=xxxtentacion
For what it's worth, the video definitely seems to be fake and is possibly a publicity stunt to generate press for his new album album because if XXX really did hang himself, who actually POSTED the footage? To properly upload a video to Instagram, you have to record the footage, then press a series of buttons before actually being able to post it on the app/site, which would be pretty hard to do if you're dead after committing suicide.
Also, the rapper has since gone on Instagram Live to debunk rumors that he actually posted a video of himself committing suicide.
"Everyone needs to calm down, it was a prop for my music video. It was a piece of the music video. Everybody needs to chill the fuck out. I was just trying to preview it. I didn't know that people would not catch on. There was a lot of people that caught on, but I was in the middle of shooting it, so I couldn't explain myself.

"I'm not playing around with suicide, especially since I had a girl kill herself in my fucking hotel room not even 2-3 months ago… How the fuck would the video post itself? Relax!"
XXX also posted a screengrab from the music video shoot on his Instagram, along with this caption:
if you thought I would "pretend" to kill myself for a publicity stunt you're fucking stupid
https://www.instagram.com/p/BYKYzfpAVdM/?taken-by=xxxtentacion
Be the first to receive breaking news alerts and more stories like this by subscribing to our mailing list.