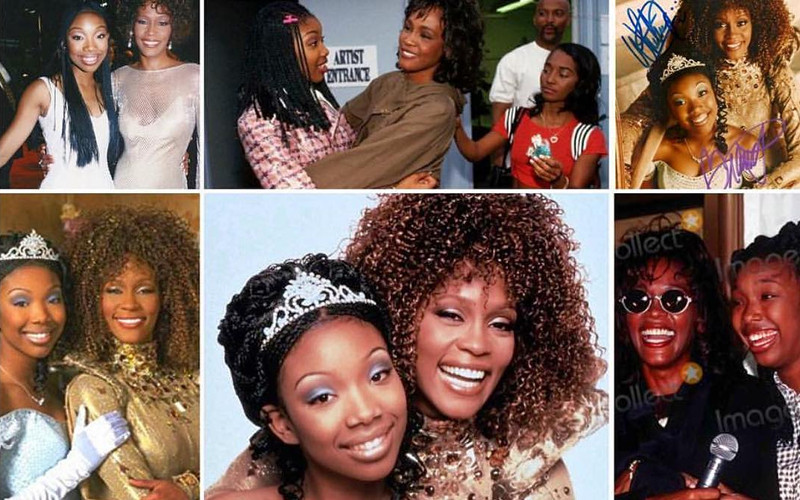 Today is what would have been the late great Whitney Houston's 54th birthday.
While many remembered and paid tribute to the iconic singer we lost too soon, Brandy took the moment to remind us (again) that she was closer to Nippy than anybody in the world, including you, Monica.
To honor Whitney's birthday, Brandy posted three tributes today (Wed, Aug. 9) on Instagram, which all were Brandy basically bragging about her relationship with the legendary singer. The first post featured a collage of Brandy and Whitney together. She wrote:
Lord have mercy on my soul!!! Happy Born Day Whitney. You live on in me… I can feel your Spirit inside of me and all around me. My angel, my friend, my fairy God Mother. I love you forever… thank you for trusting me with the torch!!! I remember every moment with you and I and I will cherish these miraculous moments forever and ever! I love you…. 8/9-2/11 #WhitneyHouston
https://www.instagram.com/p/BXk7_xNlJTI/?taken-by=4everbrandy
The second tribute featured videos of Brandy singing Whitney's "Greatest Love of All." Using the singer's nickname, Brandy recalled how she used to imitate "Nippy's" mannerisms. However, she stopped after Whitney advised Brandy to just be herself. She wrote in part:
I didn't have your Range but everything else I could do that you did I tried to do. Then It dawned on me, I can never do what you did exactly the way you did it and then I found myself being like myself because of everything you taught me! You said, be yourself…
https://www.instagram.com/p/BXlJI2Fltoc/?taken-by=4everbrandy
Brandy's third and final post was less self-involved and more typical for a tribute to a late friend. "Happy Birthday #WhitneyHouston. The Greatest of All Time!!!! You left your mark by touching every soul that has ever heard you sing!" she wrote.
https://www.instagram.com/p/BXlKSDdlGm2/?taken-by=4everbrandy
Brandy's three IG Whitney tributes came hours after rival Monica posted her own tribute on Instagram. "Happy Heavenly Birthday Nippy … You still inspire many & touch hearts daily… You will forever be the greatest …. You will forever be missed," Monica wrote.
Brandy has long claimed that her relationship with Whitney was deeper than Monica's was. When social media saw Brandy's three posts (which occurred after Monica's), many felt the singer was, once again, going out of her way to one-up Monica and was unnecessarily trying to prove something.
Responding to the backlash, Brandy posted a comment on The Jasmine Brand's Instagram post about her Whitney Tributes, even writing she doesn't follow "oh girl," referring to Monica. She wrote in part:
You're silly to think I am petty..the message to me is petty like y'all know me!!! Don't project your petty on me… she passed the torch when she passed on my birthday. I have a duty to do what she asked me to do and not anyone else. No one knows what we talked about and no one knows what the note said but she gave it to me and I made her a promise!

So you, your faves, and your followers can sit down somewhere and I don't follow oh girl so I don't know what she post, or posted. Whitney loved us both so I don't see the competition or the comparison. But truth is, I was closer to Whitney and that means a lot to me.
Oh, girl, please let it go! We all know Brandy had a special relationship with Whitney Houston, but it's high-time for her to stop being so petty and let Nippy rest in peace.
Be the first to receive breaking news alerts and more stories like this by subscribing to our mailing list.