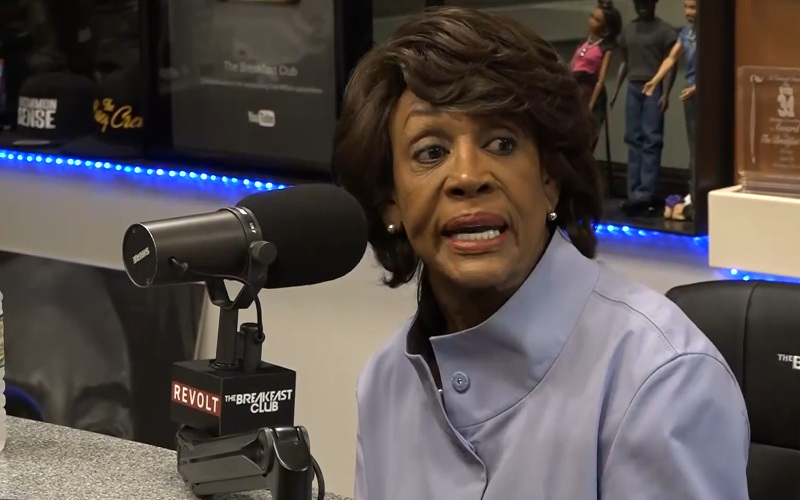 Rep. Maxine Waters (D-Calif.) is not just reclaiming her time, she is completely owning it!
The long-serving congresswoman who has experienced a career resurgence since the 2016 election and has become a leader of "The Resistance" continued to bless us with her presence by hanging out with the hosts of The Breakfast Club.
Waters appeared on the radio show Monday morning (Aug. 7). She talked everything from Trump to Tupac with hosts Charlamagne Tha God, Angela Yee, and DJ Envy. Auntie was playing no games either; she flat out said Donald Trump is the worst president she's ever seen.
"The worst I've ever seen, the worst I've ever experienced, yes I do. I really do, because I think he believes in nothing. I think that he cares about nothing. I think that he's capable of doing outrageous things."
.@MaxineWaters says @realDonaldTrump is the worst President she's ever seen because he believes in nothing —> https://t.co/Low6hoCB6Z pic.twitter.com/ERjIbjQRqm

— The Breakfast Club (@breakfastclubam) August 7, 2017
At 78, Waters has served 37 years as a congresswoman, and was elected to her 14th term in the House of Representatives last November. However, her fierce opposition to Trump has earned more visibility and caused her to become a favorite among millennials. "When Trump showed up, then I had to show up," Auntie Maxine said.
But don't expect her to make a presidential run in 2020. "I think I have work to do," she said.
"What I need to do is what I do, and that is create the challenge, open up the discussion and encourage people. And let those who are willing to be a little bit more cooperative in the way they handle this complicated political system in order to move forward. So, I'm good where I am."
It wasn't all politics either. Queen Maxine discussed her love for rap music, including gangster rap, which she says she fought for back in the day.
"I was one of the defenders of rap music even when it was gangster music. Because I thought it was creative and I thought that it opened up a whole new economic opportunity for black people where jobs and positions were created when they wouldn't play rap music on some of the major stations."
She also spoke on her opposition to censorship when it comes to rap music, which she believes is unconstitutional. "I think it's a way of quieting voices that maybe people in power don't want to hear," she said.
"I think censorship is unconstitutional." @MaxineWaters explains why she thinks hip hop should never be censored –> https://t.co/Low6hoCB6Z pic.twitter.com/guFuGs8JnL

— The Breakfast Club (@breakfastclubam) August 7, 2017
"[Censorship] potentially interferes with their ability to do what they do and to say what they want to say and to exercise power in certain ways. When you have people who're willing to challenge the establishment, that is potentially dangerous for the establishment. So, no, I don't believe in censorship of any kind… What you don't want to hear, don't listen to it."
After name-dropping names in Hip-Hop like Chance the Rapper, Queen Latifah and fellow St. Louis native, Nelly, Auntie Maxine said Tupac is her favorite rapper. She knew the late iconic artist and revealed that he is extremely special to her.
"There was a certain sensitivity about him and I got to know his mom when he did that song he did when he talked about his mom, 'My mom was a dope fiend but she was my queen' of course! That really struck me as somebody who was brilliant and smart and all of that, but had a real sensibility and a heart and an understanding that a lot of people don't have.

"When you can recognize your mom is in trouble but also recognize that that is your mother and you can do everything you can for her, that many people will fall into trouble and I have this theory that when people know better they do better. So, a lot of mothers don't know any better. Unfortunately, young [people] often times have children. So, Tupac for me was very special. He was smart and I loved him."
The congresswoman also discussed her haters, banking black, gun control, policy and violence, marijuana legalization, the current state of Civil Rights, the Trump administration, and whether she believes Donald Trump will be impeached. (A little heads up, she says even some Republicans are beginning to entertain the prospect).
You can watch Rep. Maxine Waters' full 30-minute Breakfast Club interview below:
Be the first to receive breaking news alerts and more stories like this by subscribing to our mailing list.