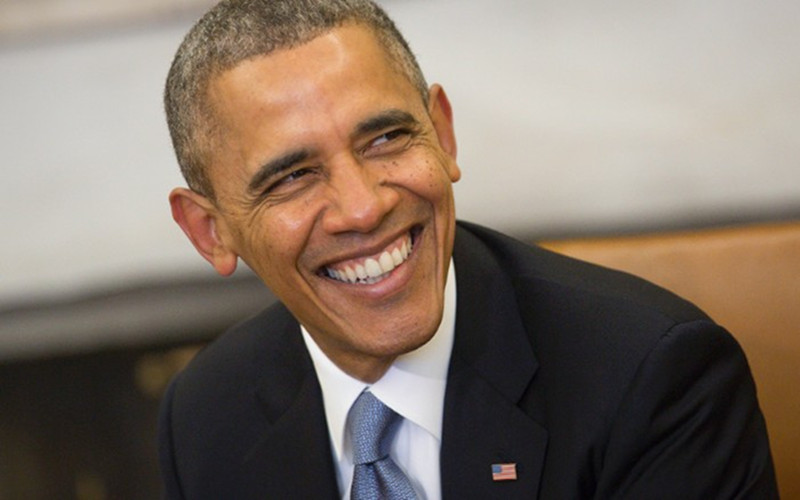 It's been just under seven months since Barack Obama walked out of the White House as the sitting President of the United States. And because we desperately miss him more and more every day, Twitter celebrated Obama's birthday (and legacy) with, what else, a hashtag!
Barack Obama turned 56 years old today (Fri, Aug. 4). Many users on Twitter honored the former (or current for those of us who refuse to acknowledge 45) president's birthday by declaring the day #ObamaDay. Using the trending hashtag, many shared photos, memes, and GIFs of their favorite Obama memories, moments, and quotes.
HAPPY #ObamaDay!!! It is our President's birthday so let's celebrate with your favorite images of him and the family all day!! pic.twitter.com/Canaptlc1a

— April (@ReignOfApril) August 4, 2017
"We are the change that we seek" Barack Obama. Happy Birthday Mr. President and Happy #ObamaDay to everyone! pic.twitter.com/RSvwIJEPOn

— COMMON (@common) August 4, 2017
Happy 56th Birthday #44 @BarackObama!! Thank you for inspiring a generation of American children!! #ObamaDay pic.twitter.com/cImtt3w1u5

— Anika Kumar, MD (@freckledpedidoc) August 4, 2017
Happy Birthday to my forever POTUS! ??? #ObamaDay pic.twitter.com/njEcpXhXo0

— Ashley Myers ?? (@WrecklessLove) August 4, 2017
To a President with class, grace, intellect, empathy and character. Happy Birthday. #ObamaDay

— Dawn (@dawncholliday) August 4, 2017
Happy Birthday @BarackObama! Yeah, You Are Forever … My President! You brought Hope & Dignity to the House! Still Missing You! #ObamaDay pic.twitter.com/DFFgTs5aDt

— Kandis Watson (@BrightEyedHope8) August 4, 2017
HAPPY BIRTHDAY @barackobama ~ we sure do miss you 44#ObamaDay pic.twitter.com/2BqdL9Enh6

— Tracee Ellis Ross (@TraceeEllisRoss) August 4, 2017
"If you're walking down the right path and you're willing to keep walking, eventually you'll make progress."

Happy #ObamaDay.

— Orlando ??? (@TeamLando) August 4, 2017
https://twitter.com/Lilyachttty/status/893482440353656833
https://twitter.com/ActuallyRJ/status/893491270986997760
Happy birthday Mr. President! It was a privilege to have you & your beautiful family lead our nation! You are missed. Everyday #ObamaDay! ? pic.twitter.com/Ehe2Sn7Mvj

— AnalisaSwan#DemForce (@Analisa_Swan) August 4, 2017
Happy Birthday @BarackObama. Thank you for showing us in 8 years what intelligence, truth, class and no drama can do for America. #ObamaDay

— Lisa Engelman (@auntielisa) August 4, 2017
https://twitter.com/DiamondsNTears/status/893452170808504320
Happy birthday to the flyest to ever do it???? #ObamaDay @barackobama pic.twitter.com/iIkyuyhRzw

— Zendaya (@Zendaya) August 4, 2017
A reminder of the greatest barbershop painting of all time #obamaday pic.twitter.com/eTEzJR0YVW

— David Dennis Jr. (@DavidDTSS) August 4, 2017
https://twitter.com/DougGrizz/status/893561332791955456
Happy 56th to the main man. Through it all, smiling. #ObamaDay pic.twitter.com/ODMKiJHJLi

— Joshua DuBois (@joshuadubois) August 4, 2017
Another year older, but the same phenomenal guy I married nearly 25 years ago. Happy birthday, @BarackObama — we love you so much! pic.twitter.com/3WrcGiKgz1

— Michelle Obama (@MichelleObama) August 4, 2017
#ObamaDay was first created by April Reign on election day in 2016. Reign is also responsible for creating #OscarsSoWhite.
While there is no official Obama Day, Illinois and Delaware legislatures have both pushed to designate Obama's birthday as such. Since 2008, Kenya actually does celebrate Obama Day on the second Monday in November. Obama's father was born in the African country.
Since 2017 was the inaugural for #ObamaDay, let's make sure we make it an annual celebration. Thanks, Obama!
Be the first to receive breaking news alerts and more stories like this by subscribing to our mailing list.