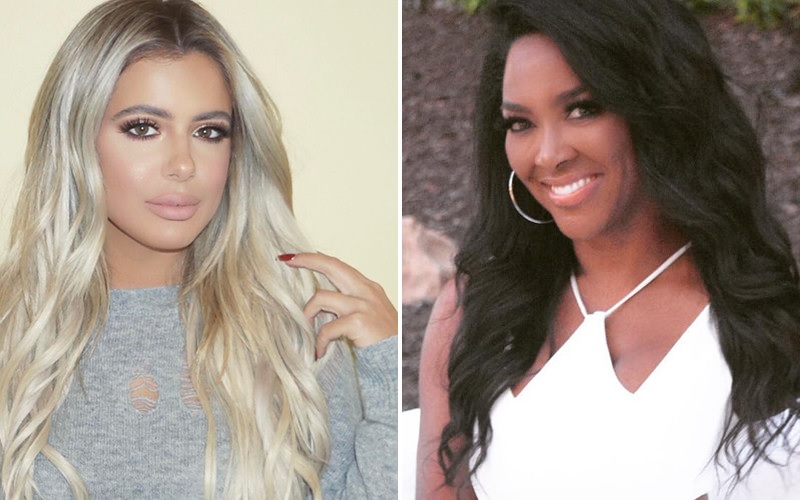 When it comes to grown folk beef, there's usually one rule that everyone agrees with: the kids are off limits. But what happens when kids get into grown folk's business? Brielle Biermann has inserted herself in Kim Zolciak-Biermann and Kenya Moore's reality show beef.
Kim's eldest daughter randomly went off on Kenya on Twitter. The 20-year-old called the 46-year-old housewife a "dumb ugly evil b*tch."
kenya is a dumb ugly evil bitch.

— Brielle Biermann (@BrielleZolciak) July 23, 2017
Brielle doubled-down on the ruthless statement when a Twitter user commented that she wouldn't tag Kenya in the tweet. "I don't need to! She stalks me and my mom," Brielle responded.
i don't need to! she stalks me and my mom https://t.co/cWAms2y9Cn

— Brielle Biermann (@BrielleZolciak) July 23, 2017
It's no secret that Kim and Kenya don't see it for each other and their issues will most likely be chronicled on the upcoming season of The Real Housewives of Atlanta as Kim returns as a "friend" of the show.
But, why is Brielle (the child) getting in the middle of her mama's (TV) drama? Well, it seems Kenya hit below the belt and actually dragged Kim's children into the beef.
TMZ reports Kim and Kenya were filming over the weekend (at Nene Leakes' house) and the two traded jabs. Kim called Kenya's marriage fake and Kenya shot back stating the mom of six "pimped out her daughter" for John Legend tickets.
Kenya then said Kim wanted the tickets for her "injured son," who was attacked by a dog and required surgery. Sources say talking about her son set Kim off.
[Kim] lost it … rushing at Kenya, knocking over and breaking glasses on the way. Cast members and production staff grabbed Kim and calmed the situation. We're told Kim immediately bounced, and is genuinely pissed — not just "for the show" drama … like last season.
However, several sources say they never heard Kenya make a comment about Kim's son. Still, the damage was done. Kim was enraged and the incident probably sparked Brielle's Twitter rant.
Kenya hasn't directly responded to Brielle's tweets, but many believe a Sunday Instagram post was her way of addressing the situation. She wrote:
#aboutlastnight Everywhere you look there are haters… don't let them dull your shine or steal your joy. #shine #happy #thatsMrsDalyToYou #whytheystaymad #obsessed #kenyamoore #rhoa
Brielle even responded to Kenya's post with a screenshot of a Kenya shade-throwing conversation she was having with a friend. "You can't dull somethin that don't shine tho," the friend wrote.
https://twitter.com/BrielleZolciak/status/889189252814315524
While she wasn't as direct as her daughter, Kim posted a cryptic Mark Twain quote on Instagram.
Whew! This is way TEW MURCH. Is Brielle trying to get a peach too? Season 10 of RHOA is set to premiere in November on Bravo.
Be the first to receive breaking news alerts and more stories like this by subscribing to our mailing list.