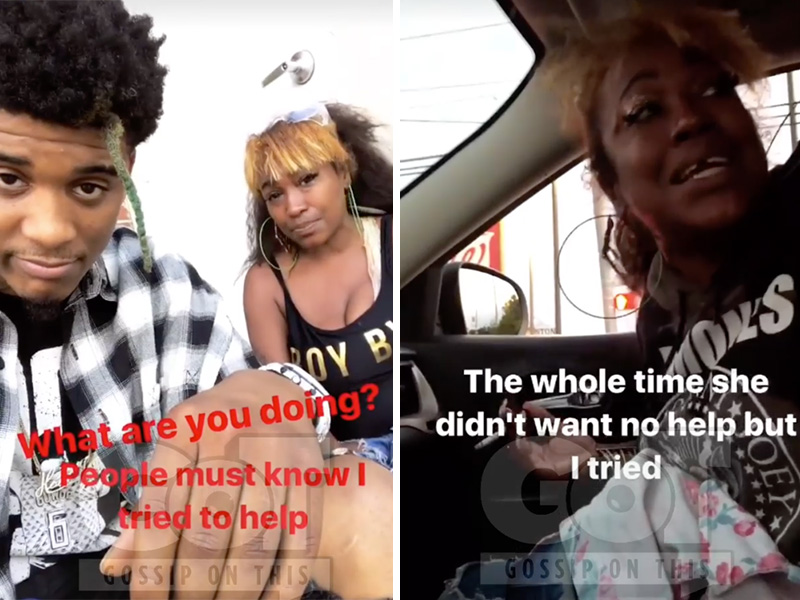 The Atlanta rapper who filmed and posted the disturbing footage of Maia Campbell at a gas station begging for crack has issued a public apology and is clarifying that he's the one who took her to rehab to get her the help she needs.
Last week, after his videos of Maia Campbell actress went viral, "T-Hood" aka "One Dread" said in response to the backlash he received that he wasn't sorry for sharing the footage showing the "In the House" actress strung out.
"Y'all n**gas would not be mad if I posted a white girl," he said. "If I would've ran into Hillary Duff, Lizzie McGuire, and she was geeked up, and she was asking me for some crack, and she was out there trying to suck every n**ga d**k at the mothaf**kin gas station… for money… for crack… Y'all would not give a f**k."
He added, "Just because she was a black actress from back in the day, who we already all know from Redan, she been on the block for years… we been knew this b*tch. She been doing dumb sh*t… been doing stupid sh*t. Went in the industry, got geeked up, f**ked the whole industry, n**gas sent her back to Atlanta and she got geeked up some more."
Well, apparently after thinking about the consequences of his actions, T-Hood aka One Dread has had a change of heart and has since apologized to Maia and her fans, saying that he's been cool with her for "a while" and would the two of them would often joke around with each other, and he "meant no harm" by sharing the footage.
"I didn't mean nothing by the video, we been cool," he said on Tuesday (Jul. 11), adding that if LL Cool J wanted to get in touch with her, he could do so through him.
Read his full apology (which he wrote in the caption of his Instagram video) below:
I apologize. This is a person from my neighborhood that I've been cool with for years now. Roasting each other and playing around is nothing new, we always play around and talk shit to each other, ALWAYS! Even when she is not under the influence of anything, just regular Maia, it's something we've just done for a while. I understand how it was perceived but I just want to let it be known publicly, I never meant to hurt her or her fans. I show love in anyway I can: financially, emotionally and with my time to EVERYONE in my community, the entire city can vouch for that. When I saw all the negative energy, the first thing I did was go and talk with her about it. Where did I find her?? Around the SAME AREA she always is. We also talked about the topic of LL COOL J looking for her, I won't disclose the convo but I will say this, with ALL these media outlets and concerned people..

NOBODY took action in REAL LIFE and made a move, so I did! With word getting back to me that @llcoolj was now looking for her, I reached out to him myself, of course.. no response! But I know LL is a busy man, so I figured I'm just going to take matters into my own hands: Maia and I spent some time together, kicked it, talked about the situation and we both learned a lot, but I wont go in to too much detail. As the day was coming to an end, we discussed options for rehabilitation, even went to a center, she didnt want to check in just yet and as a grown woman, nobody can make her. We then made an agreement regarding her, myself, her health and our careers, time to push and make a real change! Everyone that wants to help, PLEASE CONTACT ME! @LLCOOLJ INCLUDED….

Again, I am sorry for anyone I hurt with the video; I know many think what I did was wrong, and I feel that way too but not because she was a star actress (which is why most of you are even interested) but because she really is a friend from around the way. In a way all this attention was a good thing, because we live in a "out of sight, out of mind" world, everyone would've continued to not care, if the video didn't go "viral." The video the man posted of her in the barbershop was completely staged and he paid her to say those thing
In another series of videos he posted to his IG story, T-Hood can be seen with Maia talking with someone about admitting her into rehab.
He wrote that he was the one who took her to the rehab center in Dekalb County, and everything else (presumably our previous story about a woman named Rose taking her to rehab) was "fake news."
"She didn't want to be there and I sat with her many hours trying to get her to change her mind," he wrote, "but she told me that it was not what she wanted."
He added in another clip, "People must know I tried to help."
Be the first to receive breaking news alerts and more stories like this by subscribing to our mailing list.