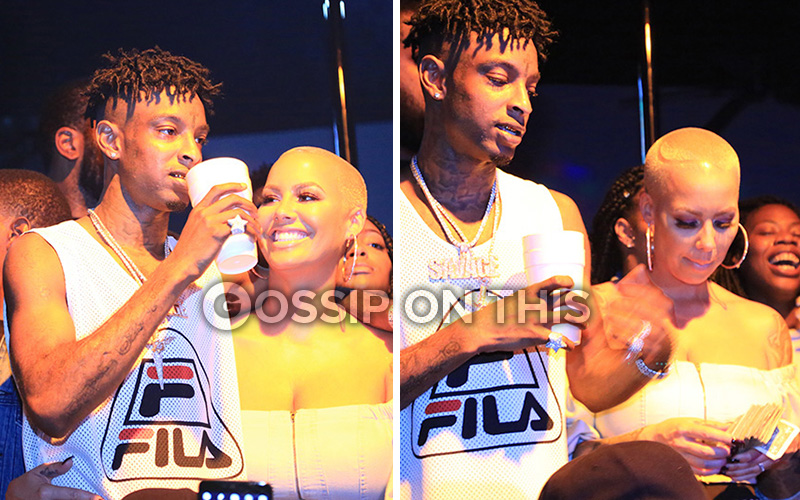 The couple that PAYS together STAYS together.
Earlier this week, 21 Savage took Amber Rose on a tour through his hood in Atlanta, and on Monday night (Jul. 10), the new couple made an appearance at ATL's Club Crucial, where Savage was promoting his newly released album Issa Album.
While there, Savage and Rose reportedly paid some folks' bills (and possibly fed some babies too) by throwing money into the crowd, according to TMZ. The gossip site claims that this is a weekly ritual for the club on Monday nights—"giving back to the community, especially women."
Check out our EXCLUSIVE photos and video footage below, which shows the couple all hugged up, turning up, kissing, throwing money and interacting with fans in the crowd (at one point Amber grabbed someone in the crowd's phone and took a selfie with 21 Savage before handing the phone back):
Amber and 21's nightclub outing followed the couple being spotted in 21's East Atlanta neighborhood, where the rapper took his new girlfriend to meet his family.
Spotted: Amber & 21 spend some time in his old neighborhood. pic.twitter.com/K1w26BeMYr

— Karen Civil (@KarenCivil) July 10, 2017
Based on the photos of them being all over each other at Club Crucial and the pics of Amber meeting 21's folks, we can officially conclude that their relationship is pretty serious.
Rose's ex-boyfriend and baby daddy, fellow rapper Wiz Khalifa, has even gone on record to give his blessing to the new couple (not that a guy like 21 Savage needs a "blessing" from his girl's ex anyway).
"He's a good guy, he's a good kid—everything I know about him," Khalifa, 29, told a TMZ photographer when asked about 21 Savage being around his son Sebastian. He went on to say that he felt no ill will towards the 24-year-old rapper.
Savage also apparently lives up to Wiz Khalifa's "good guy" description of him, as the rapper was quick to come to Rose's defense in a recent radio interview, saying that he is not going to tolerate ANYONE disrespecting his girl.
https://www.instagram.com/p/BWQjafpBETi/
"She's a real cool woman. She treat me like a king, so it is what it is," he told LA's Real 92.3. "And no disrespect will be tolerated at all. Keep your mouth closed, no hoes, no bitches, no nothing. Because I'm pulling up, on God."
Meanwhile, Amber has been proudly showing off her new bae all over her Instagram. She wrote in the caption of a photo of the couple lying in bed on what looks like a tour bus:
It's pretty amazing waking up every morning feeling love like this. I've cried endlessly and been hurt a lot in my life, I've been abused, talked to like I wasn't shit, been gaslighted and Slut shamed by men that I once loved and cared about. So I'm so thankful that God brought this amazing person in my life who genuinely has my back and is ready to "pull up" to defend my honor by any means. Maybe he's just as broken as me and that's why we're perfect for each other but either way he's not going anywhere and neither am I.
https://www.instagram.com/p/BWWqGc4h684/
https://www.instagram.com/p/BWWtUZ4hUly/
Club Crucial photos & video footage courtesy of Michael Walker (Umeek Images)
Be the first to receive breaking news alerts and more stories like this by subscribing to our mailing list.