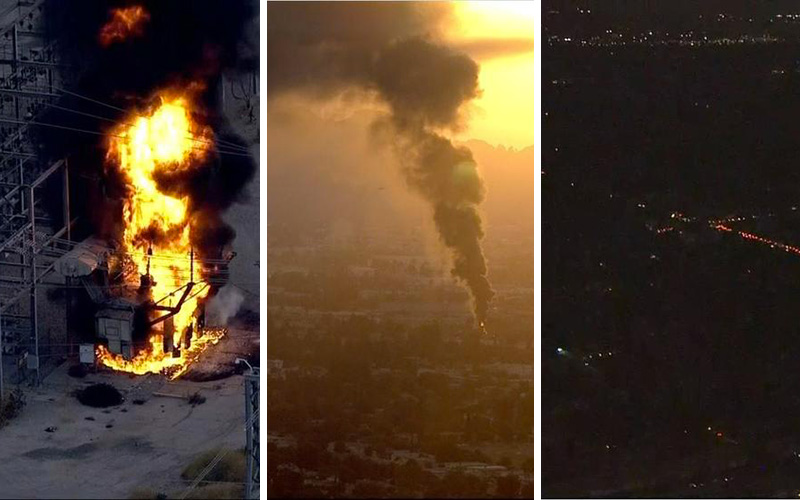 Hundreds of thousands of people were without electricity Saturday night (Jul. 8) in and around Los Angeles after a fire at the L.A. Department of Water and Power facility forced officials to shut the grid down over concerns of safety.
Power has since been restored to ALL homes affected, however, the outage did cause a lot of confusion, chaos and frustration for many residents.
Here are some things you need to know:
An explosion Saturday caused heavy fire at a DWP power plant in Northridge, which caused a massive outage across Los Angeles.
Just before 7 p.m. PT Saturday night (Ju. 8), residents near the LADWP plant heard a loud bang, which turned out to be an explosion. The fire sent massive plumes of black smoke into the sky that could be seen from several miles away.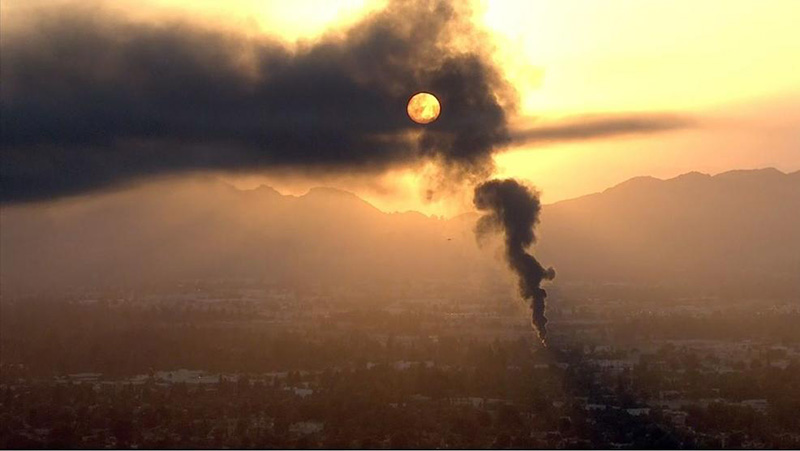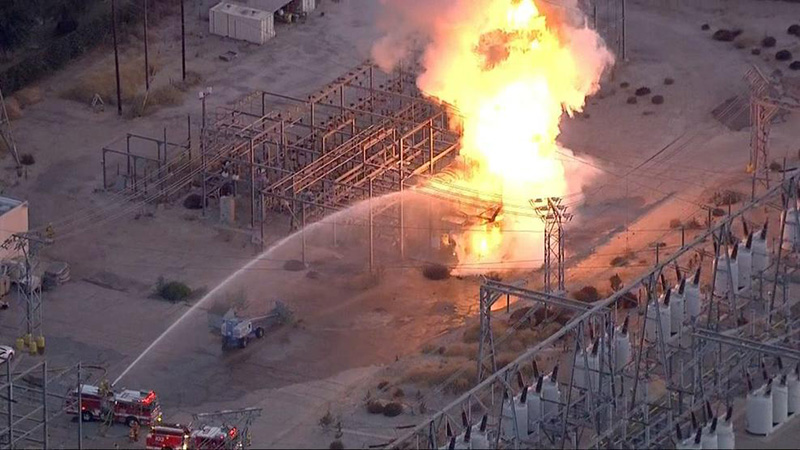 Fire crews worked to put out the fire, but officials were forced to shut the area's power grid down for safety, leaving approximately 140,000 residents without electricity and causing a citywide blackout.
@ABC7 @KTLA explosion just happened at Northridge pic.twitter.com/uM30OnukwE

— jbg (@Joel_b_g) July 9, 2017
@ABC7 @KTLA #northridge pic.twitter.com/d4wP4WnhPF

— What The Faulk Show (@MyWTFShow) July 9, 2017
#BREAKING: A #Dwp plant has caught fire and exploded in #Northridge. #kcal right now. #cbsla @CBSLA pic.twitter.com/7pziYlGkAh

— Peter Daut (@CBSLAPeter) July 9, 2017
DWP plant #fire in #Northridge. The northridge mall has no power. pic.twitter.com/6Bx2JeV06o

— Logan Byrnes (@LoganByrnes) July 9, 2017
Northridge LADWP fire ?? pic.twitter.com/HQglzv5AD1

— omara (@omaraahh) July 9, 2017
A DWP official said the explosion occurred at Receiver Station J — where they take the power in at a higher voltage and then distribute it to customers at a lower voltage. 50,000 to 60,000 gallons of mineral oil were burning at the receiver site. It was unclear as of Saturday night what sparked the explosion.

Firefighters had to de-energize the site and pour massive amounts of water and foam onto it. They said it does not appear to be a health hazard. About 90 firefighters were staged around the plant Saturday night to ensure that it didn't start up again from mineral oil.
L.A. firefighters were also working to rescue several people from elevators when the power out, though it was unclear how many people. In many areas of San Fernando Valley, lights were out at intersections, businesses and homes.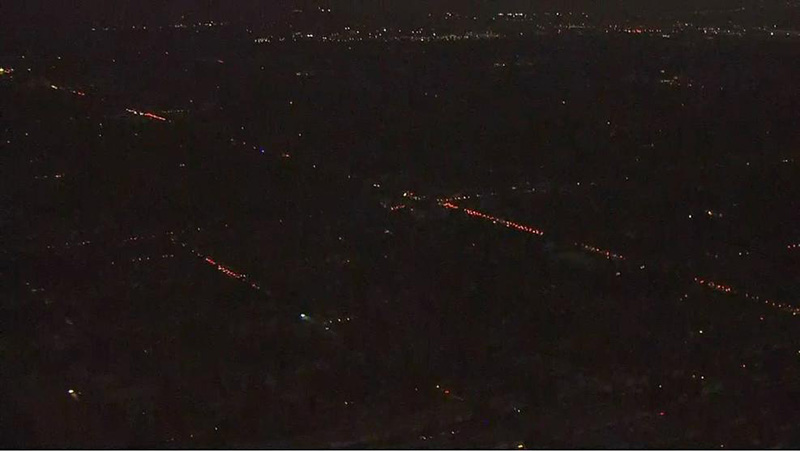 "All of the sudden there was no power, which was always fun. But you figure it's a hot day, everybody has their air on. It's when I keep hearing the sirens, and then you look outside and there is smoke and then there's a lot of smoke. That's when you're like, 'Ok, something bad happened,'" Northridge resident Joyclyn Dunham said.
Some parts of L.A. were already without power, and high temperatures caused lots of trouble.
Electricity not only powers our lights, TVs, microwave ovens, computers and smartphones, but most importantly, it powers our air conditioners. Those affected by the outage were not able to use the AC, and with temperatures up to three digits in some areas, that's a pretty big deal.
And the issue not only affected homes, but also businesses. No power means restaurants can't properly store frozen foods nor can they heat them for customers. Not to mention, there were no lights for them to see, the cash registers were down, and, again, NO AIR CONDITIONING. YIKES.
Needless to say, some business owners were not happy. "Saturday is usually the busiest day, and we're losing [customers], and nobody will give us answers or anything," said Kate Techa from New Bangkok Restaurant.
Many Los Angeles residents were already without power Friday night and Saturday morning (before the widespread outage Saturday night) due to a separate incident.
Los Angeles' KABC reported:
The incident, which began about 10 a.m., left hundreds of businesses and residences without electricity near the intersection of Sunset Boulevard and Highland Avenue, according to the Los Angeles Department of Water and Power.

Authorities were out directing traffic at the busy intersection. "Crews are out there now and we hope to have it fixed shortly," DWP spokesman Michael Ventre said of the outage.

Several businesses, such as Chick-Fil-A and Rite-Aid, lost power and were forced to close. LADWP said power was restored to all customers around 4 p.m., but many people said they still did not have electricity. The cause of the outage was under investigation.
Higher numbers of outages are normal when there are back-to-back days of high heat. Southern California Edison (SCE), the primary supplier of electricity for much of SoCal, said that one home's power consumption can also affect houses near it. The company urges people to try to use as little power as possible to help its equipment cool down.
"What that does is over a longer period of the summer when it's hot and our equipment is overworked, it's more prone to failure, that transformer is going to fail, that means a longer outage for you," said David Song of SCE.
California Independent System Operator said the next three days would be critical to determine whether there might be a flex alert for people to reduce power consumption next week. A spokesman for CAISO said temperatures cooling down just a few degrees at the beaches could make a big difference.
Record high for downtown L.A. today at 98 degrees. Exceeds 131 year record set way back in 1886 when the high was 95 degrees. #laheat #cawx pic.twitter.com/hR2lC5ZlKo

— NWS Los Angeles (@NWSLosAngeles) July 8, 2017
This weekend's power outage couldn't have come at worse time for L.A. residents, who have been suffering recently in a heat wave that reached all new highs Saturday.
Curt Kaplan — a meteorologist with the National Weather Service in Oxnard, California — said downtown L.A. recorded a record temperature of 98 degrees Saturday, breaking a previous record of 95 degrees for the day that was set in 1886.
Decades-old records were almost broken elsewhere: Woodland Hills — a neighborhood in Los Angeles near where the fire broke out — reached 112 degrees, tying a record from 1985.
Several places in the city with power were used as "cooling centers" due to the outage, and traffic was also a major concern.
Parts of LA without power right now. #poweroutage pic.twitter.com/w2AN3pSI7g

— Isaias Velez (@IsaiasVelez_) July 9, 2017
Because of the power outage, the city opened several places that had electricity to serve as "cooling centers," which are (according to Wiki) air-conditioned public spaces set up by local authorities to temporarily deal with the health effects of a heat wave.
Those places were:
• Sherman Oaks East Valley Adult Center
• Sunland Recreation Center
• Lake View Terrace Recreation Center
• North Hollywood Recreation Center
• Sepulveda Recreation Center
LADWP apologized in a statement "for the inconvenience" and said that they appreciated "customers' patience as we work to restore power as safely and quickly as possible."
The city of Los Angeles is infamous for its traffic problems when the power is working, so officials were sure to remind residents to drive with caution due to many streets not having working street lamps and traffic signals.
Massive power outage in the Valley. Remember folks, no lights means it becomes a 4-way stop. pic.twitter.com/MI5EqQaYQY

— Gigi Graciette (@GigiGraciette) July 9, 2017
Major traffic on Topanga Canyon because of The Valley power outage @KTLA #poweroutage #la #LAWPDexplosion pic.twitter.com/X8rclQEx3I

— Melissa (@melissa_gon5) July 9, 2017
#PowerOutage was a trending topic on Twitter late Saturday night and through early Sunday morning.
Power outage in LA from a birds eye view. Holy moley. #northridge #losangeles #poweroutage pic.twitter.com/0MkSR48ulq

— Russell Anderson (@russellaugust) July 9, 2017
Those without power tweeted about the outage so much that #PowerOutage quickly became a trending topic on Twitter.
Social media users reported outages in Porter Ranch, Winnetka, West Hills, Canoga Park, Woodland Hills, Granada Hills, North Hills, Reseda and Chatsworth. Many people reported seeing the large black plumes of smoke billowing from the power plant.
According to LADWP, at least 140,000 customers were without power around 7 p.m. PT in Northridge, Winnetka, Reseda, Lake Balboa, Tarzana, North Hills, Granada Hills, Chatsworth, West Hills, Canoga Park and Woodland Hills.
Making light of the situation, Twitter users posted memes and jokes to help the time pass. Of course some people in the area who didn't have enough juice in their phones couldn't enjoy the tweets, but the rest of the world was able to.
Take a look at some of the best/funniest posts below:
I'll pay someone $50 to come to my house and fan me. #poweroutage

— Julie Vescera (@julievescera) July 9, 2017
I won't EVER take lights or AC for granted again. #poweroutage pic.twitter.com/UdG69ub8aV

— VeryPROUDAuntie (@VeryPROUDAuntie) July 9, 2017
No time like getting stuck in an elevator with your two kids to teach them how to roll with the unexpected… thanks LAFD! #poweroutage

— Chris Edgerly (@chrisedgerly) July 9, 2017
All the Kardashians getting lasered at the same time again. #poweroutage

— Eileen D (@TipItForMaggie) July 9, 2017
#Poweroutage in LA right Now. It's like a scene from the #walkingdead ? pic.twitter.com/jXePAqpX0b

— (???) ???????? (@supjackjack) July 9, 2017
Pray for all us west Angelinos during this #poweroutage as we all watch our cell phone batteries die slow death. #WestLA

— DocLady (@lovehighheels) July 9, 2017
Just sitting here scrolling through Twitter by candlelight… like our ancestors did.#poweroutage #Valley #toodamnhot

— Betsy Reisz (@Yaysies) July 9, 2017
https://twitter.com/AudreyAdair/status/883908993525194752
Back to the dark ages. #Poweroutage DWP explosions in the valley power outage ???? candles on #TheShah #MyDayInLA pic.twitter.com/j6qtTOgF6Y

— Alan Semsar (@AlanSemsar) July 9, 2017
Me: Okay, when the power comes back i need to be easy with what I use

*power comes on*#poweroutage pic.twitter.com/x7hVWQaaXH

— THE FINEST (@TheFinestOmar) July 9, 2017
THE MCDONALDS I WAS IN JUST WENT OUT IN POWER AND THEY KICKED US OUT LMAO #northridge #poweroutage

— BigBossBob (@Bobbyrobs310) July 9, 2017
Remember your car can charge your phone and probably has air conditioning. power outage #poweroutage

— Dawn Howard ? (@realdawnhoward) July 9, 2017
I feel so bad for everyone trying to TU in the valley today ??#poweroutage

— P3Ps (@jac9617) July 9, 2017
I literally screamed this cant be happening… why did this happen when I only have 20 percent left on my phone… #PowerOutage

— Sonny Holloway (@sonny1999) July 9, 2017
Just another day in LA #poweroutage #SanFernandoValley @LAFD @LADWP pic.twitter.com/lwRXlfRQHW

— Caitlin ? (@goingpostale) July 9, 2017
Power was officially restored to all homes by early Sunday afternoon.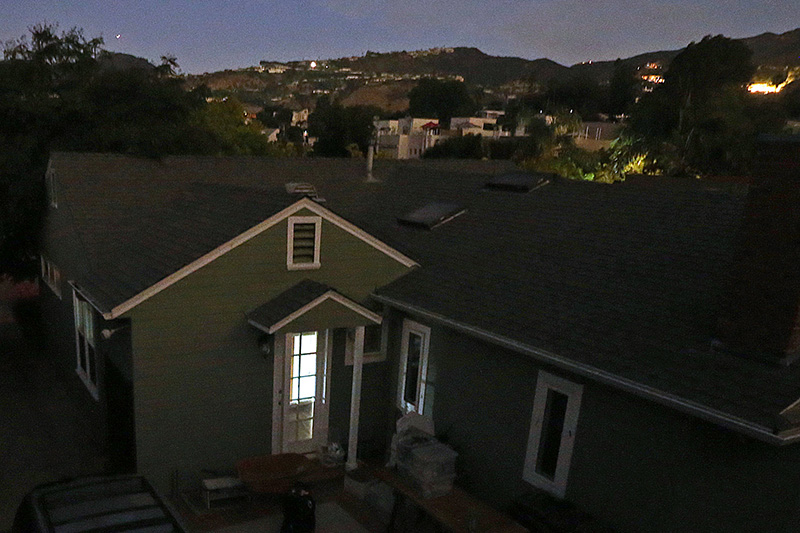 At the outage's worst, nearly 150,000 homes were without power. But by Sunday morning, that number had dropped down significantly to about 90,000 homes without power.
Crews have restored power to nearly 50,000 customers affected by RS-J fire/power outage as of 10pm. 94,000 remain out, crews are working.

— LADWP (@LADWP) July 9, 2017
Crews are assessing damage & working to restore power as quickly & safely as possibly.If u are without power, thank you for your patience.

— LADWP (@LADWP) July 9, 2017
LADWP, which provides power to 1.6 million homes in the City of Los Angeles, said that their crews were still assessing damage and would continue to work to restore power to more homes as quickly as possible, though they couldn't give a definite timeline.
By early Sunday afternoon, however, ALL homes affected by the outage had their power restored:
We are pleased to report that LADWP crews successfully restored power this morning to all customers affected by the power outage in the north San Fernando Valley that began last night at approximately 6:55 p.m. Restoration for the remaining 94,000 customers affected by this incident occurred between 6am and 8am this morning. Crews continue assessing damage at Receiving Station J and will make permanent repairs, but they were able to restore power while this work continues.

Any customers in the area still without power should check their circuit breakers as they can trip off when power disruptions occur. If any problems persist, they should call 1-800-DIAL-DWP (1-800-342-5397) so that a crew can be dispatched to investigate the cause.

We thank our customers for their patience as crews worked through the night to restore service. While efforts to make permanent repairs are the primary focus of all involved, a full investigation into the cause of the fire that occurred Saturday evening will also be conducted and reported publicly.

This is the final incident update. Should circumstances warrant, we will provide further updates.
Our crews are reporting all power to customers restored out of RS-J and local Distributing Station. Repairs continue, but service restored

— LADWP (@LADWP) July 9, 2017
Thank you for your patience as crews worked thru the night to get everyone back up. Check circuit breakers if u are still out in north SFV.

— LADWP (@LADWP) July 9, 2017
Be the first to receive breaking news alerts and more stories like this by subscribing to our mailing list.