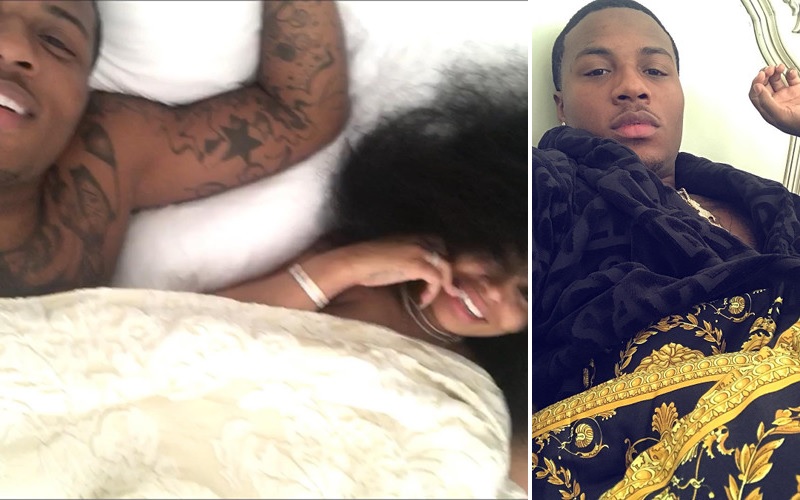 Poor Rob Kardashian really can't catch a break. Ex-fiancé Blac Chyna is not the only one trolling him. One of the dudes she cheated on the reality star with is now getting into the mix.
After Rob went off and exposed Chyna on social media on Wednesday (Jul. 5), rapper Rarri True (a.k.a. Ferrari) woke up in a petty mood Thursday (Jul. 6) and posted photos that would certainly rile up the Arthur George sock designer.
The rapper posted photos of him and Chyna lying in bed together. "That 250k In Jewelry Ain't mean Sh*t to RARRI. Rep Yo set," he captioned one of the photos, a clear reference to the $250K worth of jewelry Rob claimed to have sent to Chyna earlier this week.
https://www.instagram.com/p/BWNffRzlm5v/
https://www.instagram.com/p/BWNfvHHFigI/
Rarri was embroiled into Rob and Chyna's social media war after he was believed to be the man kissing Chyna in the initial video she allegedly sent to Rob that sparked his outburst. Although it turned out not be him (it was this guy), Rarri is the one who posted a photo wearing a Versace robe that Rob bought.
The rapper addressed this issue on Instagram Live.
Rob also claimed Rarri had texted him and asked if he could pay Chyna's bills because he didn't have the means to do so. He then posted a screengrab of the text conversation, which also included Rarri's phone number.
The rapper posted a video showing all of the texts and calls he had received because of Rob.
https://twitter.com/FerrariTru3/status/882829901124030465
Rarri seems to be enjoying trolling Rob just as much as Chyna. And really, why wouldn't shouldn't he? None of us even knew who this guy was until Rob put him on blast for wearing his robe and begging for money.
Be the first to receive breaking news alerts and more stories like this by subscribing to our mailing list.