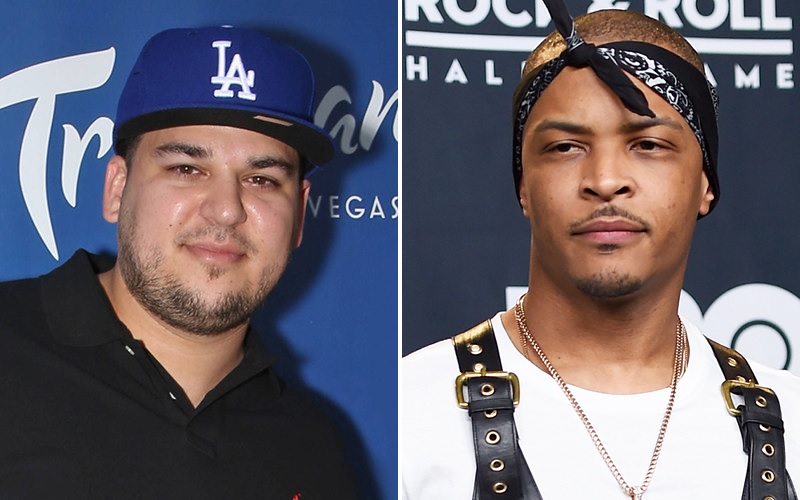 Rob Kardashian had so much time Wednesday (Jul. 5) that nobody was safe. After posting her nudes and exposing his ex-fiancé Blac Chyna as a serial cheater, the Arthur George sock designer went after T.I. by claiming the rapper paid Chyna to have a threesome with him and his estranged wife Tameka "Tiny" Harris.
The sole Kardashian brother was in his feelings after Chyna sent him a video of herself lying in bed and kissing rapper Ferrari. In retaliation, he posted nudes, videos, alleged text messages, and went on an extended Instagram rant against Chyna for constantly cheating on him and using him for his money.
Confused why he was airing out all his dirty laundry on Instagram, T.I. decided to hop in Rob's comment section and share his two cents. "You got worked bro…. but at least keep it to yourself. You letting the world know you a duck," he wrote. Feeling Rob had "no moves," T.I. advised Rob to just take the L and move on.

However, the unsolicited advice backfired terribly on the "Live Your Life" rapper. Rob posted a screenshot of T.I.'s comment and revealed that T.I. allegedly paid Chyna for a threesome with him and Tiny. He even threw T.I.'s comment right back at him. "U got no moves bro," he wrote.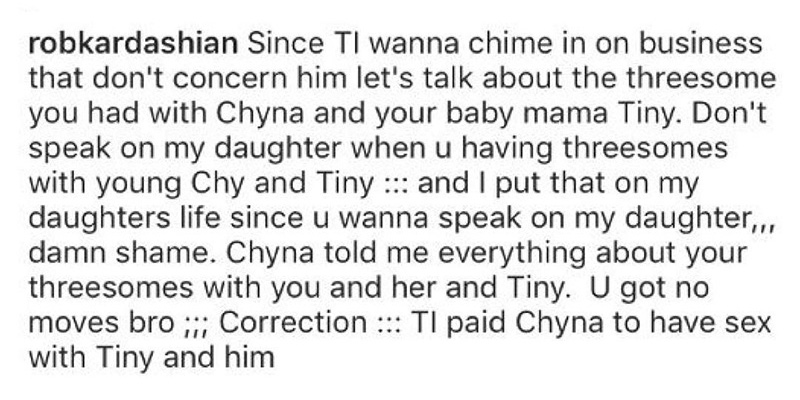 Neither Tiny nor Chyna have commented on Rob's threesome allegations. However, T.I. did seemingly respond on IG with a Muhammad Ali meme. "And duckin these ducks," he captioned the photo.
Rob is clearly going through something (as he has been for several years now), but, keeping it real, T.I. kinda had it coming.
T.I. is currently in the midst of his own marital woes and is known to come for Tiny via social media as well. Just last week, he publicly criticized his soon-to-be ex-wife for posting a video of their 1-year-old daughter Heiress being bathed. She responded to his IG comment on IG by defending the innocent video.
Maybe T.I. needs to take his own advice for once.
Be the first to receive breaking news alerts and more stories like this by subscribing to our mailing list.