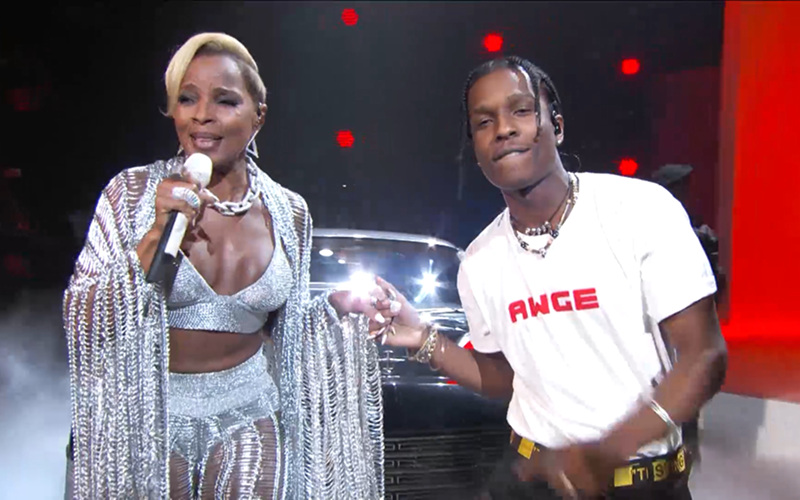 Mary J. Blige was playing no games when she stepped onto the BET Awards stage! The R&B legend showed off her revenge body in a shimmering halter top and cape, paired with sheer striped pants as she straight up told her estranged husband to go to hell.
As she always does with every performance, Mary left it all on the stage as she opened her performance with "Set Me Free," a song that is most definitely inspired by her soon-to-be ex-husband Kendu Isaacs.
"How you fix your mouth to say I owe you / When you had another b*tch and taking trips and sh*t / With my money for so long / You must have lost it, n**ga, you won't get a dime," she sang. These were direct jabs at Kendu as he allegedly cheated and misappropriated her money during their 13-year marriage.
"There's a special place in hell for you," she sang from the song's chorus right before she transitioned into "Love Yourself."
Complete with a horn section, vintage Lincoln, and several men dressed in Black Panther Party-styled attire, the second half of Mary performances had a throwback feel that everyone could groove to (while also appreciating the song's message of self-love).
Meanwhile, A$AP Rocky's surprise appearance took the performance to a new and unexpected level. Kanye West is featured on the original "Love Yourself," but A$AP's verse gave the song a fresh take the audience welcomed.
Thanks Mary, for showing the kids how it's done!
Watch Mary J. Blige and A$AP Rocky's performance below:
Be the first to receive breaking news alerts and more stories like this by subscribing to our mailing list.