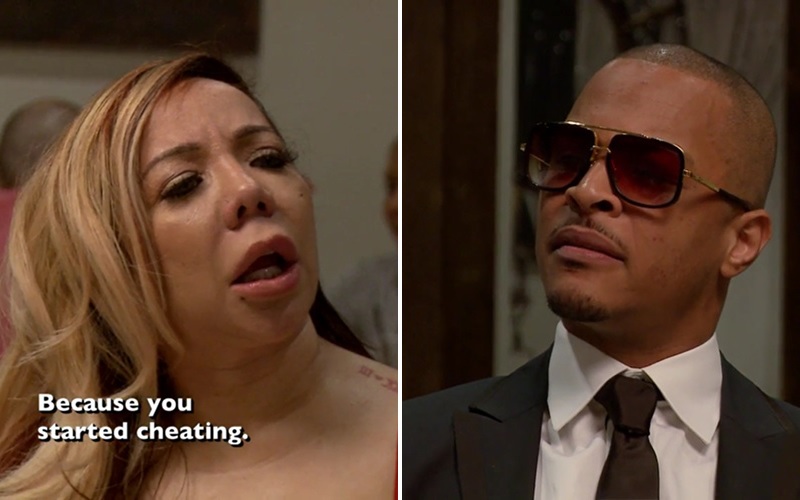 The final season of the once family-positive reality show, T.I. & Tiny: The Family Hustle, is definitely coming to an end on a sad and ugly note. A clip of the upcoming series finale show T.I and Tiny Harris accusing each other of infidelity.
The estranged couple are seated at a dinner table in a restaurant when Tip suggests their marital issues were exacerbated when she started living in another home. "Because you started cheating," Tiny responded.
In a confessional, Tiny explained that her husband cheated on her with one of her employees.
"For those who don't understand, Tip had some infidelities with a girl that I hired and that girl is one of the reasons why I got my own house."
Not wanting to own up to his own indiscretions, T.I. attempted to turn the tables. The conversation got especially tense when he brought up Tiny hanging around a dude T.I. was "at odds with."
"You done had yo' sh*t where you was out with this motherf*ckin' dude you know I don't f**k with… You was at his house. You was in his house … The point is that you was with a dude that you know I'm at odds with."
Though no names were mentioned, he was clearly referring to Floyd Mayweather. The two men have a years-long beef against each other, but video footage last year showed Tiny and the boxer dancing very closely together.
Tiny denied that anything was going on between the two. "I've done plenty for you, I ain't done sh*t for him," she said. However, she did let it slip that the boxer "treats me like a woman."
The clip ends with Tiny defiantly stating, "I've never cheated on you! Ever!" which is something something T.I. definitely can't say for himself.
The tense dinner scene and T.I. & Tiny: The Family Hustle finale airs Tuesday, May 29th on VH1.
Be the first to receive breaking news alerts and more stories like this by subscribing to our mailing list.