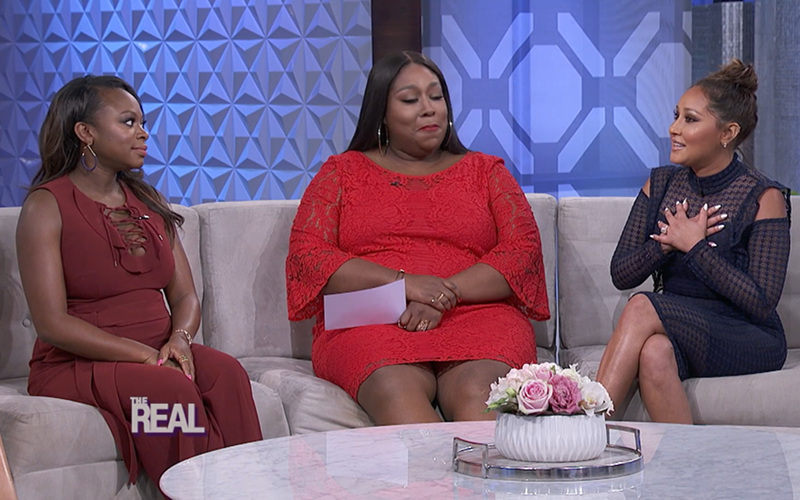 Two of the three "little women" of 3LW reconnected as grown women and nobody left with mashed potatoes or macaroni & cheese in their hair. The moment was actually incredibly sweet and the two were able to make amends.
On Thursday's (May 25) episode of The Real, Naturi Naughton stopped by her former bandmate's talk show and Adrienne Bailon publicly apologized for the turmoil the now-actress endured while they were part of the popular 2000s girl group as teenagers.
"There was a lot that went on in that time that looking back was just like, we were so young and it was crazy, and that I genuinely from the bottom of my heart never meant any harm to you, and I think you're talented and you're beautiful."
Looking a little cautious, Naughton accepted Bailon's apology. The pregnant Power star explained that she had a "hard time" in 3LW, but says now, as adult women, it's important to support one another.
"It was crazy 'cause when you know, going through what I went through with the group, it wasn't easy, it was a hard time. And everything with being a teenager and being criticized — I went through a time, where I didn't really think I could make it. And I appreciate your apology because it's just humility. And at it the end of the day, we have to love and support each other."
Bailon also told the audience that the two actually made amends privately a few years ago at a Us Weekly party. However, Bailon was using her talk show platform to publicly express her sincere apologies.
Bailon and Naughton's strained relationship is traced all the way back to 2002. Naughton has stated in previous interviews that she was treated badly by Bailon and Kiely Williams, the third member of 3LW and the two actively worked to push her out the group.
Tensions came to a head during an argument between Naughton and the group's manager, Michelle Williams, who was also Kiely's mother. Kiely and Bailon joined in by "cursing out" Naughton and Kiely eventually threw a plate of food onto Naughton, which allegedly consisted of mashed potatoes and macaroni.
Naughton officially left the group after the incident.
It's no secret that I don't see it for Adrienne Bailon. (Unless she apologizes to Taina). However, I do think her apology to Naughton is sincere and it's great to see that the two can make amends after all these years and can fully support each other personally and professionally.
Be the first to receive breaking news alerts and more stories like this by subscribing to our mailing list.