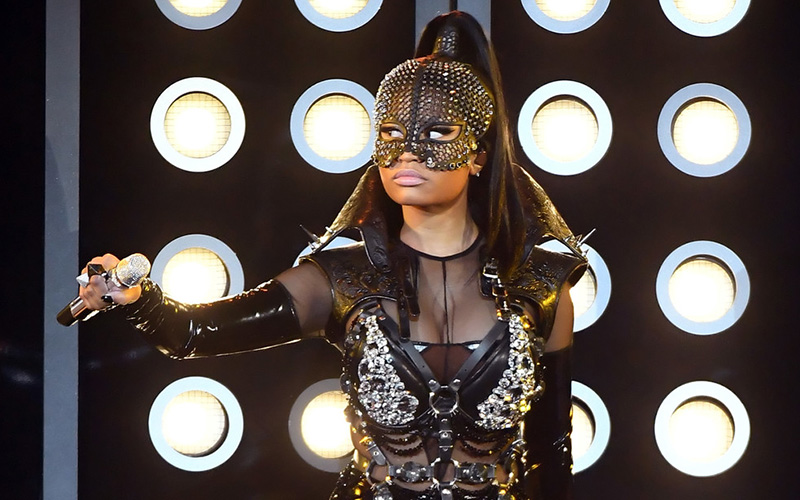 As the singlemost dominant and visible force in female rap for at least the last five years, Nicki Minaj has earned her place in music history.
And hell, since Beyoncé is knocked up with twins and not doing anybody's award shows, why not give Nicki Minaj the opening platform at the 2017 Billboard Music Awards?
The only problem, however, is that Nicki is between albums at the moment. And so what that meant is that the career defining medley that Minaj assembled for the Billboard Music Awards consisted of "No Frauds," "Light My Body Up," "Swalla" and "Regret In Your Tears."
I'm fairly confident that only "No Frauds" is a legit hit among that line-up, and even that song had only a brief stint on the Billboard Hot 100 peaking at 14 (most likely due to her one-sided "rap beef" with Remy Ma).
From a performance perspective, Nicki gave her credits lots of ammunition as she seemed more focused on surrounding herself with back-up dancers and decorating herself in S&M-inspired high-end fashions.
Thankfully, Nicki did spit her rhymes live, but the most cringeworthy part of the medley was a toss-up between Jason Derulo and his try-too-hard screeching, spasming and hollering and Nicki's faux-ballet and "look-at-me-this-is-art" performance for "Regret In Your Tears."
Nicki, baby, "Regret In Your Tears" is a lackluster, autotuned Meek Mill break-up track. Why are you trying to tune that shit into "The Nutcracker?"
Watch Nicki Minaj tribute herself in her Billboard Awards medley below.
Be the first to receive breaking news alerts and more stories like this by subscribing to our mailing list.