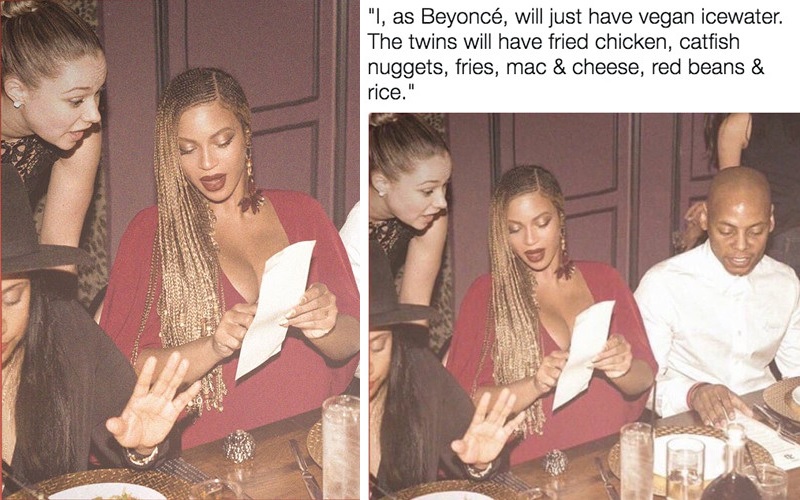 Even without trying, Beyoncé can make the most mundane tasks become a spectacle. Black Twitter got their creative juices flowing from a picture Queen B posted of herself ordering from a menu.
Beyoncé recently attended a private dinner for Roc Nation exec Lenny Santiago's birthday. Though the dinner took place last week, Beyoncé posted several photos of the event Wednesday (Apr. 26). The glowing mother pregnant with twins shared images of her attire, accessories and dinner table moments.
However, one photo completely captivated the internet: Beyoncé conversing with a waitress and ordering from the printed menu. The relatable moment turned into a meme with people imagining what she ordered and said to the waitress.
"I actually invented Lemonade so it should be free." pic.twitter.com/k8Yq3aGTLa

— Mariska Hargibae (@Keelectric_Lady) April 27, 2017
"Who is "Gratuity" and why am I paying for her food?" pic.twitter.com/UGGmZZMjo0

— Everything Attached To Me Wins! (@sawngbyrd28) April 27, 2017
Beyoncé: No, Blue has her own money. pic.twitter.com/0QAZ6oV83y

— King Black (@_KingBlack90) April 27, 2017
https://twitter.com/thebaemarcus/status/857563171321729024
https://twitter.com/BlessedZvy/status/857628315041091588
"the vegan lettuce is 9.99 on the menu. you charged me 10.99"

"but you're rich…"

"and i'd like to keep it that way. adjust it." pic.twitter.com/2lhKB4Y1ho

— Tré Melvin (@TreMelvin) April 28, 2017
Bey: I want the fried chicken wings
Waitress: ma'am this is a seafood place
Bey: …..with hot sauce
Waitress: yes Ma'am, that'll be 20 min pic.twitter.com/bSzL3L9cQF

— Caysus (@Caleb__Eli) April 27, 2017
"I only had an appetizer & a water…" pic.twitter.com/o3OqzVjAWv

— eric ? (@thetrillgent) April 26, 2017
"change 'Beyonce' to 'Beyoncé' and give me my damn writing credit." pic.twitter.com/eKg9NDtemt

— Niurka Marcos Stan (@synewaive) April 27, 2017
"You see right here it says 'Gratuity' and none of us ordered that" pic.twitter.com/cqQCbtljef

— Morgan Jerkins (@MorganJerkins) April 27, 2017
https://twitter.com/BlessedZvy/status/857649150502084613
Beyoncé: Yea… and put Curry Goat gravy pon the fry chicken pic.twitter.com/DT17dXHFXI

— BadBwoiCoolie (@FvckingCoolie) April 27, 2017
"Go ahead and bring a lemonade to my husband. Keep him on his toes." #Beyonce pic.twitter.com/2LPJzxJ02G

— EBETH ? (@LizLedfoot) April 28, 2017
Beyoncé: Let me just have the…
Waitress: How about I have them make everything on the menu and you can make a choice after seeing them! pic.twitter.com/fxmHktctNg

— A. (@HolyAlejandro) April 27, 2017
"take this $2.75 charge off here, I actually told y'all to take that soda back and then l ordered a water with lemon." pic.twitter.com/oX1yvuJbxD

— Yung Ignance (@Ibelikeuhh_) April 26, 2017
Instead of the Mahi-Mahi, can I just get the one Mahi because I'm not that hungry? pic.twitter.com/UnlU16v5rp

— masc potatoes (@CertifiedFool_) April 27, 2017
https://twitter.com/ira/status/857463170008440832
Despite the humorous interpretations, I'm sure one thing rings true: Queen B and them twins probably ate very well that night!
Be the first to receive breaking news alerts and more stories like this by subscribing to our mailing list.