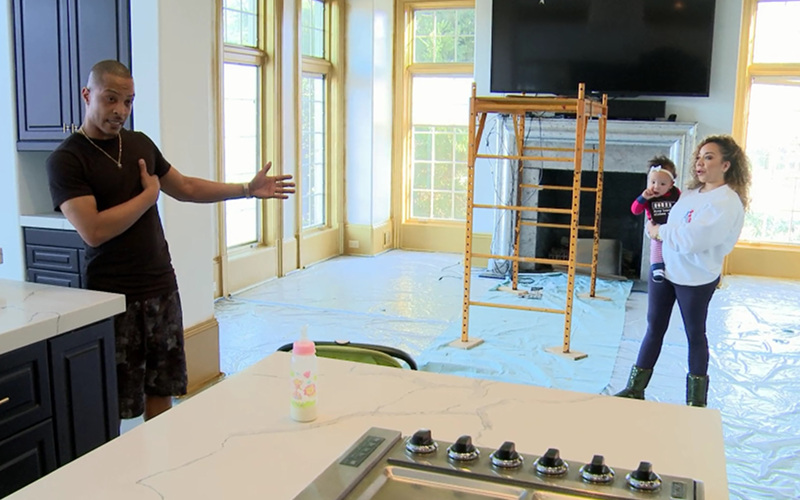 We've seen it play out on the blogs and social media, but audiences are now getting a front row seat to the drama and tension between T.I. and Tiny Harris.
In a clip for an upcoming episode of The Family Hustle, things get awkward and tense as T.I. and Tiny argue over baby Heiress. Tiny plans to take the 1-year-old on the road with her while on tour, but T.I. attempts to shut down the idea.
"You need to stay here, that's a sacrifice you make as a parent… Life on the road is no place for no damn baby. It's best for her to be in a stable place where she can wake up at a certain time, eat at a certain time, play at a certain time, go to bed at a certain time."
Tiny recently reunited with her R&B girl group, Xscape. The group has announced a 10-city tour. However, since T.I. will also be on tour, he threatens Tiny of repercussions if she continues to push the idea of traveling with Heiress.
"You grown, you can do whatever you wanna do. You a working woman, you can make whatever decision you want. That baby is innocent.

"Listen man, I'm telling you, you don't want no trouble out of me now. Imma shut the whole thing down. Don't make me!

"I was excited about it and supportive of [you going on tour], but now you getting me in a place."
T.I. probably has a valid point that a tour bus might not be the best environment for a 1-year-old. However, he also doesn't offer to take care of Heiress himself. Even before the argument escalated, he told Tiny is was up to have "some contingencies in place for these children."
Tiny recently opened up about the couple's divorce on The Wendy Williams Show. The two have claimed they are in a cordial place while ending their marriage. However, it's clear there is still a lot issues and tensions within their relationship.
T.I. & Tiny: The Family Hustle airs Mondays on VH1.
Be the first to receive breaking news alerts and more stories like this by subscribing to our mailing list.