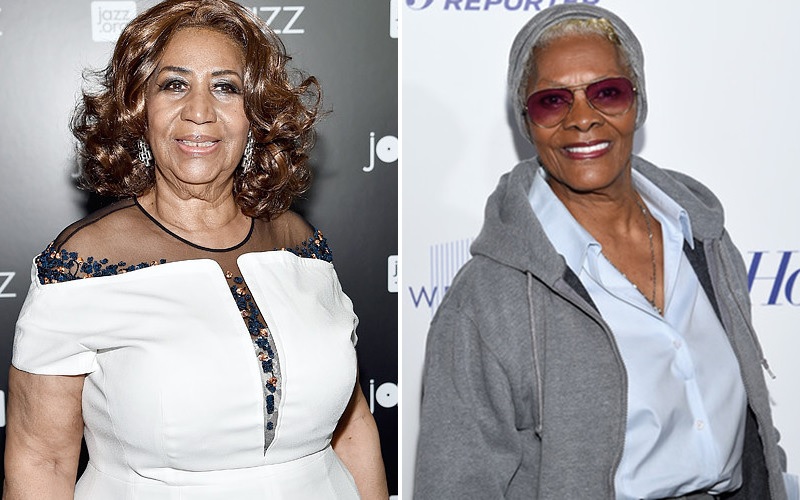 Aretha Franklin is savage, man. The legendary Queen of Soul just reignited a five-year-old feud with Dionne Warwick by sending a fax to the Associated Press claiming Warwick made libelous statements about her during Whitney Houston's funeral.
Aretha sent a lengthy fax to the AP on Monday (Apr. 24) which detailed the incident she has been waiting ever-so-patiently to address. She gave a follow-up phone interview on Tuesday (Apr. 25).
"She blatantly lied on me… fully well knowing what she was doing."
The incident in question occurred during Whitney's funeral in 2012. Dionne introduced Aretha, knowing she was unable to attend the service, and then gave the crowd misinformation regarding Aretha and Whitney's relationship.
"Ree's not here, but she is here," Warwick said at the funeral, which was aired on TV and livestreamed online. "She loves Whitney as if she were born to her. She is her godmother."
Whitney's mother Cissy Houston — who used to sing back up for Aretha — clarified days later that Aretha was not her daughter's godmother, singer Darlene Love was.
Though she was pissed at Dionne's lies, Aretha felt she would address the issue at a later date given the drama surrounding Whitney's death. And that time is now.
Aretha recently had a run-in with Dionne at the Tribeca Film Festival while attending the premiere of Clive Davis' documentary. According to the soul singer, Dionne attempted to speak to her. It didn't go well.
"She said, 'Give me a hug.' I said, 'Oh hell no. You couldn't be serious."
Aretha also tells the AP she's not seeking an apology and confirmed longstanding rumors that the two have never seen it for each other.
"I don't care about her apology, at this point it isn't about an apology, it's about libel. We've never been friends and I don't think that Dionne has ever liked me."
A rep for Dionne told the AP, "She will not dignify a response to the statement made by Aretha Franklin."
It has always been speculated that Aretha and Dionne have been in a decades-long feud. Their strained relationship was even parodied in the popular YouTube series "Got 2B Real" by Patti LaHelle — which may not be too far off in hindsight.
Ryan Murphy may have also just found the subjects for the second season of his new show, Feud. Throw in Patti LaBelle and it would be juicy.
Be the first to receive breaking news alerts and more stories like this by subscribing to our mailing list.