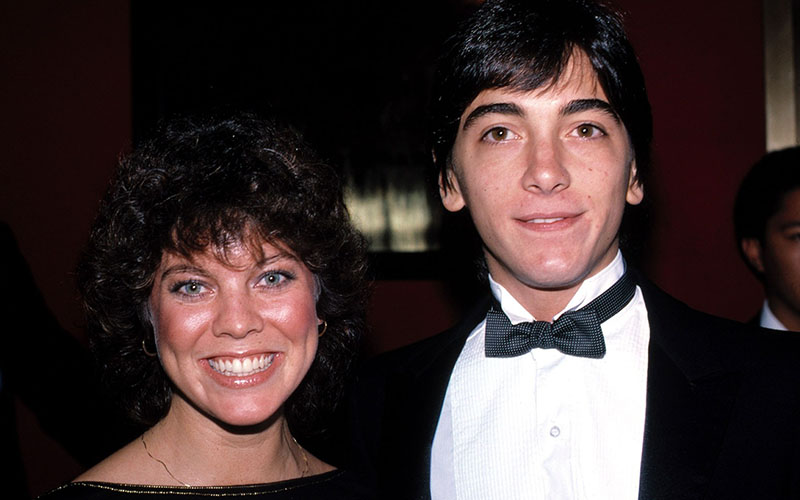 In case you couldn't tell by his 2016 Republican National Convention and support of Donald Trump, Chachi is the worst. Scott Baio is getting dragged online for showing very little sympathy after the death of former Happy Days co-star, Erin Moran, because of the possibility she may have died of a drug overdose.
Moran died unexpectedly Saturday (Apr. 22) at the age of 56. An autopsy conducted Monday found that she "most likely" died of complications of stage 4 throat cancer. Toxicology results are still pending, but no illegal narcotics were found at the former child star's home.
Despite not knowing all the facts, Baio was a guest on The Bernie & Sid Show early Monday (before the autopsy results were released) and basically blamed Moran for her own death due to her lifelong battle with drugs alcohol.
"I'm OK, a little shocked but not completely shocked that this happened. My thing is, I feel bad because her whole life, she was troubled, could never find what made her happy and content. For me, you do drugs or drink, you're gonna die. I'm sorry if that's cold, but God gave you a brain, gave you the will to live and thrive and you gotta take care of yourself."
Even if Moran died from an overdose, Baio could have at least shown a little sympathy for his Joanie Loves Chachi partner and her battle with addiction. Baio was dragged on Twitter for his callous statement.
@ScottBaio got it all figured out huh? You do drugs or drink and you'll die huh? Smh. Ignorance at an all time high ever since #trump.

— knicks drunk. (@KnicksDrunk) April 25, 2017
Scott Baio is an ass."If you do drugs or drink you're going to die" is an asinine statement. We're all going to die you heartless idiot.

— MrsBundrige (@bigsisternes) April 25, 2017
Erin Moran died of cancer, but Scott Baio would rather judge her lifestyle.
RT if you think Baio is an asshole.https://t.co/NOMRAJZTcz

— Vicci (@Viccimn) April 24, 2017
'For Me, You Do Drugs or Drink, You're Gonna Die'. Wow, Chachi is a real piece of shit.

— Jonathan E Tether (@JonathanTether) April 24, 2017
Scott Baio says God was punishing Erin Moran for using drugs. She had stage 4 cancer. Chachi continues to be a dick.

— Michael Seltzer (@mjs256) April 24, 2017
https://twitter.com/HITEXECUTIVE/status/856647052788289536
Scott Baio's dad told him not to do drugs, so he says he didn't. Too bad his dad didn't tell him not to be a dickhead. #scottbaio

— IamWomanHearMeRoar (@BrainsNoBalls) April 25, 2017
Ah Scott Baio, "you do drugs, you drink, you're gonna die." The compassion just oozes out of his heartless pores. RIP Erin anyways.

— Noreen Nellis (@FindYourJoy2) April 25, 2017
You know it's Tuesday when Scott Baio is allowed to take a break from washing dishes in the basement at Mar-a-Lago to say something stupid.

— Mollzotov Cocktail (@mollzbenn) April 25, 2017
https://twitter.com/ITalksGood/status/856885255319441408
Baio continued in the Bernie & Sid interview to assert that he has never done drugs because his parents "set [him] right." He added that Moran was the only one on the Happy Days set who struggled and he eventually stopped offering help.
"She was just an insecure human being and fell into this world of drugs and alcohol. Again, I don't know if that's what killed her, I'm sure it was a culmination of years and years of doing it that might have had something to do with it. She just never found her way.

"How do you help somebody that doesn't want to help themselves? You try a couple of times and if they don't want the help, I gotta go, sorry."
Though you would think he would be used to it by now since the Republican has often found himself in hot water while trying to defend 45, the Twitter dragging because of his heartless statements about Moran's death must have become too much to handle.
He responded to some Twitter comments, often noting that he said "if" and playing victim that he was only being criticized because he is a Trump supporter.
I said "IF". https://t.co/aNRaKgMu6x

— Scott Baio (@ScottBaio) April 24, 2017
I said "IF". @ChaseMit . My wife @MrsScottBaio spoke to Erin less than 1 month ago. You bash me ONLY because I support Pres @realDonaldTrump

— Scott Baio (@ScottBaio) April 24, 2017
Baio eventually clarified his comments in a Facebook post on Monday night (Apr. 24). He wrote in part:
I did a live radio interview. I was asked ONLY about Erin's troubled past due to drug & alcohol abuse. I was still upset and said I felt that living that kind of a lifestyle will catch up with you and nothing good would come of it…

THIS WAS BEFORE THE CAUSE OF DEATH WAS ANNOUNCED STATING STAGE 4 CANCER…

I'm also trying to process this loss. Erin was my very first real girlfriend… Please stop assuming the worse in me. I'm a compassionate person. I'm very heartbroken over her passing, especially since it was cancer.
What's still abhorrent to me is that Baio's sympathy seems to still be contingent on whether Moran died from cancer or an overdose. He ignores the difficulties of overcoming addiction and writes he's heartbroken "especially since it was cancer." Yeah, this sounds very compassionate.
Though the Twitter dragging of Scott Bai was certainly warranted, I should also note that Baio did initially share a heartfelt message on Sunday (Apr. 23) regarding Moran's passing.
My sincere condolences. #ErinMoran #HappyDaysFamily pic.twitter.com/5b0AbioZEc

— Scott Baio (@ScottBaio) April 23, 2017
Be the first to receive breaking news alerts and more stories like this by subscribing to our mailing list.