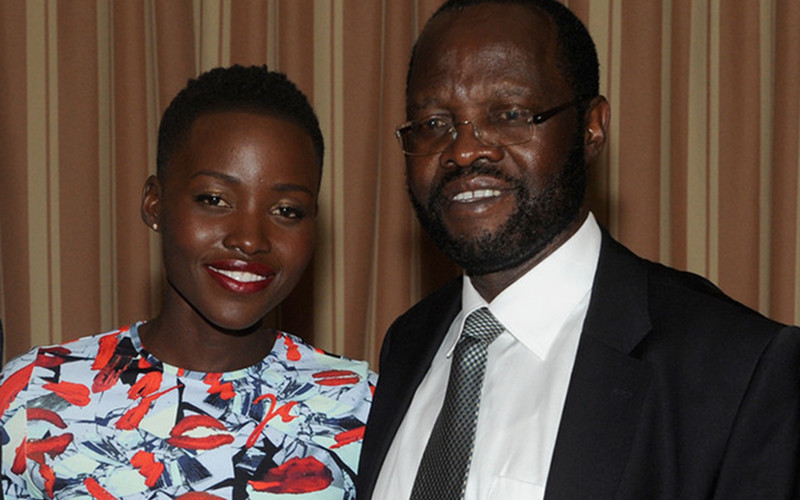 She recently played the "queen" of Katwe, but Lupita Nyong'o could possibly become the princess of an African county — sort of. The Oscar winner's father is currently running for governor of a county in Kenya and she recently offered her support in a recorded open letter.
Prof. Anyang' Nyong'o is running for governor of Kisumu County. He is currently a senator for the Kenyan county. Though the election will be held Monday (Apr. 24), he's getting a last-minute endorsement from his Hollywood A-list daughter in a video she shared on Facebook and Instagram.
"Daddy, I love you and I respect you. You have supported me all my life and I'm where I am because of you and mummy. Through your own example, you taught us how to be hardworking, honest, and committed to humanity. You gave us the freedom to find ourselves, to pursue our interest, to grow, and to excel. I support your bid to be governor of Kisumu County."
Though she was raised in Nairobi, Lupita says her father always reminded his children that Kisumu was their first home. She reflects on fond memories she has of Kisumu and praises the change and impact her father has had on the county.
"All my life, I have witnessed your unwavering passion for cultivating a better future Kenya, even when it was a thankless task, even when it was threat to your life. But you have never given up and you continue to push for change and development… I know for certain that Kisumu County will be a better place and leap into the future with you steering it."
Lupita's heartfelt video was clearly a beautiful love letter to her father, but it seems Kenyan citizens are just as vocal on politics as we are in the United States. Lupita's social media accounts have been flooded with comments from Kisumu County constituents since she posted the video on Thursday (Apr. 20).
Many criticized Anyang' Nyong'o's performance as senator and suggested Lupita stay out of Kenyan politics.

"Girl, we like you, but we don't like yo daddy!" seems to be the overall consensus. The Kisumu County election will be held this upcoming Monday, but it looks like Lupita will have to settle for the "Queen of Katwe" title for now.
Be the first to receive breaking news alerts and more stories like this by subscribing to our mailing list.