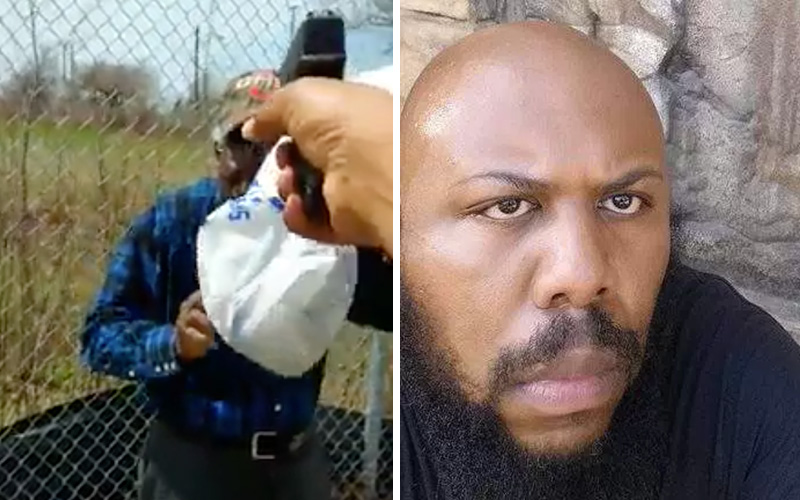 Police have confirmed that a disturbing video posted on Facebook Live showing an elderly black man being shot and killed in Cleveland, Ohio is real.
The graphic video footage was shared in a live video stream Easter Sunday afternoon (Apr. 16) by a Facebook user going by the name "Stevie Steve," who was later identified by police as Steve Stephens.
Steve "Stevie Steve" Stephens: Nationwide Search for Cleveland Man Who Shot & Killed 74-Year-Old on Facebook
Stephens' Facebook page has since been taken down along with the video, which you can watch below, but be warned, it is VERY graphic:
The shocking video footage shows Stephens driving down the road. He says, "Found me somebody I'm going to kill, this guy right here, this old dude," referring to an elderly black man walking down the street. After exiting his vehicle, Stephens walks up to the elderly man and starts talking to him.
"Can you do me a favor?" Stephens asks the man, later identified as 74-year-old Robert Godwin Sr. "Can you say Joy Lane?"
Robert Godwin Sr.: Things to Know About Man Murdered by Steve Stephens in Cleveland, Ohio on Facebook
"Joy Lane?" the elderly man asks Stephens. "Yeah, she's the reason why this is abou to happen to you," Stephens responds before asking the unidentified man how old he is.
As the man tells him, "I don't know nobody by that name" and tries to shield himself, Stephens pulls out a gun and fires one shot at his head, killing the man instantly. The video shows the man on the ground bleeding out as Stephens gets back into his vehicle and drives off. Mind you, the entire exchange was recorded on Facebook Live.
Police said the shooting happened at 635 East 93rd Street.
I just spoke with a man and woman who said the man killed in the FB live video was their 78 year old father @cleveland19news pic.twitter.com/Gpf3EUafLM

— Shanice (@ShaniceDunning) April 16, 2017
"He was a good guy, he'd give you the shirt off his back," Godwin's son said. "I'm not just saying that for these cameras. I"m telling the truth… This man right here was a good man. I hate he's gone. It's not real."
In another video on Facebook, Stephens could be heard talking on the phone with a friend claiming to have killed more than a dozen other people. He said he "just snapped" and had a lot of "built-up anger and frustration." He wrote on Facebook that he wouldn't stop killing until his mother and a woman he said was his ex-girlfriend would call him.
"Three years I spent with this bitch," he wrote. "I wish we never met." In another Facebook post, Stephens called the shooting(s) an "Easter day slaughter" and called himself "the #goodguy."
Cleveland Police confirmed in a press conference that Stephens was still on the loose, but said they had searched several locations and were unaware of any other victims. They said no one had seen or heard from him since the "senseless" shooting and didn't know if he was stil in the area, but urged locals to be pre-cautious until he was found.
Cleveland Police chief Calvin Williams urged Stephens to turn himself in, saying, "He can't keep victimizing his community based on his issues." Chief Williams also said Stephens' family was also urging him to turn himself in to police.
Cleveland Police described Steve Stephens as a 6'1 black man who weighs 244 pounds with a bald head and full beard. He was wearing a dark blue and grey or a black striped polo shirt and was said to be driving a white or cream colored Ford SUV. They said he was "armed and dangerous" and urged anyone who sees him to "not approach" him and "call 9-1-1" instead.
Be the first to receive breaking news alerts and more stories like this by subscribing to our mailing list.