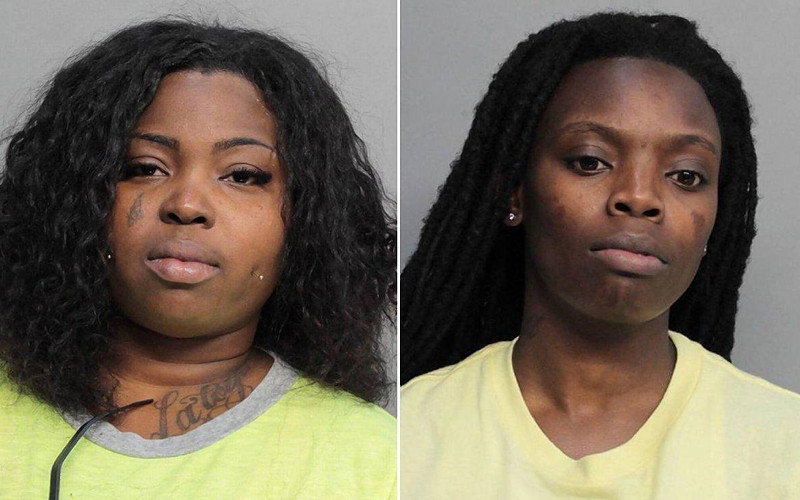 Mamas are fighting in schools now!
A 30-year-old mother faces charges of armed robbery, battery, and child abuse after she attacked her daughter's 17-year-old classmate on school grounds. The mother's girlfriend was also arrested for her role in the altercation.
Ernslatta LaFrance assaulted the teen the at Carol City High School in Miami shortly after students were dismissed from class. LaFrance reportedly punched in the girl in the face multiple times, pulled her hair, stole her iPhone 6, and then drove away.
Later that day, the unnamed beaten teen went to LaFrance's house in order to retrieve her stolen phone. This is when a second fight occurred.
LaFrance came out of her home and struck the teen with a stick, breaking her middle finger. She also took an ax to the teen's car.
While several reports claim LaFrance used an ax, the police report states "the defendant took a stick and struck the victim's right hand and the vehicle."
However, the second fight gets even more dangerous as the teen was confronted by a second adult. LaFrance's girlfriend, Erlisa Evans, 28, used a gun to fire three shots in air to scare the teen away. The warning shots did not hit anyone.
The teen was taken to Pembroke Pines Urgent Care to treat her injuries.
The fight between a grown woman and a high school student was sparked after LaFrance's daughter was supposedly jumped by a group of girls at the county fair. The 17-year-old LaFrance attacked is the sister of one of the girls that jumped her daughter.
LaFrance posted a video of her fight with the teen on Facebook. She "warned those messing with her daughter to beware" and said next time, the teen girl would have more than two black eyes, she would use a gun instead.
She wrote:
"Ian (sic) arguing with nobody!!! Cause if yo child got jumped and maced by like 20 girls u will do the same."
She also claims the high school student is 19-years-old, not 17 as has been reported by several news outlets. LaFrance's daughter is 15.
LaFrance's daughter's father had a different reaction. In a Facebook post, he asked for prayers and even offered an apology to the beaten teen.
"Pray for my daughter and her mother for the wrong decision they made yesterday. No one is perfect. The worst done happen, now pray for the best. God know(s) how to handle this. I would like to apologize to (the) girl's family."
LaFrance and Evans were both arrested after turning themselves in to authorities. Evans was booked on aggravated assault with a deadly weapon and firing a gun in public.
LaFrance faces burglary with assault or battery, strong-arm robbery and child abuse charges. She was held in lieu of $7,500 bond. "I see how old you are [and] it's time to act your age," the judge told her.
The 30-year-old was also ordered to stay away from the victim and Carol City High School. She can only be on school grounds while accompanied by daughter for school functions.
Be the first to receive breaking news alerts and more stories like this by subscribing to our mailing list.