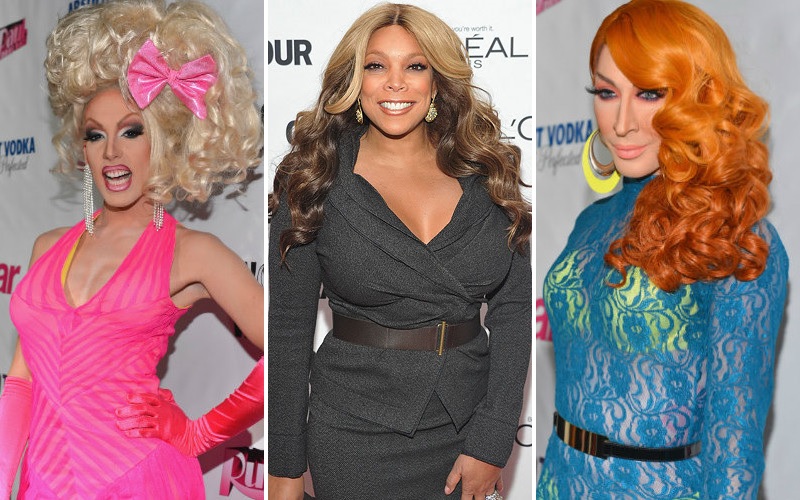 RuPaul's Drag Race made the move from Logo to mainstream VH1 with record-breaking numbers. Earning nearly 1 million viewers, the season 9 premiere was the show's most-watched episode ever.
However, VH1's choice to host the Drag Race viewing party each week is drawing criticism from the drag and LGBTQ community.
Wendy Williams has been tapped to host VH1's "Fierce Fridays," a live viewing party that introduces each new Drag Race episode and is featured during the show's commercial breaks. The viewing party has special guests and gives live reactions to moments that occur during the show. Ross Mathews is also her sidekick.
Former Drag Race contestants, drag performers, and members of the LGBTQ community feel Williams should have nothing to do with RuPaul's Drag Race due to her past homophobic and transphobic comments.
New York based drag performer Stephanie Stone, recalled an incident when another drag performer was removed from The Wendy Williams Show studio audience after producers felt she violated the "no costumes" policy.
Detox, a former Drag Race contestant and All-Star, shared Stone's post and added that Williams is an "enemy" of the community.
"She is NOT an ally. She is transphobic. If anything, she is an ENEMY. An enemy profiting off our community. F*ck. That."
Current Drag Race judge, Michelle Visage, commented on Detox's post with "Yup."
RuPaul's Drag Race All-Stars winner, Alaska Thunderfuck, says Williams "spouted ignorance and transphobic rhetoric" daily while discussing Caitlyn Jenner.
Alaska exclusively told LGBT News/pop culture site, Unicorn Booty:
"Frankly, I think the decision to make Wendy Williams one of the hosts of the weekly spots framing commercial breaks for RuPaul's Drag Race's weekly broadcast is tone deaf, untimely and incorrect.

I used to watch Wendy's "Hot Topics" daily, and some of the things she said during Caitlyn Jenner's very public transition were beyond questionable.

At that time, much of the nation was learning to navigate trans visibility for the first time and needed guidance and clarity from the media. But instead Wendy repeatedly spouted ignorance and transphobic rhetoric to a daily audience of millions.

I don't watch her show anymore.

And I certainly don't think she is the right person to be hosting our community's flagship television program."
While I have never watched an episode of RuPaul's Drag Race, I can honestly say I was shocked when I heard a promo for Williams' viewing party while watching another show on VH1. I, too, watch Williams' talk show daily, and though she claims to be an LGBT ally, she's known to make problematic statements and perpetuate negative LGBT stereotypes.
Civil Rights advocate Tim Peacock highlighted notable problematic Williams moments on his website, including condemning trans athletes, saying "no homo," asserting Caitlyn Jenner is "in limbo" until she has surgery, and stating she wouldn't let her son sing in the Harlem Boys Choir out of fear he might be molested.
Peacock writes:
For those in the LGBTQ community, Wendy Williams' pattern is clear: (1) mock and deride transgender people and drag performers (and all others under the LGBTQ umbrella who may not conform to societal expectations regarding appearance and gender identification) (2) profit from those statements through publicity and ratings (3) issue an apology (4) rinse repeat within a year or two.
With this much understandable outrage, it will be interesting to see if VH1 keeps Williams on as the host of the RuPaul's Drag Race viewing party. Her daytime show is currently on a two-week hiatus, so it's unlikely she will address the criticism herself.
Be the first to receive breaking news alerts and more stories like this by subscribing to our mailing list.