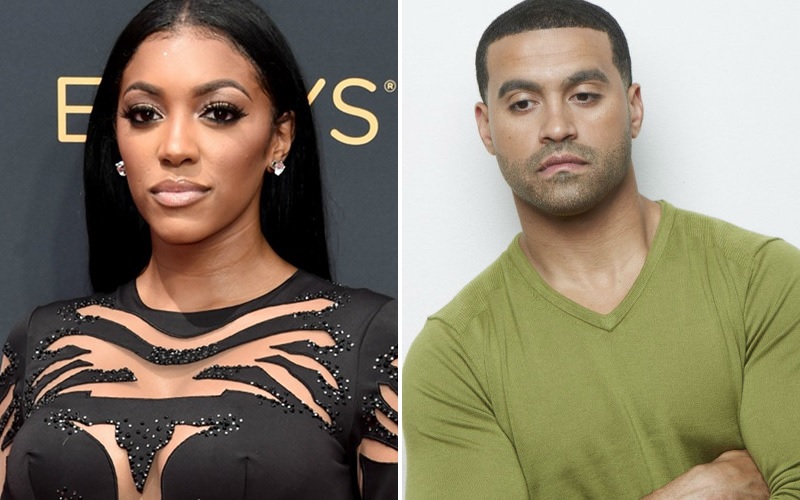 The Real Housewives of Atlanta's "Frick & Frack" may still be intact after all. Porsha Williams is shooting down rumors that she slept with BFF Phaedra Parks' husband before he went to jail.
Leaked details from the recent taping of The Real Housewives of Atlanta season 9 reunion suggested that Kandi's husband, Todd Tucker, called out Porsha for having an affair with Apollo Nida shortly before he began his 8-year jail sentence.
However, Porsha set the record straight during her Monday (Mar. 20) appearance on The Rickey Smiley Morning Show on Dish Nation. She not only denies having an affair with Apollo, but says Todd never even made the allegation.
"That's not true. That's completely false. [Todd] never accused me of anything at the reunion, whatsoever…

I don't know [where the rumor came from]. It must be a troll or something who started it. You know they try to start like a rumor before the reunion actually comes to get people talking, but that's a ******* rumor. I never had anything with Apollo."
When news of the alleged affair hit the net, a screengrab of Porsha admitting she and Apollo "had a moment" in an Instagram post began circulating. However, the post was reported to be deleted, thus no way of proving its authenticity.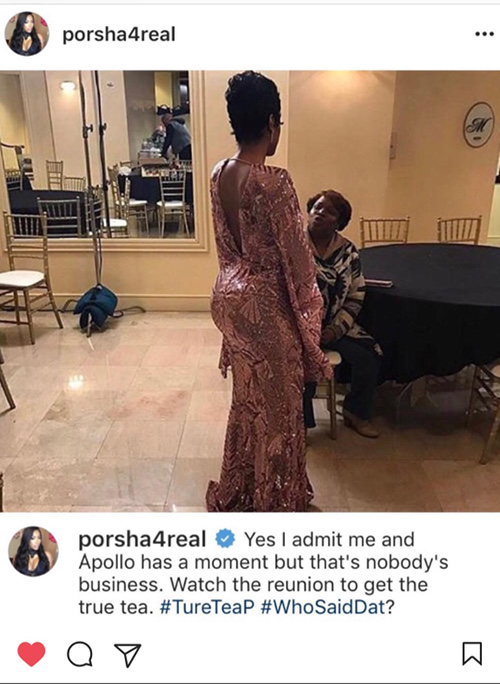 Porsha stated on Dish Nation that the fake post must have been created by a troll.
"Someone in my comments mentioned that I had admitted [to this rumor being true] and then I saw this [post]. This is ridiculous. This is just from a troll. Someone online who wanted to start this rumor. I did not post this and delete this at all. So all the blogs that are writing this and putting this on their pages may want to delete that ASAP."
https://www.instagram.com/p/BRydRiWjVx1/
Frack is also standing by Frick. Although Phaedra hasn't commented on the allegations, she liked a few comments on Instagram that seemed to indicate her friendship with Porsha is still strong.
https://www.instagram.com/p/BRyfhmEjvmQ/
The Porsha/Apollo rumor is extremely hard to take as fact, however, the two RHOA stars may also be putting on good face for the sake of the last few remaining episodes of the season.
Regardless, all will be revealed once the three-part reunion airs. It sounds like it's going to be epic.
Be the first to receive breaking news alerts and more stories like this by subscribing to our mailing list.